Logitech H150 Stereo PC Headset - White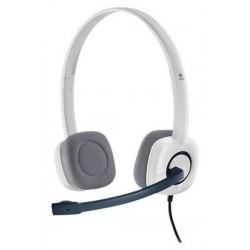 Headphones yes, mic no!
May 13, 2015
While the headphones worked fine and were decent enough for Skype etc, the microphone itself -- which claims to be "noise cancelling" -- simply did not pick up my voice! Eventually I tried turning the boost all the way up on the PC itself, but that just resulted in a lot of white noise and my voice was not clear. On top of that, the headset itself was not very comfortable. This is a sad case of "you get what you pay for". Resist the temptation of this cheap headset and invest in higher quality.
Reviewed on Argos.co.uk
Fantastic for the price
Oct 17, 2017
I bought these headphones to attend online training courses and have found them to be better than expected for the price. The headphones are comfortable, well made with a long wire to allow you to move around wearing the headphones whilst plugged into your PC. The audio is nice and clear, the maximum volume is probably louder than you would want which is great. The microphone is nice and clear and easy to position, not so close to your mouth that everyone has to listen to you breathe!
Reviewed on Argos.co.uk
Love these headphones
Dec 28, 2018
This is the second time ive bought these headphones.. Loved my first ones and love these.. they are lightweight.. comfy and the sound is really nice for a cheaper headphone.. i love them so much ive even got a spare pair so if anything happens to the ones i have now ive got a pair ready and waiting lol.. if your looking for a nice pair of headphones that dont clamp your ears but still sound nice.. then you cant really go wrong with these :)
Reviewed on Argos.co.uk
You get what you pay for...
Mar 1, 2017
Bought this as a temporary headset as mine broke and whilst it is comfortable and easy to set up I have had quite a few issues with clients being unable to hear me when I was talking which was a little frustrating. I think in hindsight I would have gone fro a more expensive headset had one been available in my Argos store at the time. Nevertheless I will keep it as a handy back up should I ever need it again
Reviewed on Argos.co.uk
Box of disappointment
Jan 25, 2015
Awful, within 5 mins they were broken. to me they're a joke. I only had them for 5 minutes after listening to music at a low volume and trying them on Skype; then all a sudden after calling my friend, my microphone (the one provided) started echoing into my headphones and then started screeching for me and my friend. I didn't even get the microphone working. Whole thing then broke....
Reviewed on Argos.co.uk
not that comfortable
Jan 22, 2014
The only reason I bought these was to replace a pair from Microsoft and these at the time were the only ones I could get. I dont feel comfortable with them on and the mic has to be just right or people cant hear you clearly. But if thats all you can afford then give them a try they may suit you better but me I went back to my broken Microsoft ones for better comfort and communication
Reviewed on Argos.co.uk
good Xbox one headset when used with extras
Jul 15, 2015
Good headset used with an Xbox controller plus the headset adaptor also used with a cable to convert from 2 pin to single pin make sure you get the correct size jack for the single pin 3 notch an excellent alternative to an Xbox One headset steardy stereo you just need the other bits also easier to get hold off less likely to be out of stock
Reviewed on Argos.co.uk
Simple headset
Sep 1, 2016
I've bought a couple of these headsets now for myself and some relatives. I would recommend this to anyone who needs a simple headset that is easy to use. Simply plug and play! It's not the most durable item, especially the 'ear muffs' wear off fast, but its perfect for Skype calls and some little gaming sessions.
Reviewed on Argos.co.uk
Rubbish
Feb 5, 2016
This headset squealed and whistled continuously in my laptop, like bizarre feedback. I had to return them and buy a different pair entirely. They say you get what you pay for, but in this case they didn't even do the job they were designed to do!
Reviewed on Argos.co.uk
Great comfy headset
Nov 3, 2016
Good for gaming and using with skype. The white colour is nice. However I am worried that eventually the wires that connect the headset to the laptop will fray as they don't seem overly sturdy, but this is a problem with all headsets.
Reviewed on Argos.co.uk
Logitech H150 headset
Jan 25, 2017
Bought for Skype use . Unfortunately, it has separate audio and microphone jacks so it isn't compatible with laptops with no micro socket , such as my Lenovo Ideapad 100S . Argos processed the refund very efficiently, as usual.
Reviewed on Argos.co.uk
microphone is too short
Jun 14, 2018
Microphone is too short, it doesn't get up to your mouth, it gets just to up of your face therefore since the microphone is far people can hardly hear you. I don't reccomend it. It's good because it's really light
Reviewed on Argos.co.uk
Brill headset
Feb 14, 2019
Brill headset with good clear sound and quality, comfy design with adjustable headband microphone is 100% movable so can have either on your left or right side...i would definitely recommend this to anyone...full marks
Reviewed on Argos.co.uk
Headset so light and comfy
Oct 2, 2018
I found it to be the most comfortable headset ive had. Most are larger and intrusive. This one is perfect for me. Sound quality was good and the mouthpiece was perfect as it could be moved away from mouth if required
Reviewed on Argos.co.uk
Brilliant headet
Jun 23, 2015
Needed a headset as I wanted to learn Spanish. Microphone can be positioned either side and is very responsive. The sound from the headphones is great too. Very comfortable. I would definitely recommend this product.
Reviewed on Argos.co.uk
Headphonek ok, microphone very little gain poor
Oct 10, 2019
Headphones ok, mic a total waste you have to have the mic almost in the mouth before the person at the other end of the conversation can hear you A TOTAL WASTE OF MONEY. Most certainly needs putting in the bin.
Reviewed on Argos.co.uk
Basic
Aug 3, 2017
Basic headset, the microphone is not long /flexible enough to pick up your voice if using for voice recognition as it picks up the noises around. Would recommend if using for Skype or the like, it does the job fine.
Reviewed on Argos.co.uk
Compact and very handy
Oct 16, 2019
Does its job very well. Got this a couple of weeks ago for the office and am impressed with how much you get for so little. Looks good as an office headset as it is slim and has a fine design.
Reviewed on Argos.co.uk
Happy days
Feb 11, 2015
Great product ! I use this for work and I've gone through so many other brands but this seems strong and long lasting , just plug it in and it works , would recommend ! Nice one Argos ! Cheers
Reviewed on Argos.co.uk
Does what you would expect.
Aug 15, 2014
It's a decent headset. comfortable, functional, plug and play. The mic is good enough quality and the sound is good. If you want something that works for not a lot of money, this is perfect.
Reviewed on Argos.co.uk
Excellent product.
Sep 23, 2014
I bought these to make SKype easier to use, they work perfectly and so much easier than shouting at the tiny microphone on my laptop, now i can enjoy skype sessions comfortably.
Reviewed on Argos.co.uk
Sounds good to me
Oct 17, 2016
I purchased these for my language course, they are perfect for that, no crackling, and so comfortable that I forget I have them on. Brilliant headphones. I will recommend these.
Reviewed on Argos.co.uk
You get what you pay for
Mar 10, 2016
Mike quality is poor as the mike stick isn't long enough and therefore doesn't pick up your voice very easily. Wish i had bought a better quality one.
Reviewed on Argos.co.uk
Fine for fun!
Jan 8, 2016
Poor mic is the primary problem with this headset. It is too far away from the mouth to pick up normal speech clearly enough for the listener.
Reviewed on Argos.co.uk