HP 1NC57AA USB 500 Headset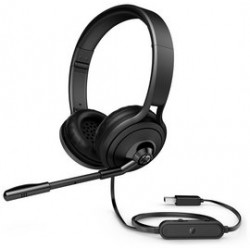 Take lots of breaks!
Jul 5, 2019
Bought these headphones as my old gaming set went wrong - I went for the USB format as I feel there are less bits to break. Sound quality is excellent, and there is a very neat little mute and volume control thingy on the lead. My only gripe is that they do get uncomfortable after wearing for more than 30 minutes or so - keep that in mind if you have a huge head like me!
Reviewed on Argos.co.uk
The headset is a little bulky but really good
Feb 25, 2019
I do a lot of conference calls and The headset allows me the freedom to take notes. Even in a crowded office I can hear no problem and people on the call don't hear to much background noise. Would recommend.
Reviewed on Argos.co.uk
Poor quality microphone
Feb 16, 2019
Purchased this to go with voice recognition software. It does not pick up the words as accurately as my previous cheaper mike so I can only assume its just not picking up. In addition the side of it fell off the the other day it did click back into place but it is very cheap quality. Don't expect them to last very long.
Reviewed on Argos.co.uk
ok for the day!
Dec 28, 2018
this was a present for my son's birthday. unfortunately this bent after playing it for one hour. the assistant told me, that he had broken it, in fact she snapped it getting it out of the box
Reviewed on Argos.co.uk
Replacement headset good value for money
Nov 29, 2018
I have always liked HP products headsets, computers and printers, good quality and value for money. I prefer headsets with USB connection. Will take a little time to get used to the length of the microphone, my old out of date headset had a long microphone.
Reviewed on Argos.co.uk
This is great for taking calls via the internet
Oct 8, 2018
Great for doing what I need it for, taking calls via internet. The sound quality is amazing, even at low volume
Reviewed on Argos.co.uk
Not very good
Aug 30, 2018
The good is the sound is crystal clear . That is about it . The Bad . Very heavy for a headset . The speaker volume is low even setting skype speaker vol to max . They are a but small even fully extended and the hinge on the non speaker side broke within a week ( the last 2 could just be down to my large head ) .
Reviewed on Argos.co.uk