Creative Chatmax HS720 USB Headset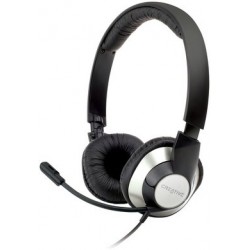 Very poor microphone quality
Jun 29, 2019
I needed a new headset for work which involves recording my voice. I originally wanted the Microsoft LX-3000 which isn't available to order online or collect in store anywhere. This was the next choice as a USB headset. (Note: Analogue jack just isn't as clear as USB) The only way I could get it to record was to have the mic directly over my lips which was a challenge as the mic was really short and only reaches my cheeks and even then it was all punchy air smacking beats when you speak into it
Reviewed on Argos.co.uk
Mostly good but suffers from a common weakness
Jan 9, 2019
I have used these for Skype, WebEx and online gaming and they have worked well. The sound quality is great for mid-sized, on-ear headphones. As a spectacle wearer I find they become uncomfortable after extended use (several hours), but this is a common problem for me with all on-ear headphones. I have used them on Windows 7 and 8.1 and in both cases it was 'plug and play' operation. Unfortunately after a few weeks they have broken due to slight outward pressure while untangling the wire.
Reviewed on Argos.co.uk
Creative Chatmax Headset
Jun 18, 2015
I bought this item twice, unfortunately the second time I bought it I didn't realise it was the same item. Anyhow, I decided to give it the benefit of my doubt. I would soon live to regret this choice as the same issue happened again. The USB connector is a bad design, there is a black plastic casing around the sound care mother board where the usb is connected, unfortunately the casing does not support the usb at all and this allows the usb to be bent easily causing it to be damaged.
Reviewed on Argos.co.uk
Used for gaming and is great
Aug 1, 2014
Picked up as a cheap Teamspeak headset; USB was key for this. Sound quality is great. Headphones cancel out noise quite well for a cheaper headset, and the microphone picks up incredibly clearly. The headset is fully adjustable. The microphone itself is flexible, but doesn't swivel. Not a huge problem and doesn't detract from the value. Well worth the money; the next step up from this is a full gaming headset, and you're looking paying a fair whack for a decent one.
Reviewed on Argos.co.uk
Does the job well
Sep 26, 2017
It does the job as intended for a Skype and similar use headset. Mic is clear enough and the speakers are good, wouldn't use for audiophile level music but great for chat. Useful feature is the switch on the in line control that lets you turn the mic off and has a big red LED to remind you it's turned on. Headband is a little tight in places but the adjustment struggles to stay put but overall it does the job I bought it for without me worrying about it
Reviewed on Argos.co.uk
Headset - Volume Unreliable
Jul 17, 2015
I use this headset for remote training and the headset volume is unreliable. Suddenly the volume in the built-in speaker within the headset is deafening and then other times the feedback is really bad (crackling loud). When it does work you have to turn the volume down to 2 so that you do not damage your ears. I cannot fault the comfort on this product as this is top notch. If they could sort the volume out, this would be an excellent product.
Reviewed on Argos.co.uk
Excellent Quality, Duration, and Appearance
Jan 25, 2019
I have been using this Headset for gaming, watching videos, and listening to music for many years. It definitely meets all of my criteria for a headset. Recently my old headset which i had been using for 3 or so years (same as this one) has been physically damaged; I decided to replace it by purchasing it once again because it has great sound quality, and very high durability. I Definitely recommend this product.
Reviewed on Argos.co.uk
Good quality value headset
Oct 24, 2015
The headset is great however the ear piece is a little small on my adult ears, but it fits my 10-year old sons ears perfectly so a good choice for kids and games consoles. The one and only downside is the mic is angled out of one earpiece meaning the mic must always be on the same side and can't be moved. Overall I expected a good quality value headset from Creative and that's what I got.
Reviewed on Argos.co.uk
Decent, recently priced headset
May 23, 2017
I bought these for work, as I am frequently on video calls to India and Germany. The handset is a reasonable price, and I was able to pick it up quickly from Argos. The sound and build quality reflect the price - it's pretty good, but not the absolute best - good enough for me to use on calls, but when I want to listen to music, I'll swap them out for a pair of more comfortable headphones.
Reviewed on Argos.co.uk
Really pleased with this headset
Oct 17, 2017
I needed a Skype / voip headset at very short notice, for an interview the following morning. I realised at 6pm that my ancient headset wasn't working. Reserved this new one online at 6:45pm, collected it at 7:30pm. Plugged it into computer, installed quickly and easily. Excellent headphone and microphone sound. Very comfortable to wear. Worked perfectly. Very pleased!
Reviewed on Argos.co.uk
Awesome headphones, get a set before they all go!
Apr 14, 2016
Bought these for my husband and he was pleasantly surprised at how wonderful they were. The sound is brilliant, and they can be worn for long periods of time WITHOUT any pain. The earphones are a sung fit and he would have liked them a little larger, which is why I dropped a mark on the design, but on the whole he loves them to pieces and tells everyone about them.
Reviewed on Argos.co.uk
Dreadful workmanship on USB joints
Jul 28, 2015
This is the second one I have had of these headsets. Both failed on the exact same thing. The USB connector. the soldering is appaling and very flimsy. I use a PC and a laptop so I use the headset for both, it doesnt like to be kept unplugged and then put back in again. After a while the plug is left inside the USB of the PC. I would NOT recommend this to anyone
Reviewed on Argos.co.uk
Very good headset
Mar 28, 2017
Comfy, work great- I got them for the office and am thinking to get another ones as they are really good. We tested a few models and for this price, this model seemed the best. They work as they should and also have a very nice design, with little features that allow you to adjust the headset to fit you as desired. Super happy with them, definitely recommended.
Reviewed on Argos.co.uk
Great for dictation
Jul 15, 2019
These are much better than I expected for the price - really clear sound and the microphone's noise cancelling stops them picking up background when using dictation on Microsoft Word - can now dictate accurately enough to make this main choice for anything but the shortest edit / email. Comfortable enough to wear for extended periods.
Reviewed on Argos.co.uk
PC headset it's very light
Sep 13, 2017
I went for this headset for the pry e really and know creative are a good company, it works when plugged in straight away, sound quality is OK no crackles, the only thing I don't like is the size of the ear sections there quite small so just sit on your ears also there very light feel a bit fragile , but over all happy with them
Reviewed on Argos.co.uk
Great head set
Oct 30, 2018
Great sound quality, easily adjustable size and mic... Overall it is great quality product. Does what is supposed to do. Only downside is that it is just a little bit too robust and my ears feel a bit too warm after wearing it for a long time, but that is what you get with any headset when having it on for long, I suppose...
Reviewed on Argos.co.uk
Good value headset
Oct 17, 2017
I'm using this headset for Skype and online tutorials and it works really well. The quality overall is excellent for the price. As they use a USB socket that makes them usable on any PC/Mac. The in-line microphone on/off switch and volume control are really useful. Don't waste money on cheaper headsets, go for these!
Reviewed on Argos.co.uk
Awesome value
Aug 20, 2016
Great sound quality all round (headphones and mic) and solid construction so they don't feel like they will break in your hands if you look at them in the slightly wrong way (like many other headsets I've used). More like a chunky pair of quality headphones that happens to have a great mic, than "just a headset"
Reviewed on Argos.co.uk
Value for money
Jul 31, 2018
A lightweight headset. Ear pieces are comfortable and fit nicely. Long lead with an USB connector. Microphone works well and is adjustable. Volume control on the chord which personally I would prefer on the headset but that is personal choice. All in all a good all rounder and good value for the money it cost.
Reviewed on Argos.co.uk
Not bad for its price!
Apr 17, 2015
As a gamer, i love my audio quality, comfort and design! For a cheap price, this headset shows its great sound quality with easy connectivity but not very comforting, unfortunately. Although the design and everything else is good, the comfort lets the rating down a lot, but still worth the price!
Reviewed on Argos.co.uk
Bought for business Skype calls
Dec 30, 2019
I bought these for Skype meetings for work as I struggle with the lower volume out of my laptop. They fit well and other parties on the calls seem to be able to hear me without issue so I assume the microphone is doing it's job well. The sound quality is good through the headset.
Reviewed on Argos.co.uk
The item cost me a job
Nov 8, 2019
This product did not work well at all . The USB connector was faulty and the line was therefore intermittent and crackly. I used it for a Live Trial for a job and consequently did not get the position I was more than qualified for. Very disappointed with the product.
Reviewed on Argos.co.uk
Value for money
Apr 15, 2015
Very Pleased sound quality is good I use a tower system so the " plastic USB connection" doesn't cause me any problems as they are connected and setup for skype only so I don't have to plug them in and out all the time. Overall good value for money I would recommend.
Reviewed on Argos.co.uk
Good value
Aug 7, 2014
These produce good clean sound and voice reproduction. Some background hiss but easily removed with software on line. Only thing I dont like is the microphone sits on the left hand side and can't be changed over which is annoying as I prefer it on the right.
Reviewed on Argos.co.uk