Sennheiser HD8 DJ Headphones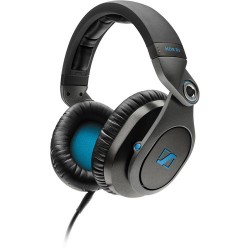 What had I been missing? You tell me!
Jan 30, 2019
I agree with most of the other previous reviews, that this headphone brings a new world to me and I didnt realize what I had been missing for years after years. I am not a DJ by all mean, nor am I an audiophile, but just a programmer. I have been using some bluetooth headphone (now trash) and corded earplugs came with my high end smartphone to stream online music into my ear because of the constant annoying whistling & humming from jerks at work.... Show More Until one day I saw a promotion for a Sennheiser (long dreamed about it) headphone here with a big discount, I bit the bullet and said Happy Birthday and Merry Christmas to myself. Boy, I realized I was in a cave all my life. With a little twist in audio setting on my computer, it blew me away. Just by streaming some internet radio, I already noticed a huge difference in quality. Turned up the volume, I just heard so much more detail that wasnt there with cheap headphone. I know this model isnt top of the line, but I am totally satisfied with I bought. I dont have a hifi, so cant tell how much better than being used with a computer. Whats more important to me, other than sound quality, is that without even turning up the volume much, I no longer hear the jerks whistle and humming (and I also missed phone call). The coiled cable is longer enough I can now roam to other work bench. If I work in the studio and am sponsored, of course I could always aim higher.Show Less
Reviewed on B&H Photo Video
Coming from trashcan headphones, these are like a new world
Aug 16, 2018
I'm not some kind of amazing audio guy; I'm a filmmaker who wanted to up the audio game, and having used cheap earbuds to monitor my cams and recorders for setup, I realized that I could hear a lot more through them than I'd hear on any standard speaker system. When these Sennheisers came up on a sale, I couldn't possibly pass them up, especially given the overwhelming positive reviews from amateurs and audio-heads alike. The depth and range of w... Show Morehat you hear through these is positively astonishing! I actually had to buy a few CDs to rip to FLAC because I could hear high-frequency compression artifacts in my older low-bitrate MP3 rips that I never heard before, even in my existing cheap ear-covering headphones. These things gave me a new appreciation for audio and access to a tool to improve my work that I can't ever let go. It can be very hard to see the value in costly professional headphones as a casual listener, but once you put these on your head and hear a few songs and videos and films through them, going back to cheap and/or junk headphones (yes, even the overpriced Beats and Skullcandy 'phones are largely junk in my opinion) feels like trying to walk with one leg missing. The two removable cables, changeable ear cups, and gorgeous hard carry case all add even more value to this package and round it out in a way that can almost bring a tear to your eye. HIGHLY recommend these.Show Less
Reviewed on B&H Photo Video
Really nice
Mar 17, 2019
I rarely spend this much money on headphones, and when I did, theyd always be bluetooth. I wanted to have a good, wired pair of headphones since I was sick of random cut-outs and spotty range from my wireless ones, and was pleasantly surprised to find the HD8s for only $180 compared to the $400 they retailed for. I discovered these a few years back, when they came out, but was immediately set off by the price since it was completely unattainable ... Show Morefor me, but decided to buy them during the sale. When I got them, the build quality immediately impressed me, though the swivelling earcups didnt work as easily as reviews made it out to be. They are overall very comfortable, though, and the addition of a premium carrying case, extra cable, and spare velour earpads were a nice touch. As they are DJ headphones, the clamping force is quite high, making for a lot of pressure on your head, but also introducing fantastic passive noice isolation, the likes Ive never seen on over-ear headphones. Now, for the most important aspect of any headphones, the sound. To put it simply, they are exhilarating to listen to; tight, punchy bass which isnt muddy in the slightest, along with good mids and highs that dont get drowned out. Overall, I think these should last a good few years. Highly recommend checking them out while theyre on sale!Show Less
Reviewed on B&H Photo Video
I really like these!
Jan 18, 2019
I wear phones all the time. Ive been using Bose QCII for the past year, and like them. However, I am seeing battery life shortening, and learned just how expensive it could be to replace the battery. Not worth it. I wanted a new set of wired headphones. The HD8 DJ came up on B&H Deal Zone, so I tried them. So glad I did, too! These sound great, for me. I like a little heaviness in the bass, but tight enough for my taste. The mids and highs are j... Show Moreust slightly subdued, yet all is quite clear, which makes long listening a pleasure. Very nice compromises. And volume? These can handle it very well. Comfort? You bet! I can wear these all day and night. No fatigue whatsoever. Great looking equipment. Very nice case. Two cords! One coiled. One straight. I prefer the coiled. The straight has a harder encasement, so if you touch it, or it rubs against anything, anywhere on the cord, you will hear it transmitted right into the phones. A bit annoying. The coiled cord has the same issue, but not bad at all. The phones are very well built. You can see it. You can feel it. I am confident these will provide years of exceptional performance. I am extremely happy with these!Show Less
Reviewed on B&H Photo Video
A great set of heaphones
Jun 21, 2019
Pro headphones, great sound, great features I am planning to use these as studio monitors, and reference headphones. I wanted essentially some HD25's with circumaural (around the ear) format, and less plasticy. These fit the build. You get excellent sound (I feel you get great lows, mids, and highs) with lots of detail. I've tried it using vocals, instrumentals, and they sound great. They are DJ headphones, so their bass response is good. I... Show More don't like bass heavy headphones, but prefer something neutral. These headphones provide a full and detailed response. They come with a very nice hard case, two detachable cords (coiled and straight cables), and a 1/8 to 1/4 adapter, and extra (felt) earpads. (The installed earpads are a very nice pleather). The clamping force is on the strong side - but all Sennheissers have strong clamping force. There is excellent sound isolation. These headphones are a little on the heavy side (there's a lot of metal). The cord can attach to either the left or right earcup. The headphones sound great, look great, and looks like it will last forever.Show Less
Reviewed on B&H Photo Video
Disappointing
Aug 17, 2018
I came across these headphones during a sale and decided to give them a try. My expectations were high, due to Sennheiser's great reputation. First off, the build quality is amazing. The headphones have very satisfying heft and the materials are top notch. Plus they look terrific. They also come with lots of accessories and a cool case. But... the sound was underwhelming to me. I'm not an audiophile by any stretch. But the sound to me feel mudd... Show Morey, like all the detail was getting washed out. They are bass heavy, but it seems to be at the detriment of detail. Plus the head band clamps very tightly, and the previously satisfying heft just weighed them down and they hurt my head after only about half an hour. Sound is subjective, though. But for me these were a bad fit all around.Show Less
Reviewed on B&H Photo Video
Sennheiser hd8 headphones! Top notch
Aug 15, 2018
The build quality is top notch for sure . The sound overall is pleasing but a touch bass heavy. The higher bass levels and the lower midrange seem to be missing or at a lower level than they should be. The lower treble is the same just not quite there . You can tell they were made for the more modern music like rap and hip hop. They sound really good if you turn them up a bit too. They are fantastic for listening and DJing but not as a studio s... Show Moretyle mixing headphone. And I will be using them for that sometimes . Mostly for capturing the recording and setting levels . Hope they work out ok I have hearing damage anyway and may be missing these areas of sound anyway. Overall they are bad xxx phonesShow Less
Reviewed on B&H Photo Video
Pretty much perfect
Jul 8, 2019
Great build Very comfortable Outstanding sound, but... These headphones are very bass-forward. That's not to say that anything is lost in the mid-highs because they are both warm and perfectly balanced. In fact the bass is so well controlled that I don't even mind that's it's so heavy, although I generally prefer a flatter response and sometimes question my listening levels in club environments because I know my ear drums are being hammered by bass I don't need while the subwoofers are rumbling.
Reviewed on B&H Photo Video
Wow
Dec 29, 2019
These sound great through my FiiO Mont Blanc-E12 headphone amp, connected to a 7th Generation iPod Touch. I've had a pair of Sennheiser HD 600s for years and I wanted to try something with more lower-end emphasis. The HD8s provide rumble and clarity. The sound is not quite as beautiful as the HD 600s and the bass response seems to come at the expense of a certain amount of upper-end detail (compared to the HD 600s), but if you want very deep bass response without sacrificing clarity, these work.
Reviewed on B&H Photo Video
Amazing sound and no audio leak
Aug 16, 2018
I used to use Bose QC25 but those would leak audio. I still use them for voice cancellation purposes where needed but these are amazing. No audio leak whatsover. I bought a bluetooth amplifier as well to go with my phone and the combo is even better. If you are planning to use with a phone I would suggest getting an amplifier because that helps it reach its full potential. Would work without those too. You can find small amplifiers of FiiO or Earstudio, bluetooth or wired.
Reviewed on B&H Photo Video
Great Product
Aug 6, 2014
After sampling most of the high end headphones at the chain tech shops, and then extensive research online, we chose to order these without having heard them. After receiving them, their sound quality is truly high end, and the construction features of this model are a match to the sound quality. Their durability, coupled with the easily replaceable cords seem to suggest we will get many years of great sound without losing their structural components.
Reviewed on B&H Photo Video
Amazing Headphones
Aug 16, 2018
I've had these for about a week now, and already, they're some of the best-sounding headphones ever. They're meant for live performances, but they work and sound just as well for leisure listening. Sennheiser packed their best materials into them, making sure they stay durable and hardy through their life span, which seems to be as long as you take care of them properly. Don't sleep on these!
Reviewed on B&H Photo Video
Really Really Nice Dynamics !!!
Aug 16, 2018
These headphones are dynamically better than my BOSE 35's. I use on the road to mix audio and if you are forced to have to mix with headphones I'd definitely recommend the HD8 headphones. Amazing !
Reviewed on B&H Photo Video
Very good headphone
Dec 30, 2019
I needed a set of headphones and saw these in an email from B&H. They were on sale an I am glad that I made the purchase. Very good sound quality for an older person like myself.
Reviewed on B&H Photo Video
Sennheiser HD8 Headphones
Feb 7, 2019
These are excellent headphones. Their performance is ouststanding. Received an excellent cost on the item from B&H. Would certainly recommend the purchase of these headphones.
Reviewed on B&H Photo Video
Sennheiser HD8 DJ
Aug 20, 2014
Probably the best headphones I have ever tried. And yet I haven't tried them to there full performance, (need a good DAC and AMP). Worth every penny and sweat to get these
Reviewed on B&H Photo Video
Sharp Audio
Dec 31, 2019
Sharp audio. Sennheiser is an industry standard and did not disappoint with this headphones. Comfortable construction and convenient case. They are great.
Reviewed on B&H Photo Video
Sharp Audio
Dec 31, 2019
Sharp audio. Sennheiser is an industry standard and did not disappoint with this headphones. Comfortable construction and convenient case. They are great.
Reviewed on B&H Photo Video
Good DJ sounding Headphones
Aug 23, 2018
Even though I own other Sennheiser, AKG, Grado headphones, these ear cans deliver a clear and enjoyable sound. Worth the purchase price.
Reviewed on B&H Photo Video
Great DJ Headphones
Mar 12, 2019
Sound is clear and sound cancellation is even better... you can be at a loud venue and still hear your mixes...
Reviewed on B&H Photo Video
I would buy this product again and again
Nov 19, 2015
I use this headphone when i play at the club and it sounds amazing, clear , the bass is worderfull. 5 stars.
Reviewed on B&H Photo Video
I like them
Jan 17, 2020
Good quality, durable & convenient. The sound is really good but wish there was more bass on the low end.
Reviewed on B&H Photo Video
Excelente producto.
Jul 8, 2019
El producto es bueno por todos lados. Su construccin, materiales, aislacin, sonido. Vale cada peso..
Reviewed on B&H Photo Video
Amazing Clarity
Jan 31, 2016
I love the design and comfort first of all, Sound is outstanding, very detailed highs & nice Bass.
Reviewed on B&H Photo Video