Sennheiser Momentum In-Ear Headphones (Apple iOS, Black Chrome)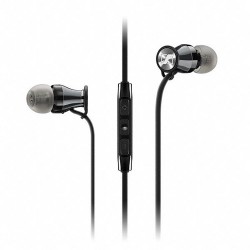 Product review: Sennheiser M2 IEi Mometum In-Ear Noise Block
Sep 25, 2015
I purchased this earphone for a better listening experience. I have used it everyday since the purchase date that was July 2 2015. The overall using experience is positive. Ideal user: The senheiser M2 IEi Mometum In-Ear Niose Blocking Ear Canal Phones is ideal for people who seeks high quality but affordable in ear headphone, especially for electronic music fans. Also, this product is attracted to young adults for fashion appearance. Evaluation ... Show MoreCriteria: 1. Listening experience: It is very good. Music sounds with enriched beats. I can clearly hear the different levels in a song. 2. Appearance: The black and red two-tone design make this earphone looks modern and fashion. 3. Price: This earphone costs $, which is affordable comparing with other Sennheiser headphones. Overall Assessment: In general the using experience is satisfaction. The earphone has a very special design that is ergonomic and has adjustable angle of 15 degree, which made me cannot feel it when wearing. Also, the soft earplugs are very comfortable, and I could wear it for more than two hours and not feel tired at all. Moreover, the earbuds can stay in my ear very stable. It would not fall out when I twisting turn over on bed, or even doing sports. In ear and fit ear canal design isolated noise very effective. The quality is also worth the price. The listening quality is definitely worth its price. Accessories came in with the box are in good design, too. It came with a very fancy carrying case and a cord management tray, which can protect the earbuds from knot. It also has 4 different size earplugs to satisfied different needs. There is one con that I have to point out. The cable is too long comparing with others. Sometimes the cable scrapes by other things and therefore the ear buds would fall out. All in all, although the Sennheiser M2 IEi Mometum In-Ear Niose Blocking Ear Canal Phones it not perfect for a very small disadvantage, I still would recommend it to friends.Show Less
Reviewed on B&H Photo Video
Lovely!
Dec 9, 2014
Lovely: lovely construction, lovely materials, and just simply lovely sound. Other reviews will note that if you have big Dumbo ears, these headphones may not fit. I don't have big elephant ears, and these do just barely fit over my ears. But they fit, and they are comfortable. Also, they are tight enough to stay where you put them, but not so tight that if you wear glasses (as I do) that it's going to press them against your head and hurt. Well.... Show More.. not for a few hours, anyway. They are not particularly heavy, but they are definitely not lightweight.The sound is spectacular. Really, these headphones have some fantastic imaging, clear highs, with a very nice mid-range and excellent bass response. One of my music players (Hifiman) boosts the bass a bit to compensate for the typical in-ear phones that most people use, and with these phones it's too much bass. If you like to shake the walls with bass, you'd probably love it. With other sources, I had no such problem. Overall it's a pretty flat, accurate reproduction of sound. I think the highs could be a little sharper though, I gotta say. The cord is not too short for me, but it may be a bit short for some folks.One of my favorite albums has a guest artist on it that has a voice that hurts my ears in certain ranges at high volume. These phones are able to accurately reproduce her voice, but they take out most of the harsh tonality that every other playback (car, home speakers, etc.) make me suffer through.Now, to get the volume out of these things that you may want, you'll need some power out of your devices. I had no problem driving them from my home CD player, my Fiio X5 player or my Hifiman 601. But they did require me to crank it up a bit higher than with my in-ear phones.These do block some ambient noise, but not a whole lot. Better than open back phones, for sure.Show Less
Reviewed on B&H Photo Video
Very good headphones
Jan 2, 2014
I used to be in the recording business and I've owned more headphones than I can count in the past 45+ years - some great, some not so great. Before I bought these phones I read many reviews and decided to give them a try. I had been and still am using a pair of Beyer DT-1350's. I mainly listen to jazz and classical with some rock. To my ears the Sennheisers are more defined and have a stronger bass response. The Beyers are very neutral, but bala... Show Morenced. I'm not a fan of the current fashion in phones toward heavy bass. The Momentums have a solid bass response that is neither too heavy or too muddy. Mid range is just right for my taste and the high is bright, but also well defined. All in all I like these phones a lot. I mostly listen to FLACs and have a lot of 96Khz/24bit and some 192Khz/24bit recordings. I'm listening on a Fiio X3 configured as a DAC as I write this. The Sennheisers make even CD quality recordings sound good. The Beyers are so neutral that they will make a mediocre recording sound mediocre. Construction of these phones is solid. They come in a good (although large) carrying case and have two cords included. One is a straight 1/8 inch phone plug and the other has a built in microphone/volume control/play switch for use with phones and iPads. I don't, as a rule listen on my phone, but it's handy to have. A number of reviewers have commented on the small size of the ear pads. They are small, but yet I have no comfort issues. Nevertheless, they fall fall somewhere in between on the ear cans and over the ear. Sound isolation is quite good. Overall a very fine pair of headphones.Show Less
Reviewed on B&H Photo Video
Great sound, perilously long cable
May 13, 2016
First things first, I love the remote. There aren't many Android-compatible, three-button remotes out there. That was one of the main reasons I bought these. They're a big step up from the buds Samsung bundled with the Galaxy S7. Like many consumer headphones and IEMs, these offer a slight bass bump - it also depends on your music, how these fit in your ear canal, and any EQ on your source device. But I like the sound of these, and they do a dece... Show Morent job passively blocking noise on my train or at my desk. The stock medium tips fit just fine. I get the feeling sometimes that these will fall out of my ears, yet they provide a good seal and sound great. Maybe it's just me. I find the external housing to be a bit large. The cable is a bit of an issue for a few reasons. First: it's too long, so if you're a klutz like me, you'll want a cord wrap. The cable is also a bit thin, so be careful how you handle and store these. Cord noise is a bit of an issue if you wear these down (not wrapped up and over your ear) and over the front of your shirt. The hard carrying case is good and bad - it provides extra protection in a relatively small footprint, but you need a lot of patience to thread the components and wrap the cable. If there isn't already, there should be a video on how to properly wrap these, without ending up with extra slack. You can also keep a spare pair of ear tips in the bottom of the case, which is where I keep a pair of Comply T-150s. Overall, these provide great sound and Android compatibility, two of the main things I look for. The cable cons aren't major.Show Less
Reviewed on B&H Photo Video
Rush/Last Minute Purchases are always a mistake
Nov 30, 2015
I purchased these, not through B&H but at an airport, as I realized I'd left mine behind. I decided to spring for a nicer pair (they were $ at the airport... OUCH) and unfortunately I do not like them (nor can I not return them). The good is that they sound great. Loud, clear and a nice range...as would be expected from the brand,The bad is the fit. The set comes with two different in-ear fitting sizes, which is pretty standard, but neither work ... Show Morevery well for me. The smaller size must be for a child, and the large doesn't stay in place. Because of its design, and the earbud weight, it rolls out of place... and out. Not comfortable. There's nothing worse than a 10hr flight with uncomfortable headphones that you are actively trying to keep in your ear. Style wise, I'm not a fan. I like the color scheme, but the speaker itself is very large and feels like it pulls down & out of ear. I like earbuds on planes, so you can lean into a pillow vs with cans... but these protrude out of your ear so that doesn't work. Sigh. And, there's no L & R markings which is bizarre.Oh... and the case? What a pain in the butt to use. Why a bulky hardcase with moulded plastic. Am I really supposed to use that? A simple pouch works just fine.This is my second pair of in ear sennheisers over the years and I have to say, they'll be my last. If I had the time to buy from B&H, I'd gone etymotics. Sadly, I'll be buying them anyways. There goes $!Show Less
Reviewed on B&H Photo Video
For what they are, they're perfect.
Oct 7, 2013
I've only used these for traveling so far paired with my iPad 3 listening to Apple Lossless and AIFF music files. Absolutely happy as I can be with their neutral clarity, tight accurate bass, crystalline highs, appearance, light weight and comfort. I am a home audiophile guy and not an experienced headphone hobbyist, FYI. Been wearing these for many many hours at a time on international flights, on the go in Metros, Undergrounds, trains, etc. I'v... Show Moree tested it with my girlfriend, nearby strangers can barely hear what music you're playing even if it near quiet ambience and your volume is at a healthy level. In a plane or train? Forget about it, no one can hear your wussy Michael Jackson addition. The hard case gets used and is very helpful to keep your cans safe in your back pack or luggage. Speaking solely on a superficial level I have loads of pride rocking these things whenever some dork walks by with his 20lb heavy Lakers Beats by MONSTER that in my opinion sound terrible. Finally, my aim is to soon pull the trigger on an Astell 24/192 portable player or maybe a Classic iPod / Cypher Labs Theorum 702 DAC setup. But I'm certain I've found the portable headphones I'll be using for a very long time with my MOMENTUM.Show Less
Reviewed on B&H Photo Video
Superb Quality and Sound but Uncomfortab
Sep 26, 2014
I was excited to get these. My @ had both the on-ear and around-ear on display. I only wanted the around-ear but like others have said, the earcups are too small for many people. They covered all but about a quarter-inch of my ears so they were more like on-ear. The sound was well-balanced, not heavy like Beats and less bassy than Bose SoundTrues. The leather pads were beautiful. I called Sennheiser to ask if they were going to be changing the pa... Show Moreds or offering larger ones to put on. They say they have heard this before but no decision is currently being made. The ivory version was the one I wanted to get...I like the color and the retro look of these phones. Despite being unacceptable, I still have them 4 stars as a lot of people have small or average ears and the sound and quality of construction is excellent.Show Less
Reviewed on B&H Photo Video
Cheap Product
Dec 12, 2016
I bought the Sennheiser headphones because the guy at the store recommended them to me over the Bose soundsport, since he said that he heard of more issues with the quality of Bose products and them breaking. About two and a half weeks since buying these, the portion of the wire closest to the headphone jack split open. The headphones still work, but i'm scared to use them, especially outside, because I don't want the internals to get exposed to ... Show Morethe elements and get damaged. I'm also afraid of damaging them as well. I know they have a manufacturer warranty, but the process of exchanging and returning things at B&H is so painfully excruciating and I don't know that to do at this point. Disappointed with this purchase for sure.Show Less
Reviewed on B&H Photo Video
iPhone bass rocks w/ Sennheiser Momentum
Dec 11, 2014
This is my third pair of Sennheiser headphones (1 for pc, 1 for wireless movies/tv in condo to keep noise levels low, and this pair). They make quality audio equipment and the Momentum on-ear headphones are no exception. I love the deep bass and sound quality these generate and the fact that I can use them with not only my iPhone due to the built-in mic but also my other entertainment devices is really sweet. As others have noted, if you have a l... Show Morearger head, they can become a little bit uncomfortable after prolonged usage but for a few to handful of hours and they are fine. Anything longer and you might need to reposition them periodically on your head or just take breaks from listening to music or other audio.Show Less
Reviewed on B&H Photo Video
A good pair of earphones
Jul 16, 2015
I have gone through many earphones and I must say that although this doesn't blow the competition out of the water, they are a very nice pair of headphones. The length of the cable is just right, and the fit for the ear is personally comfortable. While running I haven't really seen much in terms of them falling off. The sound quality is very good and crystal clear. Not the very best sound I have ever heard but honestly decent for their price. It'... Show Mores not a perfect noise cancellation but it does get most of the sound out from the outside. The only negative I might give them would be the cable that comes out of the ear piece is forced outward by a little ring and makes it kind of awkward.Show Less
Reviewed on B&H Photo Video
Great sound but ......
Jun 6, 2016
The sound is great although it is a bit heavy on the base. The earbuds are long and they stick out like the plugs in Shrek's ears. They can be easily dislodged. Also, the ear buds do not fit my left ear, they fall out. Reviews claim that foam alternatives will correct this. Unfortunately, these foam tips can only be purchased from Sennheiser; other commercial tips will not fit since the nozzle's diameter is very large. Sennheiser is back-ordered ... Show Moreon them. Also they do not sell a set with different sizes so you have to buy each size separately which starts to become expensive. The portion of the cord connecting to the ipod/phone is very thin and appears delicate for everyday usage.Show Less
Reviewed on B&H Photo Video
Awesome Buds...
Dec 27, 2015
I've had many pairs of earbuds over the years, but none have worked as well, or sounded as good as Sennheiser. It's a brand that even professional audio people use, and if you care about the quality of your sound, you'll understand as soon as you listen to a favorite song, through buds, or a pair of headphones. I especially like the right-angle jack, which allows the entire assembly to ride inside my iPod case without stressing the connection bet... Show Moreween wire and jack. The only thing I would change is the length of cord. Another foot would allow for more comfort during the winter months, with it's extra layers of clothing. But the quality of sound counts for all!Show Less
Reviewed on B&H Photo Video
Worth the High Rating!
Apr 12, 2015
I read lots of reviews then spent a few hours in several stores test listening a range of headphones. While I most loved a pair of Grados, I wasn't up to spending over $. I found the Momemtums to be quite bright in mid and high tones, and had enough bass (although not as much as some others). Going back and forth from pair to pair, I really did like the overall tone very much, and the price was also very reasonable for the quality. Quite comforta... Show Moreble for long periods of time, and I liked the style and custom colour look of the brown. I tested the sound from my iPhone, as digital will be my primary source.Three weeks later, and I am happy with what I chose.Show Less
Reviewed on B&H Photo Video
Excellent upgrade from the Apple stock ear buds
Jun 22, 2016
Having owned and loved my audiophile grade over ear Sennheiser headphones for many years, I finally decided to purchase a more portable version from the same company for my summer vacation. I will wtart with setting up expectations: these are not audiophile grade earphones, so if this is what one is looking for, look elsewhere. These are in my opinion an excellent upgrade from the Apple stock ear buds as recently experienced in 2 long flights. On... Show Morece the proper fit is adjusted with the different sized rubber pads, these plugs offer good noise insulation, and both highs and low sound much better than the stock Apple buds.Show Less
Reviewed on B&H Photo Video
Awesome headphones
Dec 12, 2014
These headphones are great! They are certainly not for audiophiles and have a lot of bass, which is good for the majority of the users. The headphones fit great on my ears. I was originally debating getting these or the on-ear ones, but when I tried these on, they felt amazing. I wasn't able to try the on-ear but then again I didn't have to at this point. They were super comfortable and have just the right amount of pressure on my ears. I would like if the control on the wire worked with android too though I knew it would not going in to buy this and it doesn't really change much.
Reviewed on B&H Photo Video
Not for audiophile
Dec 12, 2014
I bought and returned it despite a great price ($) because of its emphasis on bass. It is not neutral at all and unfortunately (or fortunately for me), I got accustomed to the HD650 at home. I was not expecting the same sound of course. The HD650 is 4x more expensive. But I expected something degraded evenly. It is not just bass oriented, the bass are are less controlled than in the 650. I would say blurred. At the end it was more like a pain than a joy. It is certainly not a bad headphone. You just need to like this type of non neutral, bass oriented headphones.
Reviewed on B&H Photo Video
Just what I was looking for
Dec 12, 2012
It was time to retire my HD-570 headphones because the foam was rotted and those parts are no longer available. I already own a high end pair of open back headphones and wanted to get a high quality pair of isolating ones for noisy environments. As an audiophile I'm not interested in noise cancelling headphones. These are the ticket. They're comfortable, keep the background noise to a minimum and sound fantastic. As others have mentioned, they don't really sit on the outside of my ears, but being reasonably compact totally offsets that minor drawback.
Reviewed on B&H Photo Video
Great Sound, Awful Size
Dec 13, 2014
This headphone has great sound quality for the price while looking and feeling great. It's big (and possibly only) drawback is that it suffers an identity crisis and doesn't know if it's an on ear or over ear headphone. I have a large head and large ears and these work well as on ear headphones, but the first 6 hours with them were the most uncomfortable hours of my life for my ears. Since there is a dedicated on ear model I wish they had made these a bit larger. Besides that, a great headphone in terms of sound quality, build quality, and eye candy.
Reviewed on B&H Photo Video
Momentum lite
Dec 2, 2014
Fits great. Owning the over the ear ones for a while and being extremely satisfied with those, I couldn't wait until these came out for daily use out and about. I pre ordered them and had to wait for about a month until they came out. Overall appearance is dlightly beliw the rest of the momentum line, does not have the luxureous feel abd touch. Sound is crisp, a little light on base I have to say (even from someone who listens mostly to (indie)rock). In general I am happy with these, allthough when they break or get lost I probably will switch.
Reviewed on B&H Photo Video
Awesome Sound Reproduction
Jan 14, 2015
I use these for listening to music at work and at home. These headphones are amazing, comfortable*, and look pretty cool. The sound reproduction is very natural, and there is no distortion of the very low bass songs, like Kanye West's Love Lockdown, and the highs are crisp. *The only reason for this asterisk is that the headphone cup size is slight small for over-the-ear headphones, and listening to music for a long time becomes more uncomfortable. However, Sennheiser has an updated version, which are supposed to be bigger, so I may get those!
Reviewed on B&H Photo Video
Good overall quality
May 16, 2016
My iPhone headphones were broken and was looking for a new one that could be good enough for listening music, primarily while commuting via subway. I'm extremely happy about my choice. The sound quality of these headphones are good enough for the kind of music that I hear (soft rock, pop, and R&B). The cords are of great quality and they don't get tangled. Microphones are of good quality as well, suitable for long conversations. The length might have a little shorter, might be couple of inches. Apart from that rest is all good. Cheers!
Reviewed on B&H Photo Video
natural sounding detailed earphones
Apr 5, 2017
These earphones from Sennheiser are excellent at producing a very flat and natural representation (they make you hear the song as it was intended to be bears). BUT they will sound rubbish if the song is not good quality, they excel at well recorded material only. Therefore I can also recommend these earphones for music producers, for their flat frequency response and nicely controlled bass frequency. The fit is comfortable and noise cancellation is decent, but it's all about the sound!
Reviewed on Argos.co.uk
Cable does not last
Oct 12, 2017
Sound quality is good as to be expected from Sennheiser. But the cable sheath started to split open near the plug only a month after purchase. Doesn't look like it will last much longer. This problem could have been easily avoided if they had put a strain relief by the plug, but instead they did almost he exact opposite and made a very soft cable (with even more delicate seams due to it being a not round cable), going inside a very hard plastic plug. Very badly designed.
Reviewed on B&H Photo Video
Almost Great
Jun 13, 2017
These are comfortable and look good, the red highlight on the wire is a nice touch. The sound is good, the bass is warm and rich without being overpowering, the instruments can be distinctly heard and I'm hearing things I haven't heard in songs before; however, the V shape sound (high treble and bass with subdued mids) is not to everyone's taste and the treble is a little much if you turn them up too loud. In this price range I doubt you'll find anything better.
Reviewed on Argos.co.uk