Sennheiser HD 2.10 On-Ear Foldable Headphones - Black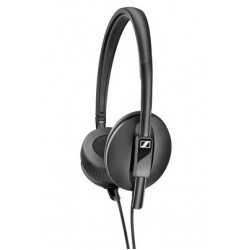 Good sound and lightweight phones
Jul 26, 2019
Bought for my friend who listens to TV through them. They replaced a £15 pair by a big electronic company. She says it's a better sound and are lighter, more comfortable pair of headphones. You'll need a extension lead to reach a TV though as the cable is quite short. A good buy and not too dear.
Reviewed on Argos.co.uk
Great item
Jun 5, 2019
Extra compact with the folding headband and a great sound. Perhaps a little bassy when used for playback with a professional recorder, but excellent with my iPod.
Reviewed on Argos.co.uk
Comfortable
May 14, 2019
Not the best headphones I've had for sound quality, BUT as I wear them for long periods of time during the day, at work, they are very comfortable and don't make your ears hot.,which makes up for it .
Reviewed on Argos.co.uk
Good headphones for the price
Dec 28, 2018
These headphones were bought primarily to use with a portable HF (shortwave) radio which travels with me worldwide. The ability to fold to minimise space was paramount. Sound quality is very subjective but for 'communication quality' sound they are ideal. So far the comfort aspect appears good if not better than my previous headphones (Sennheiser 414s). It took me a little while to find the 'left' 'right' signifiers, these are located on the inside surface at each end of the 'headband'
Reviewed on Argos.co.uk
Not bad but not great
Feb 7, 2018
Sound's a bit thin and the headset a bit lightweight for the price, but do appreciate it's far from top dollar for audio equipment nowadays. I'd suggest paying a bit more for a better quality. Overall: okay.
Reviewed on Argos.co.uk
Great light not bulky and folds up.
Jan 6, 2018
Bought as a gift and it was a great present just what was wanted fold up for easy travelling and slim line ideal.
Reviewed on Argos.co.uk
Great sound at a reasonable price
Jun 21, 2017
Quite a pleasant surprise from quality manufacturers Sennheiser. Good sound at rock bottom prices. A very pleasant surprise for my back-up portable headphones. Good strong bass reproduction only let down by lack of mid range detail. Extremely portable folding headphones for which one would have hoped would have included a carrying case of some description, shame on sennheiser for being so mean, otherwise a good value product I wouldn't hesitate to recommend
Reviewed on Argos.co.uk
Fine for the price. So far so sturdy.
May 10, 2017
I listen to podcasts and eBooks mostly on a bumpy commute that often breaks headphones. So far so good with these ones though.
Reviewed on Argos.co.uk
These headphones produce good, quality sound
May 8, 2017
These headphones produce good, quality sound. Also they are comfortable, so they can be used for extended periods of time. They also convenient for storage, or when carrying them when you're out, as they fold in to make them smaller.
Reviewed on Argos.co.uk