Turtle Beach Atlas One Gaming Headset PC/Xbox One/PS4/Switch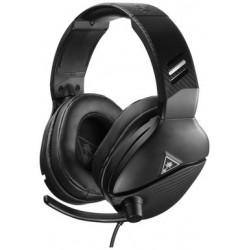 Great gaming headphones for the money
Mar 27, 2020
My son loves these headphones. His previous set had a volume and mute module on the wire, where the strain-relief failed after a while causing intermittent sound; instead these have the volume on one of the cans, and you raise the mic to mute it; a far more robust arrangement. I tried them and love the sound and comfort. Bass could maybe be a tad more punchy, but the sound is excellent for the price we payed.
Reviewed on Argos.co.uk
Top Product
Mar 18, 2020
Great sound quality, flip up the mic to mute so no fiddling for a button, comfortable and sturdy Connected to my ps4 no problems, just had to go into the setting on the console and change the output so that the game sound and in game voices come through the headset, easy to follow instructions that explain this all. Comes with a double 9mm jack connector for pc use, headphone and mic Well worth the money
Reviewed on Argos.co.uk
Fantastic head set
Mar 6, 2020
Love this headset. I only use the headset for sound but my partner uses the mic to talk to friends and prefers this headset to his old one which was more than double the price. Unfortunately this one for me as my previous headset (exactly the same one) broke after 18 months due to the headband piece snapping. Moral of the story is keep both ear pieces on or take them off if talking to someone don't just move one ear piece.
Reviewed on Argos.co.uk
Good quality sound really comfy .
Mar 5, 2020
For the price of the headset it's a really good. Bonus that its comfy. The only negative is the microphone and how small it is.
Reviewed on Argos.co.uk
Good headset for price
Feb 13, 2020
Good headset with decent sound for the price. Only thing I dislike about the headset is the strap adjuster around your head as it moves very easily when taking headset off or putting it on. Headset would be a lot better if the strap adjuster locked into place. Overall decent for price
Reviewed on Argos.co.uk
Feb 13, 2020
They work perfectly fine, also the material seems to be good and the quality of the sound is better than what I expected. Really happy with this purchase.
Reviewed on Argos.co.uk
It's the best ive had
Jan 16, 2020
I am super pleased with making this purchases, best headset my other half has had he said he never had a more comfortable headset.
Reviewed on Argos.co.uk
I love the headset and everything is amazing
Jan 7, 2020
Like I said the headset is amazing , however the only fault /improvement is that there's no automatic mute switch or something to mute the mic
Reviewed on Argos.co.uk
Great present
Jan 6, 2020
Brought for my grandson for Christmas he was over the moon..he said " they are the best " and uses then when playing his PlayStation. Recommended to all his gaming friends
Reviewed on Argos.co.uk
Well worth the price paid great sound quality
Jan 2, 2020
Bought for gaming good price for this product's day very comfortable to wear I would highly recommended
Reviewed on Argos.co.uk
The headphones are loud and so clear
Dec 31, 2019
The product is very good easy to use and the sound is really good I'm glad I picked up this product
Reviewed on Argos.co.uk
Very good headset
Dec 30, 2019
Bought for my son and he's very fussy with headsets but he loves these , very comfortable too wear
Reviewed on Argos.co.uk
Really comfy and good for the money
Nov 26, 2019
My recent mic broke so I decided to get a more expensive mic ( this one ) and I make no regrets
Reviewed on Argos.co.uk
It's great! Exactly what I was looking for
Nov 22, 2019
This is great, but for an xbox one i didn't see anywhere before I bought it and opened it that I needed to buy the adaptor for it to work.
Reviewed on Argos.co.uk
Works well my son is very happy!!
Oct 21, 2019
Amazing product, connects easily, sound is great, microphone works well! Very happy 11 year old!
Reviewed on Argos.co.uk
Great gaming headset for its price!
Oct 8, 2019
Headset is really comfy and I wear glasses, its perfect. Sound quality is good and I've definitely improved on games just through the quality of sound.
Reviewed on Argos.co.uk
Excellent value for monies
Sep 24, 2019
I would definitely recommend this product, my son is very happy and i'am glad I purchased it for him to do his on line gaming and he wears the headphones for his laptop as well. Money well spent thank you
Reviewed on Argos.co.uk
Looks cool and sounds great.
Sep 13, 2019
Apart from the mic being on the short side for me all is good with this. Feels ok on the head after 2 or more hours. Had no problems with the mic so far. For the price I paid I don't expect much but it does what I need it to do. Thumbs Up..
Reviewed on Argos.co.uk
nice looking head set
Sep 4, 2019
My son's last head set broke, so decided to upgrade to a turtle beech set. The are better quality and seem more robust. I'm hoping less of a chance to snap do you the repetition of putting them on his head. Would recommend as he is liking using them.
Reviewed on Argos.co.uk
Gaming with friends
Aug 14, 2019
My son absolutely loves them- great for gaming with friends. Comfortable and sound quality is excellent
Reviewed on Argos.co.uk
Good value
Aug 14, 2019
Would recommend - headset has good in game quality, the headset is sometimes a bit heavy on your head but does fit perfect. The quality is great too and really like the carbon design
Reviewed on Argos.co.uk
Great headset
Aug 6, 2019
Bought for my son who says they are great. Good sound quality and comfortable. Bonus that they can be worn with glasses on.
Reviewed on Argos.co.uk
Was too small for my head, had to swap.
Jul 19, 2019
Was too small so i had to get a different type of headset which i think might be faulty.
Reviewed on Argos.co.uk
Cuts out background noise beautifully
Jun 25, 2019
Often got distracted by the background noises in the office so opted for these instead. They work perfectly and the sound quality is excellent. So far no issues and seems well made
Reviewed on Argos.co.uk