Sennheiser HDR 175 Headset for RS 175 System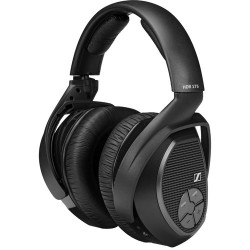 VERY GOOD - USED AS BACK UP PAIR ( CHARGED SET ALL THE TIME
Jul 23, 2019
EXCELLENT STEP UP FROM MY OLD 120'S - GREAT QUALITY CAN UNDERSTAND LOW VOLUME SPEECH NOW WATCHING MOVIES MUSIC ALSO IS VERY GOOD CLARITY
Reviewed on B&H Photo Video
Works great with the RS 175 base unit
Jul 16, 2018
So far, I can tell no difference between this set from the original set that came with the RS 175 set. That is a good thing...both work flawlessly, and the sound is excellent.
Reviewed on B&H Photo Video
Excellent TV Headphones
Jul 7, 2018
This add-on set of headphones allows two of us to simultaneously enjoy a TV show and all the dialogue. Setup and use is dead simple once the main unit is in place. Only recommendation to the manufacturer is to include a separate headphone stand with charger for this second unit (doesn't seem to be an optional one to purchase???). Seems strange to have to share/manage the main charger and not have a "home" for the second headset given this expensive, high end system.
Reviewed on B&H Photo Video
Much improvement
Jul 29, 2017
A significant improvement over earlier versions of Sennheiser wireless headsets. The RS 175 system sound is noticeably cleaner. Also appreciate the option to employ surround sound and bass boost.
Reviewed on B&H Photo Video
Great Product
Jul 9, 2017
They work great and deliver a quality surround sound experience. Great to tune out outside noise.
Reviewed on B&H Photo Video
AWESOME
Nov 4, 2016
I bought this HDR 175 Headset for RS 175 System and it's been great!!! The system supports two of them and they both work simultaneously with excellent sound quality.
Reviewed on B&H Photo Video