Turtle Beach Elite Atlas Gaming Headset PC/Xbox/PS4/Switch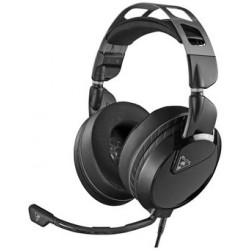 Amazing headset for gaming
Jan 17, 2020
Well worth the money, sound is brilliant and really comfortable aswell. The microphone picks up low sound so you can't have the header to loud without other people hearing it through the mic.
Reviewed on Argos.co.uk
My 15 year old absolutely loves them!
Jan 6, 2020
My 15 year old says they are awesome - he loves the sound and the stereo effect. They cancel outside noise too. Good Christmas present for an Xbox One player.
Reviewed on Argos.co.uk
Great product
Oct 20, 2019
Very sturdy and can take a good bash on your desk previously had the elite pro and the headband snapped the atlas has a metal headband so much more strength also you can plug into your existing TAC from the elite pros would highly recommend
Reviewed on Argos.co.uk
Turtle Beach are a fantastic company
Oct 7, 2019
We took headphones home but found that the mute button was not working, we didn't want to return it to Argos because we had to reserve and wait for it to be delivered to store and we really didn't want to wait. I emailed Turtle Beach and within a couple of days they had posted a new mute button. My son is extremely pleased with the headphones.
Reviewed on Argos.co.uk
Its Great But easily breaks
Oct 7, 2019
The Headphone's themselves are great , no questions asked . They are comfortable and sound quality is great for both pc and ps4 . But they break extremely easily , even for me (who by the way takes good care for stuff ) . The magnets to replace the headphone's earpads broke twice , i dont know how , the headset's plastic border scufs and breaks over time . I would not recommend buying this especially at this price , instead go for something a bit more reliable .
Reviewed on Argos.co.uk
Only the best from Turtle Beach
Sep 15, 2019
Specifically bought these as they are compatible with a range of consoles *Nintendo switch, PS4, XBOX & PC, a wireless headset is available which costs a little more however you still need to use the cable to connect to other consoles so defeats the purpose & saves you buying a USB connection. So for a cut of the price these are excellent, five stars all round for comfort, sound & clear mic. Also chat is available for Nintendo switch games that support this feature. Deffo a winner
Reviewed on Argos.co.uk
Brilliant headphones
Jun 7, 2019
Very comfortable, especially with the glasses adjustment which takes the pressure off your glasses while wearing them. Excellent sound quality as you come to expect from turtle beach. Cant fault them at all. I have returned 2 different pairs due to the Jack point failing so time will tell if these ones last. No quibble swap with argos though.
Reviewed on Argos.co.uk
Had to return
Apr 4, 2019
My son found these very comfortable to use and connect but one earphone stopped working after a couple off hours so returned
Reviewed on Argos.co.uk
Build quality, clarity, comfort - all amazing!
Feb 25, 2019
Very very impressed again with Turtlebeach Very comfortable fantastic build quality. I've had some feedback from the people I talk to using the headset and they say that I am very clear so much better. Would highly recommend these if you are a gamer or a VoIP user. Great functionality can be used with multiple devices.!
Reviewed on Argos.co.uk
Great head set for gaming
Jan 10, 2019
These headphones are great for gaming, really comfortable and have very good sound quality. They work very well for games such as call of duty and fortnight
Reviewed on Argos.co.uk