Yamaha CM500 - Headset with Boom Microphone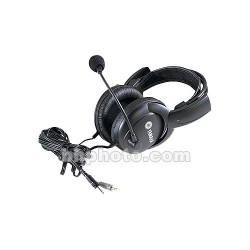 It is OK...
Nov 26, 2013
Good headset overall - but its overall quality is reflected in its price - this works OK for many computer uses, such as for gaming, and it is popular among ham radio operators as an inexpensive alternative to HEIL products... and I agree - it IS just that. But it has only average light weight construction and mediocre average mic and earphone audio. It is largely the same build and quality as even less expensive KOSS SB-40 (which still has a dyn... Show Moreamic mic unit - like older CM-500 used to have) and the KOSS SB-45 and SB-49 headsets, which are just as good but which typically sell for less than $40. I prefer a higher quality headset, such as the Shure SM-2, or the AudioTechnica BPHS-1 or even the Sennheiser line, such as the HMD-45-6 headset. Frankly, many inexpensive computer gaming headsets would work as well or better than the CM-500 - but ham operators are a funny bunch, they like to copy what the other guys have - so this set is becoming a legend among ham ops - although I cannot see quite why, myself. So, it is OK, but just OK, in my view. I will work well with ham radios (which use a very narrow audio bandwidth anyway) but it is overall an inexpensive, average performer. I have repaired multiple units for friends who like them - usually having to replace the mic boom arms as they develop an intermittent in the boom arm pivot over time. Just MY take... your mileage may vary.Show Less
Reviewed on B&H Photo Video
i like it--works as advertised
Feb 13, 2012
I was directed to this product by an audio recording website that recommended the CM500 as the best mic/monitor for the price. I bought it for DJing. I haven't used it in a live setting yet but in past gigs I always hated taking my hands off the decks to fumble for the mic, so I was looking for this combination for future gigs, especially since I'll be bantering with a live MC. GOOD: The headphone can go very loud compared to others I've used. It... Show More fully covers the ears and the 'phones and headset are comfortable and lightweight. I checked the mic over my home system and it performed ably with no feeding back, which is all I require. The cord has a very generous length. 1/4 plug adapters and battery pack to power the mic came in the box, which made it ready to go for my set-up EXCEPT batteries. ISSUES: Since the battery pack is needed to power the mic, I'll have to always have spares, which is a potential headache; but I believe this issue is universal to all headset/mic combos. Batteries (2xAAA) were NOT included. So far unsure of overall durability, though seems sturdy so far. For me, I think this product is a good buy.Show Less
Reviewed on B&H Photo Video
Great except for voice reproduction
Apr 18, 2013
I bought a pair of these to be used as commentator mics for a live internet broadcast. I remember they felt great for all-day use, the sound in our ears was just fine, and the windscreens did a good job keeping the wind noise out. But looking at the video now, comparing the sound of our voices to those coming from my Sony F112 Omni-directional ENG Handheld Microphone (B&H # SOF112 Mfr# F112), it sounds like we were commentating via telephone. The... Show More quality of material, comfort and audio quality in the headphones cannot be beat for this price, and if quality of voice reproduction is not important, then I would highly recommend buying these (hence the 4-star rating), but do not make my mistake thinking that you can get truly broadcast quality microphones in a headset for a price that's too good to be true. This year I'll be using something else and handing these babies off to the director and camera operator, probably exactly the people they were designed for.Show Less
Reviewed on B&H Photo Video
Yamaha CM500 Phones
Apr 17, 2012
I bought these for my ham radio equipment. They were recommended by many ham radio friends. I found them to be very comfortable to wear over long periods. The phones sound great on my radio equipment - audio is crisp and clear and the ear cups cover my ears fully giving a good degree of isolation from external noises . The microphone is an electret and this works well with my radio . For ham use I use the mic close to my mouth and this one works ... Show Morevery well with no popping or breath noises coming through. I also use this headset for Skype on my pc - again works very nicely and far better than the cheapo headset I used to use. The very long lead is handy when I want to walk about the room while wearing the phones! I am very pleased with these and I would recommend them for ham radio, skype and genaeral pc use and gaming. I ordered mine online from B&H - Fast delivery by UPS and free delivery - Good price , too - would recommend B&H also !Show Less
Reviewed on B&H Photo Video
Best Communications Headset for the $$$
Jan 27, 2010
After years of using different, more expensive (2 - 4X the cost of the CM500) headsets, I tried the CM500. My current radio accommodated both the 3.5mm jacks of the CM500 as well as provided the bias for the electret microphone element. I didn't even need the supplied adapters! The CM500 microphone has a much wider audio passband than needed for communications but my radio has an internal 8 band equalizer which allowed the desired tailoring of th... Show Moree audio response. The headphones are lighter than any of my old ones and the cups are deep enough that they don't mash my ears and cause pain after hours of use. Their noise shielding is very good. I'm very happy with the CM500 and, at their nice price, will probably purchase another set for a spare.Show Less
Reviewed on B&H Photo Video
Work great for ham radio, but prone to failures
Mar 14, 2017
I'm cheap so I bought these instead of one from Heil. They are fragile and don't stand up to abuse. I have three sets so I know what I'm talking about. Two lost sound to the right earpiece. I took them part and fixed them, the strain relief causes the wire to break where it enters the earpiece. On one of those two the microphone stopped working, I am hoping that the failure is at the headset end where I can fix it, and not down at the microphone ... Show Moreelement where it's hard to figure out how it comes apart. I had to use hot melt glue at the microphone pivot point to stop static, I think it is about to fail. So I love the sound, they are comfortable, but you have to be ready to do maintenance.Show Less
Reviewed on B&H Photo Video
Bought for use with Elecraft K3 Radio
Sep 20, 2010
After reading all of the great reviews and needing to replace my 20 year old headphones, I went for this one. No regrets at all. The phones are very comfortable and mic produces great audio. Do have to spend some time adjusting the properties of the K3 for best audio but your efforts will be rewarded. Heard two others using the K3/cm500 over the weekend and they too sounded great. One complaint is mechanical sound transfer from the cord to the he... Show Moreadphone case, like a tin can and string phone set. Also, these do block out most external sounds which I find a bit of a problem. Would prefer a less isolated feeling when using them. Overall, a great set for amateur radio use.Show Less
Reviewed on B&H Photo Video
Great Value, Great Sound
Jan 8, 2013
At the recommendation of many others I gave the Yamaha CM500 headset a try in conjunction with my Elecraft K3 HF Transceiver (ham radio). Transmit and receive audio quality are great. The mic element provides more than enough gain to fully modulate the signal. The headphones are comfortable after several hours of use - they don't clamp down too tight on my head. I was pleased to see the included 1/4 stereo & mono adapters and the bias voltage bat... Show Moretery case should I decide to use my CM500 headset for other applications. The best part about the CM500s is they cost only a third as much as my previous headset from a different manufacturer, making them a tremendous value.Show Less
Reviewed on B&H Photo Video
Soft as a baby's bottom
Mar 14, 2012
The headset is so very comfortable. I've worn it for hours at a time and it doesn't pinch my ears like my old headset. It came with two 1/4 adapters, one for the mic (mono) and one for the speakers (stereo). Very nice. As an electret mic, it needs power and so it comes with its own power supply (2 AAA batteries required). This device alone is worth $25 (at least that's how much the last one I bought off an online auction site cost me). The nine f... Show Moreoot cord is perfect. I wish it had volume controls for the speakers and an on/off switch for the mic, but I guess you can't have everything. Overall it is an excellent value. I will probably get more.Show Less
Reviewed on B&H Photo Video
Excellent With My Eleacraft K3 Ham Xcvr
Feb 4, 2010
The Yamaha CM500 headset exceded my expetations. The headphones are comfortable and sound reproduction on the K3 is excellent. The mic gets good reports, but not as good as my normal dynamic mic. The output seems higher then my dynamic mic, as I had to crank the mic gain down from 20 to 6. If you are going to use the headset with the K3 the mic and headphones will plug right into the rear panel without any adaptors. I made and adaptor for the mic... Show More so that I could plug it in to the front panel. The quarter inch stereo adaptor that comes with CM500 was use to plug into the front panel headphone jack.Show Less
Reviewed on B&H Photo Video
Worse sound quality than my cell phone
Oct 14, 2015
I bought this product to conduct and record tele-seminars, because it works with a cell phone and has a boom mic. Hence figured I could get better sound quality. I did not. In fact the sound was so bad that I got multiple complaints from other participants and had to change back to using my Bose earbuds with an in-line mic, which had much better sound quality. (Note that I get 5 bars of service and never have connection issues, so this was not th... Show Moree problem.) May as well mention that the headset is extremely bulky and uncomfortable -- something I was prepared to deal with in exchange for good audio!Show Less
Reviewed on B&H Photo Video
Good headset for the price
Jan 17, 2011
I bought this headset to use for gaming. It sounds ok , call it a decent headset but for the price i dont think you can find a better one , and has good , clear mic. Btw used it on PC only ... Pros -good price on a headset w/mic (mic is electret not dynamic) -mic sounds clear(on PC) -sounds decent with a good sound card w/ headphone amp. Otherwise not so good -over the ear makes it very comfortable, not too heavy cans -long and strong cord Cons -... Show Morecans dont squeze your head at all so it just sits there not so good on noise canceling -without an amp it sounds bad no precision on what sound is whatShow Less
Reviewed on B&H Photo Video
decent enough for light duty comm/ham us
Mar 5, 2015
Receive audio is good for voice work and is in stereo so you have dual receive options there. I found the mic fairly easy to use and position, but...I got maybe 3 years use out of mine before it started to break in various ways. That's light duty, a few contests a year and field day. The ear pads are cracking, the mic boom started to loosen and the headband pulled out of one side. Not sure if I'd buy it again. OTOH, you'd have to probably spend $ (or more) to get a good set of aviation cans. You'll like them as long as they last, but you may not like how long they last.
Reviewed on B&H Photo Video
Tough - nice mic audio!
Apr 2, 2012
I use this headset for amateur radio. Amateurs are very tough critics about microphone audio, but I've received nothing but accolades on this mic. The headset is light weight and comfortable. Sound reduction is adequate for using in a communications environment and the ear cushions wear exceptionally well over time. This is my 2nd pair, I still have the original pair and expect them to expire over my abuse, but the first set (3 years old!) is doing well, despite being dropped many times and my running over the cord with my chair wheels almost continuously.
Reviewed on B&H Photo Video
Great Value for the price
Dec 19, 2010
I bought CM500 to use with ham radio, mostly seeking comfort for long periods of time. The headset is pretty comfotable, goes over the ears, so I am happy with performance. audio sound pretty good as well. I would not use this headset in very noisy environment, the noise isolation is not perfect, but it is not problem for my use. The microphone is electret (not dynamic) and pretty good quality too. Battery pack for the mike bias is provided in case your system do not provide bias for electret mikes. Certainly, for the pice - this is real value.
Reviewed on B&H Photo Video
Solid Headset!
Oct 13, 2009
I'm an ex-broadcast professional and I know good set of cans when I hear them. These are excellent for the price. The headphones are crisp and flat w/ excellent bass reflex...not boomy, mind you. If you want super-low bass, look elsewhere. For good, unshaped sound reproduction for an excellent price, the CM500 is the one! The mic is clear and, with the bias pack in-line, has plenty of gain. I use these primarily for PC/internet applications. Even if you're a gamer, don't waste $60+ on gamer or PC headsets!
Reviewed on B&H Photo Video
Versatile. Durable. Great sound and Mic.
Sep 28, 2011
I got these headphones so I could listen to my iPhone on my walk to school, but also, because I often take calls when I'm out walking or working at my desk (and I need to be hands-free). I couldn't be happier with this headset. They are versatile, durable, sound great, and have a clear mic. Really comfortable, too. The only thing that could make them better is if they folded flatter, or came with a travel case. But then they'd be more expensive. Completely happy.
Reviewed on B&H Photo Video
Disappointment
Dec 21, 2010
I wanted a headset with a decent mic. Looking at the response range, it seemed that this would be a decent microphone. Though the price was cheap, there is a persistant whine in the background that probably has to do with the phantom power injector. Recording quality is not very good. Furthermore, the nylon strap on the top broke almost immediately. It's not an isolated case; one of my colleagues reports the same issues. Needless to say, I got what I paid for.
Reviewed on B&H Photo Video
not a dynamic mic
Oct 27, 2010
This is very important for use of these. The mic is not a dynamic mic, it's an electret one. They ship a little phantom power supply that goes between. The other thing is that they use a non-standard color coding for the plugs: black is mic and red is headphones. This is opposite from current PC standards. Having said that, they do seem to sound good, not boomy, and the microphone audio into a PC also recorded well
Reviewed on B&H Photo Video
I would highly recommend this product
Sep 14, 2010
You can not find a better headset for the money. It is lightweight and comfortable to wear. The microphone has a wide response range for music performances and amateur radio communications. Having the ability to add bias voltage if needed with the included power battery pack is a nice touch. The included adapter plugs to convert from 1/8 stereo to 1/4 stereo for the mic and headset is also very handy.
Reviewed on B&H Photo Video
Great headset for a great price
Sep 16, 2015
Great value for the price. I use this for a figure skating judging system and have seven people talking on an a communication system. The headset is very comfortable. You have to make sure the mic is in front of your mouth and pointed in the right direction. Being a directional mic, if it is not pointing the right way and in the right place, we can't hear you. I have been using them for 10 years.
Reviewed on B&H Photo Video
Awesome Headset/Mic Combo
May 3, 2013
I use this product to record and edit an annual Christmas message. Coupled to my computer I am able to put together a fun and informative recording for family and friends. The headset is very comfortable to wear and the attached mic allows hands free operation for access to the computer keyboard and mouse. I am very well satisfied with the quality, comfort and cost. Yamaha nailed this one.
Reviewed on B&H Photo Video
Yes!
Sep 13, 2011
I bought this for radio sports broadcasts, and while it will never be mistaken for the $500 Sennheisers, it works great and sounds really good. Awesome headphones--and not too heavy. That's important, because on game day the headset will be on my head for four hours or more. Would love an XLR plug on them, but the attached plug does what I need it to, so the 5 Stars stays.
Reviewed on B&H Photo Video
Product meets its billing entirely
Oct 4, 2010
It is part of my ham radio set-up. It allows me to operate with lots less disturbance to the family in the house at the same time. It is comfortable to use and well engineered. Once I figured out how to unfold the mic, I was good to go. Now if it will only ensure that all my transmissions are crystal clear, and I can always find someone interesting to talk to!
Reviewed on B&H Photo Video