Sennheiser HD 4.40 BT Wireless Bluetooth Headphones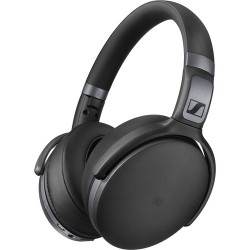 Headphones are super comfy
Feb 20, 2020
Comfortable on my ears and lovely sound. Excellent being wireless as I can move around the house without taking my Ipod with me!
Reviewed on Argos.co.uk
Bass is really disappointing
Feb 19, 2020
Bass is really low with these headphones. It's like am listening to music with cheap earphones. Very disappointed
Reviewed on Argos.co.uk
Excellent sound quality
Feb 14, 2020
Very good sound, able to cope with a wide range of Music from base heavy electronic to detailed acoustic styles,the sound has space and room. They are comfortable to ware, the noise cancelling & Bluetooth work very well. The only downside is that the sennheser app won't work with this model.
Reviewed on Argos.co.uk
A bit confusing
Feb 10, 2020
Really like the Sennheiser brand. Purchased this unit to replace older headphones when TV was upgraded. It works well when connected. Can be a bit confusing getting the TV to recognize it.
Reviewed on B&H Photo Video
Sennheiser HD 4.40BT Wireless Headphones
Feb 4, 2020
I have had these headphones for about two weeks now and I really like them. They were very easy to set up and they have been working flawlessly for me. I mainly use them at the gym with my Apple phone. At times they do pinch my ears but they adjust very nicely. The sound reproduction is great.
Reviewed on B&H Photo Video
Nothing better in this Price Range
Feb 3, 2020
GOOD: Excellent Cost and Benefit, Very Good Noise Canceling, Discreet, Light, Great Sound Quality. FAIR: Comfort as it could have slightly larger Ear Cups, Commands (Turn On and Off Noise Guard) could be more appropriate. Overall: Worth Buying !!! Rmk: Sennheiser please look at these little things and you will completely gain the hearts of customers.
Reviewed on B&H Photo Video
Brilliant pair of wireless head phones
Jan 23, 2020
Brilliant pair of headphones, very comfortable to wear for a long period and with good sound quality.
Reviewed on Argos.co.uk
Good value excellent noise cancelling
Jan 23, 2020
Very comfortable and good sound quality with decent build quality, the storage bag is a bit flimsy
Reviewed on Argos.co.uk
New 'phones
Jan 17, 2020
Purchased to use with new sony walkman. Very pleased with quality of music whilst able to move around but also leave player in a safe place. Ears fit inside pads but need a little positioning for comfort. Found them easier on the ears than my on-ears set. Would recommend Sennheiser headphones.
Reviewed on Argos.co.uk
Sennheiser HD 4.490 headphones
Jan 10, 2020
These are a good pair of wireless headphones, pairing them was straight forward and sound quality is very good. They are comfortable to wear and quite lightweight. I would recommend these headphones.
Reviewed on Argos.co.uk
The headphones were a hit as a Christmas gift .
Jan 9, 2020
The gift was a success and the recepient was extremely pleased with the quality and sound . X
Reviewed on Argos.co.uk
Quiet but clear sound
Jan 9, 2020
Not as loud as I would of liked but good sound quality and bass.Excellent battery life and quick to connect with PC via Bluetooth. Wouldn't choose these again but overall not a bad buy.
Reviewed on Argos.co.uk
Absolutely love my new headphones
Jan 8, 2020
Got my headphones for Christmas which was something I always wanted and very pleased with them
Reviewed on Argos.co.uk
The Perfect Xmas Present ....
Jan 7, 2020
I bought these for my son for his Christmas present ..He loves them ...The Bluetooth range is amazing ....The sound quality is brilliant.....They are very comfortable to wear .......I used the Argos click and collect facility which allows you to pre order online and then park outside the store and pop in to collect your goods with a code number ....The whole experience was seamless Argos ....Thank you ...
Reviewed on Argos.co.uk
Too flimsy
Jan 6, 2020
Great sound Comfort is good For me the letdown is the qualities of the plastic very flimsy just above the ear pieces That was a massive let down concerned that it makes the product feel cheaper than what it is Still if you wear glasses very comfortable.
Reviewed on Argos.co.uk
Very impressed
Jan 1, 2020
I love my music, I hate being distracted by sounds going on around me. These headphones do the job perfectly. Great sounding and very comfortable.
Reviewed on Argos.co.uk
Sennheiser headphones
Dec 30, 2019
Fabulous. Comfort, style, exceptional sound quality, sound cancelling excellent, ease of use connection to Bluetooth. Very pleased with purchase.
Reviewed on Argos.co.uk
Not bad for the price
Dec 30, 2019
Quality of the sound isn't enough for me. Good design, good isolation of the noise from outside. Not bad for the money
Reviewed on Argos.co.uk
Great quality, excellent noise blocking
Dec 30, 2019
Bought these headphones to concentrate better in a noisy office and they're amazing at cancelling out atmospheric noise. The sound quality is excellent, the battery life is great and they're generally very comfortable. Only complaints are that they can be uncomfortable when worn with glasses and the bluetooth can occasionally get glitchy when there's multiple devices nearby.
Reviewed on Argos.co.uk
Great headphones
Dec 30, 2019
The only downside to these earphones is the slightly complex and unnecessary way of turning on the active noise cancellation. Other than that fantastic battery life, sound and superb comfort. Can be wireless or wired depending on your need. Easily connected using NFC. Wife was struggling to connect it to iPhone because I phones are rubbish but great with android.
Reviewed on Argos.co.uk
Difficulty pairing with iphone6s
Dec 30, 2019
Lovely headphones and great sound quality using the phones it would pair With. Unable to pair with the phone we needed though and we ended up returning them to the shop. Very disappointed hubby!
Reviewed on Argos.co.uk
Bluetooth headphones
Dec 30, 2019
A happy customer here... These headphone have a quality, clear sound and can take the bass heavy tunes I enjoy. Good battery life and foldable to fit in my work bag
Reviewed on Argos.co.uk
Love these!
Dec 18, 2019
These headphones keep out an incredible amount of noise even when NC isn't turned on. They are very light and comfortable. They go over the ears so it's not tiring to wear. Great quality for a great price.
Reviewed on B&H Photo Video
Good set of headphones.
Dec 2, 2019
If you have NFC devices, supremely easy to use, still very easy if not. PLUS you get a jack cable for the times when either bluetooth isn't necessary or power has run out. Very good quality sound too.
Reviewed on Argos.co.uk