Logitech M310 Wireless Mouse (Blue)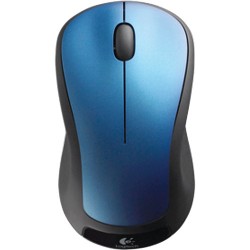 This wireless mouse is perfect
Sep 15, 2011
The wireless mouse is perfect. Now is can get my mouse closer to my keyboard avoiding injury. I have a smaller version a home and I Love it.
Reviewed on B&H Photo Video
A perfect mouse for your notebook
Jul 7, 2011
M310 is non-expensive but a very comfortable and light-weight full-size mouse for your notebook. This is the second Logitech mouse with a tiny receiver I have bought. The older brother of this one usually works for 6-8 months on one AA size battery, and that's the very impressive result. And you do not really need to install any software or drivers: just plug the reciever in and start using the mouse.
Reviewed on B&H Photo Video
Great size and good pickup
May 17, 2011
I have big hands, so many wireless mice don't fit into my hand. this is bigger and fits perfectly. the usb receiver is also very small, so it doesn't stick out and I can keep it in my computer all the time.
Reviewed on B&H Photo Video
Good in all aspects
May 17, 2011
- Very resistant (I dropped it from 2m height straight to the floor and it's still working properly...) - Works fine even from wide ranges
Reviewed on B&H Photo Video
Good mouse for the money! left -handed
Apr 26, 2011
This is a very good mouse for the money. My wife mouses left handed so this is a very solution for her. The wireless works great and the little USB transmitter is totally out of the way. The click buttons are a little to hard for me--it is not a soft clicking action--I would change that if I ahd my choice
Reviewed on B&H Photo Video
Perfect fit and excellent performance
Nov 24, 2010
I've had no issues with this mouse so far; it's simple, comfortable, and quiet. It's a full-size mouse, so I don't get the hand cramping that I normally would get with the typical smaller wireless mice (my hands are a medium in women's glove sizes). The design adds a little bit of flare to my workspace and I often get compliments on the unique mouse.
Reviewed on B&H Photo Video