Logitech M310 Wireless Mouse (Blue)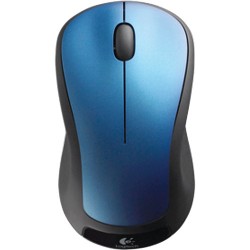 Great mouse
Jan 5, 2020
I have used this model for many years on all of my computers including my iMac and they are flawless
Reviewed on B&H Photo Video
Works as it should for what it cost
Nov 10, 2019
Logitech mouse for low cost. On vacation had forgotten my wireless apple mouse and needed something cheap and quick. The little USB transmitter is stored in the battery compartment. The downloadable Logitech software seems clunky; geared to PC folks but apple users may with to consider the more elegant Kennsington wireless.
Reviewed on B&H Photo Video
Less than a year
Oct 22, 2019
After about 6 months had to unplug the USB dongle because mouse would top working. After a couple more months this didn't even fix the problem. Moue is now dead, (yes I put in fresh batteries). Buying another brand from now on.
Reviewed on B&H Photo Video
Love it
Aug 15, 2019
Brand new in the package. Fast delivery. I trust B&H Photo. Good company and fast shipping.
Reviewed on B&H Photo Video
An extension of my right hand
Jun 13, 2019
The difference between my older small Logitech mouse and the M310 is significant. For me, this is the perfect size for my medium sized hand. The smoothness and the force to activate the left click button was exactly what I was looking for. It's as close as an extension of my right hand that I have found so far. More surprising is the price. There is no need to spend more on the basic mouse. It works great on my Seihoo mouse pad, which I recommend.
Reviewed on B&H Photo Video
Works great.
Dec 25, 2018
Love the tiny receiver that I can just leave plugged in and not worry about snapping off. Once I forgot to turn it off, and it didnt kill the battery overnight. Much better than my previous unit.
Reviewed on B&H Photo Video
My Husband Loves it
Jun 17, 2018
I got this for my husband's older computer that doesn't have bluetooth. The old mouse and usb key were no longer working. Once I realized that the usb key was inside by the battery we were good to go. It's working great and if he's happy, I'm happy. Thank you B&H for having accessories for older computers.
Reviewed on B&H Photo Video
Works Fine, but needs proper positioning
Apr 1, 2014
I originally plugged the USB nano receiver into the left side of my 3 year old 17 inch Macbook Pro. I use a 30 inch screen as the main viewer with the macbook to my left on a very large table (used as a megadesk) with another computer and printer ect. to my right. This positioning did not work well as the receiver was about 40 inches away from the mouse and facing away from it as well. This made for spotty response that was very frustrating. I th... Show Moreen tried plugging the nano receiver into the right side of my mac (corded) keyboard. (It has a usb jack on each side underneath.) Now the receiver works perfectly as it is only 4 inches away from the mouse and pointed at it. I am sure that if I placed my laptop on the other side of my monitor it would have worked just as well. As a side note, my Gal uses this same mouse (with a dell laptop) at work. It is placed under her desk and it works great. She was surprised that I had any issue with placement. Maybe I have more interference or the macbook shields the wireless connection more than the dell. I do recommend this mouse without reservation but wanted to post this in case you might be needing to use it in a similar setup. By the way, I love that you can store the nano receiver inside the battery compartment of the mouse for travel! Most people will be fine with just leaving it plugged in as it is so small, but it was a very thoughtful touch to keep you from losing it.Show Less
Reviewed on B&H Photo Video
Almost perfect
Feb 7, 2014
Overall this is a comfortable, easy-to-use mouse. My one complaint is that the navigation wheel in the center of the mouse doesn't scroll very easily, and makes a hard-to-ignore noise when I'm using it to scroll. Otherwise, it's a great product and functions just fine!
Reviewed on B&H Photo Video
No fuss wireless mouse(unlike Bluetooth)
Feb 5, 2014
I first got one of these for my laptop at work when I started having an entrapped ulnar nerve and wanted a more ergonomic workstation. At first, I tried a Microsoft bluetooth mouse which cost more and would constantly disconnect and require setting up so I did a little research and got the M310. One reason I wanted bluetooth was because the last time I bought a wireless mouse/keyboard (also from Logitech), the receiver was huge and had to be hidd... Show Moreen. It also had very low range. To my surprise, the nano receiver with the new M310 is really small - nano if you will, but has much more range than the old style wireless mice. Just for giggles, I was trying it across the room and it still worked. I just leave the nano receiver in the USB port of my laptop all the time and it still fits in my bag. While I was going through painful cortisone injections which did little to help my gimp wrist, I was also happy to use this mouse on either left or right hand as it works both ways (giggity). It's really an elegant design. It's also very light, uses only one AA battery, and battery life is about a year. I liked it so much that now that my wrist is better due to stretching exercises I found on youtube from doctors (which may or may not be legit), I got one for my desktop workstation too which up till then had a wired mouse. It's time to evolve. I'm curious whether the receiver/mouse pairings can be updated in case one or the other is lost.Show Less
Reviewed on B&H Photo Video
One of the better mice out there...
Jan 28, 2014
I've had this brand of mouse now for at least 5 years. Recently it started acting up and I decided to purchase a new one. I found the exact model I needed and B&H had the lowest price. The mouse arrived and all my issues with the old mouse are gone. I highly recommend this brand to anyone looking for a wireless mouse. It just works.
Reviewed on B&H Photo Video
Works wonderfully!
Jan 25, 2014
I felt as if I'd been set free as soon as I got this new wireless mouse that performs as promised! Exact and immediate on its response to my directions; just performs wonderfully well!
Reviewed on B&H Photo Video
good basic mouse
Feb 18, 2013
this is a good mouse if you are looking for something basic and fits well in your hand. If you need a basic mouse this is it. My only complaint is that the mouse is very quick and i don't think you can slow it down. But you might beable to somewhere in the computer settings. I am just getting use to the fast speed
Reviewed on B&H Photo Video
Handy Little Thing
Feb 7, 2013
I've had a laptop for years and recently started having issues with some of my fingers getting stiff from using the laptop's touchpad so much. I'm a photographer and I spend a lot of time clicking around so I decided to try using a mouse to see if that would help and it has! This mouse is functional and I love the design on it as well.
Reviewed on B&H Photo Video
Mighty Mouse
Dec 23, 2012
Easy to install, no fuss. All you need to do is install the provided battery in the mouse casing, plug the USB remote sensor in the monitor or CPU, and push the button underneath the mouse in the on position. The effortless gliding movement is surprising but you quickly get used to it. There is nothing bad to say about this product, it's 5 stars, period.
Reviewed on B&H Photo Video
A little small, but very nice
Sep 20, 2012
Works great. Does the trick. I like the wheel compared to my older mouse - quiet and smooth. Would be better if it were a little larger.
Reviewed on B&H Photo Video
Excellent mouse
Aug 23, 2012
I've been using this mouse for almost a year and it's excellent with good tracking, range, and accuracy. Very long battary life, works well on almost every surface. I never used it for gaming.
Reviewed on B&H Photo Video
Easy as Pie!
May 22, 2012
What's so easy about this mouse is that all you have to do is put in a battery, place the USB plug into the drive and GO!! How much easier can it get?
Reviewed on B&H Photo Video
great battery life
May 15, 2012
I have several of these. The battery lasts forever. Very good, especiallly for laptops, due to small receiver.
Reviewed on B&H Photo Video
Light and compact wireless mouse
Apr 24, 2012
I have been using a Logitech M510 wireless mouse for a year and find it excellent. Now I needed to buy a new mouse for my new laptop, maybe more compact and light for easier carrying. The M310 mouse is also very comfortable in the hand, feels responsive, accurate and mobile.
Reviewed on B&H Photo Video
Right what I need for daily use
Mar 19, 2012
Use everyday at work in all kinds of applications - from MS Office and web surfing to 3D and CAD software. Really comfortable for the casual male hand.
Reviewed on B&H Photo Video
Does a super job - my 2nd unit
Jan 16, 2012
I use one on my laptop and the other on a PC. Very comfortable to use. I would highly recommend to other users.
Reviewed on B&H Photo Video
Rough Movement
Dec 18, 2011
I purchased this mouse to replace one that was had started acting erradically with the cursor. Unfortunately, it wasn't the mouse as this continued with this mouse. I chose to go back to the first but cheaper wireless mouse because this one has a rough surface and does not move as smoothly across any surface. Also the ergonomics of the left clicker is such that it is more difficult to use the tip of the finger. Also I had to change mouse pad to get it to be somewhat more responsive. I don't use it now and would not recommend it.
Reviewed on B&H Photo Video
Perfect size and Perfect price
Oct 6, 2011
Quick and Easy ordering and even quicker delivery. Would not only buy from your site again, I'd recommend your site.
Reviewed on B&H Photo Video