JBL E55BT Bluetooth Over-Ear Headphones (Black)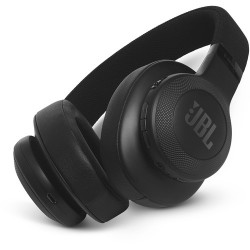 Great purchase for the money
Nov 27, 2019
I bought this on an impulse (they were 50%off) and for once i did not get buyers regret. Easy to connect, very good audio and built quality.
Reviewed on B&H Photo Video
Excelent
Nov 11, 2019
Great headphones, the sound is clear, really comfortable and has a fast conectivy to the phone.
Reviewed on B&H Photo Video
Great Headphones
Oct 4, 2019
They work wonderful, they connect with all of my devices without any inconvenience. I was going to buy a cheap one pair because of my budget, but thanks to one of the amazing employees who told me these where half off I got to go home with an excellent product!
Reviewed on B&H Photo Video
comfy fit / great sound
Sep 30, 2019
These JBLs are exeptional for their price range. Comfortable fit on a large coconut. Bluetooth and wired options work well. The sound is great. These headphones are my go to headphones for use while at work. They keep up with other sets that I have paid over double for.
Reviewed on B&H Photo Video
A moderate steal
Aug 20, 2019
Given the price, this is a moderate steal. Good sound for the money. I can save my Sennheiser for other places. Summary: Good choice given the price of the competition.
Reviewed on B&H Photo Video
Nice
Aug 16, 2019
I was a bit skeptical at first to buy this pair of JBL headphones. However, I decided to give it a try, buying it but expecting mediocre sound reproduction from a pair of $50 headphones. Upon initially trying it out at home for one hour, to my surprise, it actually sounded quite good. It had good enough high, mid-range and bass frequencies and it fitted comfortably, not head-crushing. So, in the final analysis I'm pleased with my purchase. I won't give it five stars simply because I've heard better-sounding headphones before. But for the price, it's better than just mere 'decent'.
Reviewed on B&H Photo Video
some interference noise during execution
Aug 13, 2019
Some interference noise occurs while running, I don't know if picked up from other nearby devices or if due to own bluetooth connection problem.
Reviewed on B&H Photo Video
Excellent for the price
Jul 17, 2019
These are not quite as nice as my JBL Everest Elite 750NC headphones, but were a tenth of the price on sale! They sound very good. If I'm being picky, there's a little too much high end and not quite enough bass for my taste, but I just don't care. They are excellent headphones in this price range and punch way above their weight class. The battery lasts a long time, they pair easily. You can make and take calls with them. They're comfortable on ... Show Moremy big head. I really like them, BTW - my awesome 750s with noise canceling were fantastic for about two years and then the left speaker gave out. These are my replacement for the foreseeable future - at one tenth of the cost. Wow.Show Less
Reviewed on B&H Photo Video
Great Headphones For TV
Jul 4, 2019
Connected to my Samsung 2018 4K HDR TV perfectly via bluetooth. It was a breeze to connect. Now I dont disturb my 5 year old and theres sounds that come through these headphones that I do not hear with my soundbar. Amazing sound and worth every penny. B&H did not disappoint and glad I got the price from them.
Reviewed on B&H Photo Video
Sound
Jul 3, 2019
There alright thought they would be louder and have a better sound especially coming from JBL!!
Reviewed on B&H Photo Video
Rocking Good Headphones
Jul 3, 2019
These headphones are amazingly good for what they are. They give you good sound with decent bass tones, OUTSTANDING battery life, well constructed, and easy to use controls on the right earpad. These JBLs don't claim to be noise canceling but I'm here to tell you they cut out a ton of noise. These are NOT the: KLIPSCH Heritage HP-3 Bose QuietComfort 35 II Sennheiser PXC 550 or the like... and they weren't made to be. But they do a pretty darn good job and give good sound very close to the ones listed above. And for $100ish dollars you can't go wrong.
Reviewed on B&H Photo Video
best wireless headphone
Jul 2, 2019
Bought my first pair two months ago. Just happened to see them on sale at B&H. Bought a second pair for another TV. Comfortable and great sound. Easy to connect bluetooth.
Reviewed on B&H Photo Video
The best for you daily editing work!
Jul 2, 2019
If you are looking for the extra details of sounding and feeling that base, you better look for a high end headphones. These ones are great for the day by day editing, great to commute cause of the bluetooth connectivity the loose some quality in that mode, great feeling on ear, feels really confortable.
Reviewed on B&H Photo Video
Very poor quality
Jul 2, 2019
Broken after 3 days off normal usage, took them off after a gym workout, earpad completely broke off, would not recommend.
Reviewed on B&H Photo Video
Comfy, Easy To Use
Jun 13, 2019
Very good, very comfortable, very easy to connect via Bluetooth with multiple devices. Sound quality is very good but its not a pair of high-end, pro audio headphones. Was reasonably priced when on sale.
Reviewed on B&H Photo Video
Buy these.
Jun 13, 2019
Bought these to watch TV while kids are going to sleep. Easy to pair with Bluetooth transmitter. Virtually zero lag. Good sound. Adjust sound level at the headphone even when TV sound is off. It helped that they were on sale when I purchased them but I probably would buy again at full price.
Reviewed on B&H Photo Video
JBL owner and fan for more than 30 years
Jun 13, 2019
I have been a JBL owner (4311 Reference Monitors) since the mid-80s and these new bluetooth JBL headphones do not disappoint. I especially like the fact that the battery range is 20 hours with only 2 hours charging. I also like that the provided plug allows me to use them in the studio as standard headphones. Great product!
Reviewed on B&H Photo Video
Very Comfortable, Good Sound
Jun 13, 2019
These headphones seem to be of very good quality, very comfortable, and the quality of sound is very good for me. They connected by Bluetooth very easily and have very good range.
Reviewed on B&H Photo Video
Very good for a price.
Jun 12, 2019
I purchased for $49.00 on crazy sale that you had. Where can you get quality Bluetooth headphone from JBL for that prince? Answer is: Nowhere.. My disappointment only that BH start charging tax outside NY.. But service still excellent, and shipping super fast. Bought this for my 11 years old. He is happy, and thats what important for me.
Reviewed on B&H Photo Video
Good headphones
Jun 12, 2019
I'm no audiophile, but these headphones work great for me and sound good. I can listen and hear clearly while the kids are screaming. They stay charged forever. For the Deal Zone price on sale, I love them.
Reviewed on B&H Photo Video
Great for my phone, not for my studio
Jun 12, 2019
Love the sound quality for when I'm listening to music on my phone, but that's not the reason I bought them. I wanted to use them in my video production studio, where I have 7 editing bays. The issue I've run into is that when you have multiple of them on and nearby each other, they interfere with one another when using bluetooth. The other major issue is that when using them while editing in premiere, audio is lagging and glitchy. Pretty frustrating...
Reviewed on B&H Photo Video
Too bad they use cheap plastic
Mar 22, 2019
sound is good with more bass comparing to LG or in ear headphone. I paid for $49 and still give it 3 stars, because they use cheap plastic.
Reviewed on B&H Photo Video
Glad to have them
Mar 20, 2019
I bought two of them within the sale for 49.99. I am sound engineer and I know about sound. And these headphones are really good.
Reviewed on B&H Photo Video
I dont want to take them off!
Mar 16, 2019
Just received them this morning. Downloaded the quick start manual while I charged them. (The included instructions were so tiny, I couldnt read them without a magnifier.) I have them paired with two devices and they sound REALLY good.... almost as good as my best wired headphones. They are very comfortable. I am listening to some awesome classical music as I type this. I am very happy with my orange (not really red) JBL E55BT headphones.
Reviewed on B&H Photo Video