Sennheiser RS165 Wireless Headphones for TV / HiFi - Black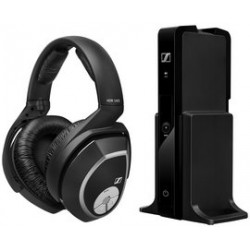 Too clumsy
Jul 26, 2019
These headphones look good., but that's about it, they were oversized on the ear pads, the pairing of them was really hard and after a couple of days they did pair but not for long. The sound was intermittent. So really not a good buy for me.
Reviewed on Argos.co.uk
Headphones
Jul 12, 2019
My wife is fairly deaf and has great difficulty listening to music , she finds most of it distorted, These headphones she said were really good giving the best reproduction she had heard in a long time. She now uses them whist ironing!
Reviewed on Argos.co.uk
Really good earphones you forget you have them on
Jul 10, 2019
Really glad I purchased these earphones would highly recommend them considering purchasing another pair for my husband
Reviewed on Argos.co.uk
Wireless Head Set
Jul 3, 2019
I find that it is very comfy on my head and ears excellent sound and just found out that it has a base sound button. excellent buy.
Reviewed on Argos.co.uk
Sennheiser hedphones
Jul 1, 2019
If you want the best forget the rest. Sennheiser have done it again. I only by Sennheiser and once again the quality is fantastic. I will continue to be a fan of Sennheiser.
Reviewed on Argos.co.uk
Quite expensive but very good quality
Jan 10, 2019
Excellent headphones, comfortable, lightweight and stylish. Bought them in the sale, which made them really good value, also had some vouchers which made them even better value!
Reviewed on Argos.co.uk
Sennheisor headphoned
Jan 3, 2019
Excellent headphones.100% delighted with product. Would highly recommend this product to anybody wanting perfection.
Reviewed on Argos.co.uk
Rubbish
Jan 2, 2019
Does not connect to a smart tv even with an rca cable .... being returned as they really no good
Reviewed on Argos.co.uk
Great headphones
Dec 26, 2018
Purchased the headphones as a Christmas Gift for my other half. He loves them and the sound quality is excellent as are the headphones which are very comfortable to wear. Anyway, so glad I purchased them.
Reviewed on Argos.co.uk
Excellent sound, zero interference.
Nov 25, 2018
I bought these headphones to replace a set of wireless Sennheiser headphones that I had used for over 15 years, the new ones sound great, deep rich sound and no interference, my old ones had started crackling when the rotary volume was turned up, buttons should stop this, the biggest improvement is the digital transmission, no more buzzing when you move your head, dropping signal or the annoying sound of a mobile phone ruining your listening, I would recommend these to anyone and everyone.
Reviewed on Argos.co.uk
Peace at last
May 11, 2018
The headphones are comfortable to wear with no loss to the sound quality. I like the way the headphones sit nicely on the top of the amplifier when not in use to enable recharging until the next use .A great present to give to your partner who loves to watch /listen to music, with the sound turned up loud! Thank you Sennhesier
Reviewed on Argos.co.uk
Excellent sound quality.
Feb 7, 2018
Excellent sound quality. Can become uncomfortable after several hours of continuous use. Quality build but a tad too plastic for the price. If your looking for consistency and quality up to 25 metres through walls then these are ideal. I'm very happy with product even if a tad expensive.
Reviewed on Argos.co.uk
At first they are a bit cumbersome but now ok
Jan 17, 2018
They are a bit bulky. But you will get used to them. Sound quality is brilliant. A bit on the expensive side. But on the whole a good buy.
Reviewed on Argos.co.uk
Jan 4, 2018
Excellent product. Bought it for my 92 year old father who is profoundly hard of hearing. He was unable to understand what was being said on the TV even when the volume was turned up to full. Now he can understand even foreign accents. Very easy to set up, with an online tutorial to assist. Be aware that you may need to purchase a separate adapter called RCA to audio jack adapter if you want others in the room to hear the sound.
Reviewed on Argos.co.uk
Good looking headphones
Jan 2, 2018
Love the headphones, so comfy to wear, easy to set up to tv, love the standup charging unit, the headphones are very clear and blocks other sounds out, well worth the money.
Reviewed on Argos.co.uk
Great help for my husband who is hard of hearing
Dec 29, 2017
I got these for my husband for watching the television as he can't hear very well. He's delighted with them.
Reviewed on Argos.co.uk
All right
Nov 9, 2017
These headphones work fine but the range is not big, when in the kitchen of a small house the sound starts cutting off.
Reviewed on Argos.co.uk
Excellent sound quality, very comfortable
Oct 21, 2017
Absolutely fantastic headphones, base boost feature is great, sound quality is stunning, I use this with my games system, it brings out all the sounds and even keeps the treble sound high whilst base boost is active, very comfortable to wear even over long hours of use. Highly recommended
Reviewed on Argos.co.uk
Worth the price
Oct 17, 2017
These rank highly amongst various online reviews and although a higher price than I would normally pay they ate worth every penny. Very comfortable, great sound and easy to charge.
Reviewed on Argos.co.uk
Solved the traffic noise problem completely.
Oct 13, 2017
The headphones proved perfect for excluding the annoying traffic noise experienced in the flat.
Reviewed on Argos.co.uk
My Sennheiser Head Phones ( RS 165 )
Oct 11, 2017
What a fantastic unit , easy to set up, very comfortable to wear, very stylish,,& the best of all no interference when listening, I would highly recommend these Head Phones.
Reviewed on Argos.co.uk
Great quality
Sep 26, 2017
It was a gift for my partner. He was very happy. Sound is clear, headphones looks great. Highly recommended
Reviewed on Argos.co.uk
Excellent product but missing essential connector
Jan 16, 2017
Excellent product, used by my mother for listening to the TV, and she is delighted with them. But absolutely exasperating that the box does not contain the RCA cable essential for connecting them correctly to the TV. (Deliberately so but not mentioned anywhere on the outside of the box.) It caused a great deal of inconvenience and disappointment on the day I collected them for her.
Reviewed on Argos.co.uk
solves the deaf TV problem
Jan 13, 2017
Excellent solution to listening to TV without shouting out the room. Perhaps a little heavy but I can wander around much of the downstairs and still hear what is going on. Great!
Reviewed on Argos.co.uk