Sennheiser Over-the-Ear Wireless Headphone System - Black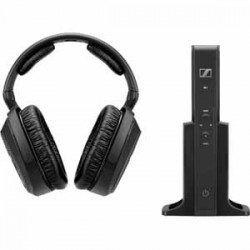 Great for TV
Nov 12, 2016
The RS 175s are great for private TV watching. The bass and surround controls make a real difference, allowing significant adjustment to suit personal taste. We prefer Sennheiser's wireless approach to standard bluetooth for ease of use. You just put the headphones on, mute the TV, and you're set; no pairing, no selecting audio source, etc. Sound is first-rate, though I would not recommend these headphones for audiophile-quality music appreciatio... Show Moren. I have a pair of (discontinued) RS220s for that purpose, and the sound quality is superior. To be fair, the RS220s were priced significantly higher when they were available. It seems that Sennheiser decided to focus their wireless offerings on TV/video use, and for that purpose they offer high quality and great value.Show Less
Reviewed on B&H Photo Video
Excellent Sound
Dec 28, 2015
I got the RS175 for my Mom for Christmas. She seems to really enjoy the audio clarity as she watches TV. Range is good, though it doesn't quite cover the whole house, due to too many walls. It was easy to set up. I tried out the digital optical input with the supplied cable and though it worked great, I opted to use the analog input, as the cable box required more effort to switch its output than simply turning its volume down. Analog input sound... Show Mores just fine. Battery life has been good. It's intuitive to use, which is a real help as Mom isn't too technical. She was able to use it without too much trouble after I showed her how. She has recommended it to her friends and now one of them wants to get one.Show Less
Reviewed on B&H Photo Video
These phones could save your marriage!
Jan 19, 2017
At 75 I have male age-related hearing deficit and have worn out 4 sets of lightweight wireless headphones for tv use. With this product I have easily replaceable rechargeable AAA batteries and literally high-definition theater sound, better than what my wife, with her excellent normal hearing, experiences -- no more, What's? These are beautifully constructed, the range is incredible -- I can work outside and still listen to tv, or turnoff sound o... Show Moren main tv where phone transmitter is connected, watch tv in another room on same channel and not bother my wife with all the noise. Wish I had found these years ago. I may sound like an ad writer, in this case I am just enthusiastic.Show Less
Reviewed on B&H Photo Video
RS 175 Very good quality but becomes very heavy & very hot.
Mar 7, 2017
It is working perfectly. I do not hear very well and I need the TV sound to be higher than the rest of my family. This is a great model the headphone is very superior to MDR-RF985RK Wireless Radio Frequency Headphone System of the same brand, I do not recommand the last one because the Volume and Tune are manual, behind your head, and moved when you rest your head on your armchair. The RS 175 is automatic and therefore the settings when done do n... Show Moreot need to be changed. However definitively this RS 175 is much too heavy for 3 hours or more of TV show and also too hot, you need to remove it one minute time to time.Show Less
Reviewed on B&H Photo Video
Best of the Best
Jun 25, 2019
My five year old headphone by another brand started having charging issues and audio drop out. Researched for a good replacement and bought the Sennheiser. Love it. What's good about it? The batteries in the headset are replaceable. The earmuffs are replaceable. Utilizing smart charging software, the headphone can be left on the charger/transmitter meaning it is always charged. Can turn on bass boost and/or virtual surround sound from headphone or base station. Can connect to television using either digital or analog cable. Last, but most importantly, great sound!
Reviewed on B&H Photo Video
Nice wireless phones
Apr 20, 2019
Sound quality very good at this price point. The headphones are a little bulky but very comfortable. Range is excellent - able to go into other rooms and even the garage without signal loss. I placed the transmitter station behind my TV to avoid cluttter, and it still worked fine. I was a little disappointed that the unit did not include an adapter to allow the 3.5 mm jack to plug into a standard stereo headphone jack - had to go buy one. Overall, very happy with my purchase, and give it a 4.8.
Reviewed on B&H Photo Video
Excellent headphones
Feb 21, 2018
The sound quality is excellent. They fit my ears nicely. The reason I didn't give them 5 stars is I feel the unpadded head bar on top of my head. I wear a large hat size and the pads don't quite work. The set up was a little complicated. I have a Samsung 6290 Smart TV and had to change the Expert Settings to get consistent sound. The HDMI setting is Bitstream and the Audio Format is PCM. Other settings resulted in either no sound or intermittent sound.
Reviewed on B&H Photo Video
Decent headphones
Dec 20, 2017
I bought these for my dad to use with the tv. Set up with the 3.5mm audio jack was fairly easy, but when we decided to use the optical cable instead, it took us a while before we figured out that we needed to change a setting on the television itself to get the headphones to work. As for the sound quality, they are not the best sounding headphones that I have used, but it still sounds pretty good. My dad seems to like it while watching concerts on tv.
Reviewed on B&H Photo Video
Does the business!
Nov 30, 2015
Bought this for the kids to use in the loft so as not to disturb the TV users in the family room. It's an absolute Godsend; they can enjoy their movies etc. while others are watching football downstairs. I've tried it myself and found it to be very comfortable, audio quality is excellent and appears to have excellent fit and finish. Will be adding an additional headset shortly. Installation was a 5 minute breeze. Pricey but worth it.
Reviewed on B&H Photo Video
Disappointing
Dec 16, 2019
I got the RS175s to replace as pair of Sennheiser RS120 headphones that I've had for years. I had assumed that it would be a significant upgrade, but that hasn't been the case. The sound quality of the RS175s is no better than that of the older (and significantly less-expensive) headphones, the range is noticeably inferior, and the RS175s have been exhibiting occasional annoying dropouts. I had hoped for better.
Reviewed on B&H Photo Video
The best
Nov 4, 2019
I have 2 pairs for TV listening. As I get older, I need a boost in volume without driving everyone out of the room and these provide the best answer. I tried a pair of Sony's a few years ago and they were very uncomfortable on the ears. The fact that I keep buying this Brand and model speaks for itself. Sennheiser Co. is great if there is a problem. Give them a call and they resolve the issue quickly.
Reviewed on B&H Photo Video
Excellent TV Headphones
Jul 7, 2018
TV dialogue in a large room can be hard to fully understand, even for those with good hearing and a full-blown SONOS setup. These headphones solve the problem and even enhance the sound. Being wireless the freedom of movement is a pleasure. Coupled with an add-on optical audio switch/splitter, both the TV speakers and headphones can be used together for maximum flexibility.
Reviewed on B&H Photo Video
Very pleased Does exactly what we needed.
Feb 19, 2018
Just what we were looking for. Easy set up; easy to use. We needed to pair with an audio optical output on our Samsung TV. The B&H folks were excellent in their recommendation. Two caveats: 1) my hearing is not the best so I can't speak to the high quality of the sound, 2) the headphones get heavy with continued use, about 3 hrs +. Very satisfied.
Reviewed on B&H Photo Video
Great sound
Aug 24, 2015
RS 175 was easy to set up. The range is excellent , was able to hear TV throughout my house. I use the headphones when I exercise and it does not move off my head. The only negative was that it was not very comfortable to wear initially. Over a few weeks I got use to it.. I would recommend this headset
Reviewed on B&H Photo Video
Great wireless headphones
Oct 2, 2017
I've owned Sinnheiser headphones since the 1970s. I also owned an original pair of Recoton wireless headphones for many years. These wireless Sinnheisers are the best of both. Great sound. Very comfortable. Use them to watch TV while wife sleeps. Happy with them.
Reviewed on B&H Photo Video
Great tv headphones
Jan 4, 2018
The headphones sound very good and are comfortable. If you move around you may hit a dead spot in the room. Once you are seated it works well. My wife and I can now watch and listen to the TV without disturbing each other at very late or early hours of the day.
Reviewed on B&H Photo Video
Very happy
Jul 8, 2016
Just got these and could not stop listening to old songs I have heard hundreds of times. The clarity and balance is remarkable. It would be interesting to compare these side by side with the new Bose offering, but hard to imagine those could be any better
Reviewed on B&H Photo Video
Virtual perfection
Aug 4, 2015
Use it over optical digital from TV Sony XBR-65X900C. Comfortably covers my big ears and delivers incredible surround sound. As expected from Sennheiser, the Dynamic Base is great for music, but there is no better setup for late-night TV and movies.
Reviewed on B&H Photo Video
I can hear again....
Aug 30, 2018
I've used Sennheiser Wireless Headphones for years...With all the new technology, I thought it was time to upgrade...Amazing clarity and comfort...The advances in sound quality compared to my old set is very noticeable...Glad I upgraded...
Reviewed on B&H Photo Video
Excellent Product
Jan 24, 2017
Simply Love it Great Product...can walk around the house with head phones on without any voice disruption. Good battery life. Also can reduce TV volume to 0 and enjoy great sound in my ears
Reviewed on B&H Photo Video
Amazing sound!
May 23, 2017
I just upgraded from the Sony model of wireless headphones, and these are by far very superior. Not only is the sound better, but it blocks outside noise as well.
Reviewed on B&H Photo Video
VERY GOOD FOR TV
Jul 23, 2019
PREVIOUS EAR PHONES WERE THE OLD 120'S THESE ARE DEFINITELY A GREAT STEP UP! STILL GETTING USED TO THE CONTROLS AND ADJUSTMENTS, NUT HAVE BEEN EXCELLENT SO FAR
Reviewed on B&H Photo Video
AWESOME
Nov 4, 2016
I bought this RS 175 Digital Wireless Headphone System in Sept 2016. All I can say is that this system is really great. Sound quality is just fantastic!!!
Reviewed on B&H Photo Video
Nice headphones
Dec 13, 2019
Well built and sounds great. Purchased to replace old Sony's that never had much of a range. The RS175 receives everywhere in my condo flawlessly.
Reviewed on B&H Photo Video