Sony WH-1000XM3 Wireless Noise-Canceling Over-Ear Headphones (Black)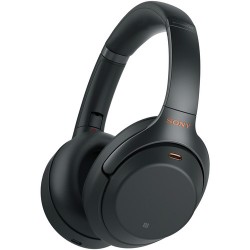 Good upgrade but not 100 percent there yet
Dec 25, 2019
Better in every respect than my five year old Sony NR predecessors. Sound is very good, but has less definition and musicality compared to my non-NR Grados and less detailed and balanced through upper, middle and low registers than the new Bose NR 700s. Noise reduction is excellent. Controls are confusing and hard to work consistently. Very good product but not as world-beating as I hoped.
Reviewed on B&H Photo Video
The best headphones for a reasonable price
Dec 19, 2019
I was between this ones and the Bose since i needed noise cancelling headphones. My first experience was that the design was just perfect fit for me and it was easy to install and connect to my iphone. The noise cancelling in airplanes works perfectly and the ambient sound is perfect to keep listening to any song and hearing any incoming sound. the manual controls to increase or reduce volume, switching songs and ambient sound is really easy and ... Show Morewith one hand. I really recommend this product since the price is one of the lowest for a high quality headphones. Also the audio quality exceeds my expectations. And the battery allows you to use for non-stop for many hours, at least 13 non-stop. Amazing right?Show Less
Reviewed on B&H Photo Video
Comfortable, amazing noise canceling
Dec 17, 2019
It had been about ten years since I bought my last pair of noise canceling headphones, and I was AMAZED when I put these on and turned them on for the first time. Very impressive. Happy I purchased.
Reviewed on B&H Photo Video
Very good headsets all round!
Dec 16, 2019
I love the sound of these headphones. They sound amazing. Accurate sound music and even calls. The passive noise proof ear muffs do such a good job at keeping noise out that they have to play sound back through the microphones. Reasonable bass, excellent highs and mids. For a non-audiophile, this will likely be one of the best sounding headphones you can own.
Reviewed on B&H Photo Video
Everything I every really needed
Dec 13, 2019
Great pair of headphones. I'm a PC gamer so I sit at my desk with another pair of headphones all-day. However, since they're wired, I can't freely move around my room, so the Bluetooth and comfort on these really aid me in productivity. Plus, the ANC on these is one of a kind. The difference is day and night. Allowing ambient noise in took some getting used to though as it sounds super tinny. The dynamic range of these is superb (for a non-audiop... Show Morehile) Do note, if you're anything like me, I didn't think I would care to have my phone and PC connected simultaneously, but I found that as I got phone calls and use my PC a lot, it was a hassle to disconnect and reconnect all the time.Show Less
Reviewed on B&H Photo Video
Really terrific headphones
Dec 13, 2019
These headphones are comfortable and stylish, and they sound fantastic: excellent bass, nice detail, treble nice and clear without anything being pushy. The touch controls on the right earphone are also very helpful for cold days when you're lugging a bunch of stuff around the city and would rather not dig your phone out of your pocket. The battery life is also very good. It's easy to use them almost daily for a week or two without having to recharge.
Reviewed on B&H Photo Video
Comfortable and great sound
Dec 11, 2019
the sony headphones are very comfortable and easy to set up. the noise canceling is very impressive and it is great how the set adapts to your movement. they are comfortable and sound great. love the over the ear hand placement to pause noise canceling when i need to listen to something externally.
Reviewed on B&H Photo Video
Absolute best in class
Dec 10, 2019
Great sound, great noise cancelling. Only reason losing a star is its much heavier and bulkier than the new trend of true wireless noise canceling earbuds
Reviewed on B&H Photo Video
Great headset with great features
Dec 10, 2019
I love the hand-over side for listening feature, the touch gestures is also great. Most important, sound is great as well. I've had Bose and Beats, this one is best so far. Highly recommend, especially from B&H to save on sales tax!
Reviewed on B&H Photo Video
Learn how to use the apps
Dec 7, 2019
Disappointed that we bought two of these a few weeks ago, and now they're $70 off each (Cyber week)... but, very happy with them. The headphones app is a bit tricky, especially the ambient noise control and Adaptive Sound Control options. If you don't have these set up properly, you may think the noise cancelling isn't working. The adaptive sound control senses if you (your phone) is moving and adjusts the amount of noise cancelling and whether o... Show Morer not to prioritize voices coming through over ambient noise like traffic. This is actually a cool feature as it helps you stay safe in environments where you have to have some awareness of what else is going on around you. If you only use the headphones at home, turn it off. I think many of the negative reviews I read before buying were due to people not having this set up right - once you start walking or moving in a conveyance it kicks in and lets outside noise in unless you set it otherwise (if using App). The equalizer in the headphones app helps you hear the type of sound you like. We like it on the Bright setting. I read in one review that you should use the Sony Music Center app to control your music. This imperfect user-interface app appears to source music from your iPhone music app and may add Sony specific codecs to improve the sound - don't know that for sure, but I know I really like the music when I control the playing through this Sony Music Center app. I tentatively recommend it for that reason. There are 'tracking' features of the apps, but you can opt-out of them when installing. Both apps are free. I think I may have had to link to them from the Sony site rather than finding in the App store. The one trick with using the Sony Music Center app, is that you need to choose My Library to find your music in the Apple Music app (loaded onto your phone storage from PC using old-version iTunes), and when you choose Albums for example, and select one, you must select the ellipsis (... symbol) on the album to select play next or add to queue or playlist, etc. Not intuitive at all, but once you know that it's quite easy. In case I didn't mention it above, the noise cancelling is as good as they say. Which is really really good. I can't wait to take this traveling through busy airports and on flights with screaming youngsters, the main reason I resist traveling these days... The usb charging cord is indeed very short. I have a USB M-F extender cable I use when more length is needed. 'nuf said?Show Less
Reviewed on B&H Photo Video
Excellent Headphones
Dec 7, 2019
The sound quality on these headphones is amazing. They have a setting that lets through ambient sounds and even amplifies them slightly making wearing them outside more comforting. The noise cancelling is immensely impressive, i trialed this recently on a flight and it was bliss.
Reviewed on Argos.co.uk
amazing performance
Dec 5, 2019
love the performance of these. on long flights, your ears do get hot...but all over the ear have this issue...
Reviewed on B&H Photo Video
Amazing!
Dec 4, 2019
After researching for a good pair of bluetooth headphones and finally committed to the Sony WH-1000XM3. Sound quality is amazing while doing a great job canceling out any noise. Touch controls seem to work flawlessly and battery life is great. I would definitely recommend these to anyone.
Reviewed on B&H Photo Video
HD or 360 Reality Audio Amazing, Normal Audio Alright!
Nov 29, 2019
The swipe feature is actually quite handy oppose to some who dislike these functions. The simplicity of using your finger for volume, skip track, etc. is perfectly responsive. Connecting to different BT devices is simple and quick. Phone calls are a breeze to listen and communicate. They are very comfortable and sometimes I do forget I'm wearing large over the ear headphones until my ears start perspiring, ha! The sound of these top sound headpho... Show Morenes price bracket are amazing when hearing Deezer, Tidal, qobuz and nugs hifi/360 music. When you drop your audio to regular tunes streaming the sound will need tweaking with the many options in app to achieve a satisfactory sound for your ears. The charge last more than enough in between charges via 6 inch usb cable. As you can tell, I'm sold on these over ear cans and would recommend for your ears pleasure. Enjoy!Show Less
Reviewed on B&H Photo Video
Great active noise cancelling headphone!
Nov 25, 2019
This is my first headphone and I am really glad that I chose Sony 1000xm3. The noise-cancelling feature works so great that sometimes you are so amazed how quiet it is as you take it off in a busy environment etc. The connection works great. I love the touchpad. It is so easy to pause/play and adjust the volume. The pad on the crown is also very comfortable!
Reviewed on B&H Photo Video
A decent upgrade!
Nov 21, 2019
I owned the older version and loved it. This new version is slimmer and lighter. The padding has much better support than previous which is more pillowy. The new ones feel noticeably more comfortable around my head. Sound quality is awesome as expected!
Reviewed on B&H Photo Video
Game Changer for NYC Resident
Nov 21, 2019
The noise canceling is absolutely incredible, it's made commuting on the subways and even walking around the city so much nicer even working in the office with ACs and background street noise is more bearable. The sound quality is fantastic, and the battery lasts a long time. My only gripe about these headphones is that the microphone when making calls isn't great, but that's not really what they're intended for, so I'm still giving them 5 stars!
Reviewed on B&H Photo Video
The best
Nov 21, 2019
These are the best headphones I've owned. The sound quality and noise cancellation is amazing. I love them 10/10
Reviewed on Argos.co.uk
Excellent Pair of Headphones
Nov 17, 2019
The unit is comfortable and the best sound that my son says he has ever had in a unit. In addition he really appreciates the noise cancelling. He never realized how much noise there was in the streets.
Reviewed on B&H Photo Video
Fantastic headphones
Nov 15, 2019
After upgrading from a lower range set of Sony headphones, these have blown me away. The noise-cancelling feature is outstanding and the sound is crisp and clean. Definitely worth the investment.
Reviewed on Argos.co.uk
Worth every penny...
Nov 14, 2019
It took me at least a month before I decided on these bad boys Good bass Easy to set up Alexa/Google assistant Long battery life Premium sound Touch controls USB C charging Probably the best noise cancelling on the market What's not to love!!! I didn't expect to pay as much as I did but boy you get every penny was well spent You will not be disappointed.
Reviewed on Argos.co.uk
Adaptive N.C.
Nov 9, 2019
Noise canceling much better than my old Bose and Senheiser cans. In the app run the Noise Canceling Optimizer and be amazeeed. Good enuf sound quality bluetooth music streaming too.
Reviewed on Argos.co.uk
Sanity Saver
Nov 7, 2019
These headphones saved my sanity. The noise cancellation feature is amazing, it completely canceled out my noisy neighbors during their 3 a.m. shouting matches. Months of anguish have been solved by these headphones. Pros: -Super comfy, even with my glasses and ear piercing -Lightweight -The sound is the best I've ever heard from bluetooth headphones and super customizable -The battery life is phenomenal -The range is amazing, I can walk all ... Show Moreover my apartment with no issues -Ambient Noise and Noise Cancellation are life savers Cons/neutral: -The touch feature takes some getting used to but it's kinda neat -The noise cancellation doesn't cancel out people talking next to you (or at least I haven't figured that out yet) but it does greatly reduce it If you are looking for some peace and quiet from noisey neighbors, cars driving by, or other background annoyances, these headphones are PERFECTShow Less
Reviewed on B&H Photo Video
Satisfit
Nov 1, 2019
Noise cancelation is not perfect because it can't be, they wouldn't allow it, since it would be dangerous. But it is as good as it gets within the allowed range. Battery lasts more than enough, with a pretty fast charge. Comfortable enough to forget you are wearing them. Quality of audio is good enough.
Reviewed on Argos.co.uk