Sony WH-XB700 EXTRA BASS Wireless On-Ear Headphones (Black)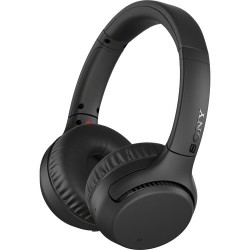 Ticked all the boxes
Feb 6, 2020
Fantastic headphones, amazing sound, many useful features. Not very big but size still good, depends what you looking for.
Reviewed on Argos.co.uk
Works perfectly!
Sep 20, 2019
They set up quickly, they paired quickly, they have good audio especially with the companion app on Android... If you need a pair of wired and wireless headphones, this will do the trick for you, and then some. (And the Alexa/Google Assistant tie-in isn't a bad touch!) It just doesn't have noise canceling, but it's loud enough to be able to be overlooked.
Reviewed on B&H Photo Video