Sony WF-1000X Wireless Noise-Canceling Headphones (Black)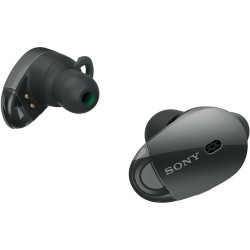 Noise cancellation is brilliant
Mar 25, 2020
when you use the app alongside the pair of Bluetooth earphones it allows for so much customization. overall the headphones are much better than either the galaxy buds or air pods
Reviewed on Argos.co.uk
Mar 20, 2020
These headphones are very uncomfortable .I do not recommend them at all .much better sets out there
Reviewed on Argos.co.uk
Your best buddy..
Mar 12, 2020
Awesome awesome awesome.... These buds are awesome, comfortable, stylish the sound quality just blew me away... If buds are your thing then these are the ones for you.. Heck even if you are an over the ear kind of person you will not be disappointed if you make the leap to these....
Reviewed on Argos.co.uk
Superb sound quality and noise cancelling
Mar 12, 2020
After a few months with the headphone big brother to these I was looking for the same sound quality and noise cancelling in earbuds for times when space was an issue. I couldn't be happier. The noise cancelling is superb and although I hear external noise like traffic my music doesn't get lost. They do stick out quite a bit but that's something I can live with as there is nothing else to fault.
Reviewed on Argos.co.uk
Mr t
Mar 11, 2020
Excellent sound quality, easy pairing and use , the only problem I'm having is getting to stay in my ears as when you move around they slowly work their way out and you have to keep playing around to get them to fit properly, I've spoken with sony about this issue and still waiting for a reply or I may return them .very annoying.
Reviewed on Argos.co.uk
Great wireless headphones, great sound
Mar 11, 2020
Although I've only had these a short while, they are great, such a clear sound and cancel out background noise! Highly recommended:-)
Reviewed on Argos.co.uk
It's not a shower but it sounds fantastic
Mar 5, 2020
They keep disconnecting but I think it's because I interrupted the firmware update when it jammed. They sound absolutely beautiful. At first I was putting them in incorrectly and they hurt my ear lobes but that was my fault. Range is out of this world. The noise cancelling feature does come in handy but I don't use it all the time. Everyone that tried them said they are the most crisp sounding earphones they ever tried. They will not fall off. Believe me, I've tried.
Reviewed on Argos.co.uk
great in ear buds
Mar 3, 2020
Great headphones. Long batery about 5hours with noise cancelling turned on. Excellent Sony quality
Reviewed on Argos.co.uk
Best TWS earphones I've owned
Mar 3, 2020
I bought these after reading several reviews online and comparison videos between these and the new AirPod Pros. Most videos and reviews said the sound quality of the Sony's was superior to the AirPods, battery life was better, and they and would fit better due to the number of ear tips provided. The sound quality is fantastic, they have great base for their size, and the ambient noise function works very well. The noise cancelling is great and they handle calls really well. Easily recommended.
Reviewed on Argos.co.uk
Outstanding quality
Feb 26, 2020
I've used a number of truly wireless ear buds but these are by far the best I've tried. The kit itself feels premium and the sound quality is excellent. There's a really good Android app to tinker with the sound (with presets that really make a difference) and control the noise cancelling. These may cost a bit more but they're worth every penny.
Reviewed on Argos.co.uk
Look great, stylish and most of all comfortable
Feb 25, 2020
These headphones are great when it comes to being active; they stick comfortably in my ears and have a range of different earbud ends that come included so I could adjust them accordingly for better comfort. The sound quality has a nice base that I can adjust to my taste as and when I please through the app they recommend. Ps. They really do silence the world aha
Reviewed on Argos.co.uk
Not that great
Feb 21, 2020
The sound quality was great but the design was not they keep falling out! Also I found that they kept cutting out when I was out in public. I have used other wireless headsets and yes this does happen but not as much as this product. It a big No from me. Product returned.
Reviewed on Argos.co.uk
Great sounding headphones from sony
Feb 20, 2020
Given the mixed reviews I was reluctant to buy these. There are lots of people that say they have had problems with the headphones losing connection in the left ear when there has been busy areas of bluetooth. I have experienced this once. I changed the settings in the app to focus on stable connection rather than sound quality and I have had no problems since. They sound great. minor issue is call quality is not great but they are ok for short calls. But overall great and improving with updates
Reviewed on Argos.co.uk
Keep dropping out
Feb 19, 2020
Unfortunately, while these headphones have great sound quality, they keep dropping out of connection constantly, even when sitting still. Now thatI've looked online it seems this is not a rare occurrence. Sony needs yo sort out the software. It's a shame as the WH-1000s (the cans) are incredible. These are the poor cousin.
Reviewed on Argos.co.uk
Exceptional true wireless earphones
Feb 17, 2020
Had debated switching to true wireless earphones and am not disappointed. The Sony WF-1000XM3 sound phenomenal, look great, and have all the functionality I could ask for ease of us.
Reviewed on Argos.co.uk
Great pair of truly wireless headphones
Jan 30, 2020
They may be on the expensive side but they sound and look great. I have the WH-1000XM3 overears and these are great alternatives. Battery life has been great. However a silicone case is necessary for the main base as it tends to scratch very easily. Good thing they are cheap on amazon.
Reviewed on Argos.co.uk
It's amazing product
Jan 30, 2020
It's a great product good sound.. noise cancelling working good the only disappointment is the app really pour for a great brand like Sony you expect something easy and better
Reviewed on Argos.co.uk
BT earphones
Jan 28, 2020
Sound quality is excellent, found the noise cancelling a bit weird, but got used to it. Handy that you can turn it off if not required. The notification was annoying, I know what I'm doing don't need a notification to tell me if I'm stood still, walking or driving.
Reviewed on Argos.co.uk
Best in ear I've ever had
Jan 26, 2020
Superb sound quality, deep bass. Nice design, soft buds. Awesome active noise cancelling. Work's really well. Good battery life. Can run it at 50% volume with active noise cancelling and enjoy music. Downside: might get a bit loose during active sports.
Reviewed on Argos.co.uk
An unexpected pair of Earbuds
Jan 23, 2020
I bought these truly wireless earbuds full of skepticism, I've had Sony truly wireless earbuds prior to these and they inexplicably failed. I'm over the moon to say, these earbuds are solidly on another level to my previous experience and having experienced other true wireless earbuds...these are totally my favourite. The battery life exceeded expectations too, if you buy these, take the 3 hour battery life as advertised with a pinch of salt. The noise cancelling on these is unreal!
Reviewed on Argos.co.uk
Awesome is an understatement for this beast
Jan 23, 2020
Been eyeing on this item since it was launched last year. It never disappoint. Every one is asking about it to a point one of my friends bought one for herself. It fits really well on my ears and has a perfect grip. I use it most of the time on my workout and it doesn't fall, may be once or twice but due to sweat. Definitely recommend it to everyone. Last thing, it also adds up to your fashion.
Reviewed on Argos.co.uk
Sony earbuds
Jan 17, 2020
The sound quality is good & the noise cancelling does work. However this is let down badly by wind noise if your wearing them outside. It really doesn't take much of a breeze to effect them very badly. This is really a problem for an expensive product to have such a serious defect. To sum it up they are reasonably comfortable to wear and sound good indoors but not to be recommended for Day to day use in the open air.
Reviewed on Argos.co.uk
Amazing!
Jan 16, 2020
It's better than expected and my expectations were high. The sound is great and they are so comfortable. Only downside is noisy if it's very windy, but same with any other ones I've had. Love them!
Reviewed on Argos.co.uk
They are perfect
Jan 12, 2020
Sound quality is amazing and all futures work as a charm No doubt Sony out done and self with these Earbuds.
Reviewed on Argos.co.uk