Sennheiser MOMENTUM True Wireless Bluetooth In-Ear Headphones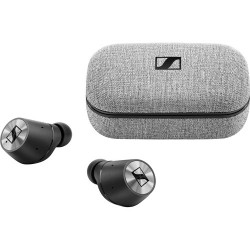 Great earphones
Feb 5, 2020
Great product, nicely designed & packaged. The sound quality is excellent & comfy to wear. The battery life is questionable as I only get about 3 hrs before they need charging again. But pleased overall. Would i recommend these, yes I would.
Reviewed on Argos.co.uk
Love these
Jan 22, 2020
I have always had issues with earbuds and them staying in my ears, as I love Sennheiser sound quality and I wanted something for running as I can no longer get the running range I thought I would try these. I have to say I am impressed with the sound quality and the fit, they do stay in my ears and feel comfortable too, I am impressed and feel they are more than worth the money, amazing product from a trusted brand that really knows how to deliver your favourite music
Reviewed on Argos.co.uk
Best wireless earbuds
Jan 21, 2020
I've had many wireless earphones, from jabra to bose, these beat them hands down, battery life amazing, sound is out of this world for such small earphones, best tech I've bought it a while, reserved online and picked up the same day, good service from argos
Reviewed on Argos.co.uk
Great headphones
Jan 10, 2020
Headphones are great but definitely not worth the asking price and battery dies too quick
Reviewed on Argos.co.uk
Best of the best, for true wireless earbuds!!
Jan 6, 2020
If you are after the best sounding earbuds on the market at the moment then the Sennheiser Momentum TW are for you. If battery life is an problem for you and not having ANC then they are not for you. Now for the down side of them they do have issues like the battery issues with the case, as they do have an battery draining issue from the case that no firmware update can fix. Along with the left earbud not connecting at times. The Sennheiser app can be problematic at times to.
Reviewed on Argos.co.uk
Momentum
Jan 5, 2020
You cant get everything but sound quality....very good. Very satisfied with it. Comfort fit is not bad either.
Reviewed on B&H Photo Video
Outstanding quality.
Dec 26, 2019
Easy to use with App. Easy to connect quickly to any device. Sound quality outstanding. Great value for money !!
Reviewed on Argos.co.uk
Excellent wireless earphones
Dec 11, 2019
Love the sound. Treble not bright. Bass is good, not over emphasized. Overall smooth sound. Do not miss active noise cancelling as I rarely listen in noisy surroundings. Fit my hears quite well. Used the medium tips (came installed). I tried the other sizes (L,S,XS) and the mediums worked best. The Sennheiser app is pretty basic; EQ and Transparent Hearing settings. I leave the EQ at default and Transparent Hearing Off. Transparent Hearing 'On' allows music to continue playing or not and outside sounds will be amplified, but the difference is not significant.
Reviewed on B&H Photo Video
sounds good if it fits in your ear
Dec 10, 2019
so the sound quality is amazing as you would expect from this brand. I have been using bose and jbl and they fit fine, I had to upgrade since my new phone lost the audio input. I tried all the rubber fittings and none of them allow a good seal in my ear. 1 ear keeps sliding out. I read online I can buy foam tips that will fit snug but feel like with a premium price I shouldn't have to spend an extra 12$ on foam tips. I was looking forward to these because of the stellar reviews and reputation of the brand.
Reviewed on B&H Photo Video
Great earphones.
Nov 26, 2019
These are great earphones. The sound is amazing, the bluetooth works very well, they look good and fit well. Excellent product.
Reviewed on Argos.co.uk
Superior Sound Quality.
Nov 15, 2019
Purchased after seeing a YT review. Connection was not easy on Android, and was seamless on Apple. I did eventually get it connected, and since then it's been fine. Voice prompts are excellent, and keeps you informed on connection. Works perfectly with Google Assistant at the you h of the right pod. A little bit bigger than I would have wanted, but comfortable once in. Onto the sound, it's absolutely stunning! The bass drop is simply fantastic, with crisp clear highs.
Reviewed on Argos.co.uk
Top end sound. Top end earbuds
Oct 11, 2019
These earbuds really are the best of the best as far as sound and features. Brilliant app to boot. It's worth paying the extra for the amazing sound quality they produce. Lovely case as well. Top product
Reviewed on Argos.co.uk
Excellent Sound Quality
Sep 10, 2019
Very pleased with these ear buds, you get what you pay for the sound quality is top quality.
Reviewed on Argos.co.uk
Great quality earbuds but little big to my liking
Sep 9, 2019
The quality of the product is great, sounds are great specially one listening to Audio 8D sounds and music. To keep them for a long period I feel they are bulky compared to what is available in the market. The sensor controls are a problem as they are very sensitive. For a $300 price one expects them to be smooth but that is not the case. It takes a while to get used to these controls, but overall they are good for me on short time use.
Reviewed on B&H Photo Video
Good for music
Aug 19, 2019
The sound is amazing, it takes some time to get use to touching controls., it doesnt really work well on international phone calls the person on the other end of the line can not hear me clearly.
Reviewed on B&H Photo Video
Absolute perfect match
Jul 31, 2019
It's the perfect ergonomic design wireless headphones out there! Without a doubt. Light weight, sound clarity, comfort... and has it's own EQ feature through the app!
Reviewed on Argos.co.uk
Lightweight, long battery life, but not for bass lovers
Jul 29, 2019
A great product. Battery life is great. Nice quality. Charging case is pretty massive. Have to admit, I also have the Master & Dynamic MW-07's, and they sound far superior. But their battery life stinks.
Reviewed on B&H Photo Video
Not worth even 10% of the price!
Jun 30, 2019
These earbuds take all kinds of time and effort to connect to my phone, for starters. They also NEVER turn off so if you charge them and unplug the charger, they will be dead in several hours whether used or not. Either B&H sold me a defective pair or these buds just flat out suck! When they do work, the sound quality is fair but they don't get very loud. Biggest waste of money in years!
Reviewed on B&H Photo Video
Awesome Sound, could be a bit louder. Leaks Charge.
Jun 27, 2019
Oh it sounds amazing. I started disliking my Beats Studio Wireless (they weren't that good anyway for the money) after having this. I was listening music on my beats and felt something was missing. I took them off and plugged these on and ah! The clarity and a bit of oomph in these could be easily felt. I wish they could be a bit louder. I have to set it to max volume while working out and still feels the need for it to sound louder. Call qualit... Show Morey is terrible. People hear everything around me crystal clear, except my voice. The case leaks charge heavily. I don't use it for 2 days and the battery drains out completely. I am sending it for replacement. Hope I have a faulty piece and it's not a general problem with these headphones.Show Less
Reviewed on B&H Photo Video
Great quality sound
May 22, 2019
These fit very well and the sound quality is excellent. The battery doesn't last as long as is claimed (surprise!)
Reviewed on Argos.co.uk
Great Headphones
Apr 5, 2019
Like most of you will probably do when contemplating spending this sort of money on a pair of tiny ear buds, I did a fair amount of reading on the pros and cons of these things. I saw a lot of reviews talking about great sound quality and other reviews talking about the battery life and the things going flat while in the case. Well, sound quality is good, and if you don't want them going flat in the case, make sure the case is charged when you put them in, and, make sure you read the manual.
Reviewed on Argos.co.uk
Great sounds, lacks decent connectivity
Mar 26, 2019
Incredible sound, great hear-through function, but why on earth would you limit connectivity to just to one device. Yes, I know you can pair it with another one via the BT menu, but why not allow to connect to two devices at a time and have more devices listed in the app for switching via the app?
Reviewed on B&H Photo Video
Sounds awesome but overall has some cons
Mar 21, 2019
As a female I was unsure how these would fit and look. But I was buying them for their sound and ability to block ambient sound. My right ear is a slightly different shape than my left ear. The left ear, a more standard shape, fit pretty well AFTER I replaced the ear tips with a Comply foam tip. I can get a pretty good seal and it is comfortable. The right ear does not fit as well meaning I seldom get a good seal, even with the foam tips. Neit... Show Moreher of the tips (Sennheiser nor Comply) are very deep, they do not go very far into your ear canal so again, although these sound amazing if you can get a good seal, I seldom can. Also, on me the right one hurts my ear as I keep fiddling with it to get a good seal. I was surprised to find these would not work with my older android tablet, they are not compatible with the software version. Ok, so I have to use them only with my iPhone 6. But I have to go into the Sennheiser software on the iPhone to pair them every time I want to use them. Every time. Its annoying. Sometimes it takes a lot of effort to get them to pair, other times it pairs quickly. No pattern as to when or why yet. I have not seen anything special or different than any other bluetooth device as far as working distance from my iPhone. Transparent hearing. I dont know if it is because of the (lack of) seal I get but there is not much of a difference between when I have it on or off. Would I buy it again? I dont think so, but I want to stress they have amazing sound.Show Less
Reviewed on B&H Photo Video
Good product
Mar 14, 2019
Excellent sound quality. Silky, rich sound with deep bass. The only thing I'd say is I'd wish they'd go louder. The touch controls are impressive but difficult to start with. Battery life is good and the carry case charges them in between use. The app works well to adjust equaliser to suit your taste plus allows you to look at charge levels and adjust other settings. The Bluetooth works really well. I can walk all around the house without any connection issues.
Reviewed on Argos.co.uk