Sennheiser CX 7.00BT In-Ear Bluetooth Wireless Neckband Headset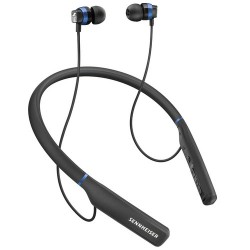 Smashing Headphones!
Jul 12, 2019
£80ish for a smashing sounding set of Bluetooth headphones. Does exactly what the doctor ordered. Full charge lasts me well over 10 hours. Cant fault them. The only con is the wee ouch itscome with to store them. A nice little case would've been much better.
Reviewed on Argos.co.uk
Good fit and sound
Jun 27, 2019
I'm pleased with these but have knocked a star of as they do lose connection more than I expected. Very comfortable and easy to operate. Sound quality is decent enough. I use them a lot when on my exercise bike and they stay in.
Reviewed on Argos.co.uk
Perfect for my bike
May 20, 2019
I bought these headphones for use during my sports activities. I mainly need to listen to directions on Google maps (got to be careful blocking out sound on a bike). I wear them also walking and working (don't tell my boss). The sound quality is excellent. Thing I like most is that I don't even know I'm wearing them. They're so comfortable AND I don't have to worry about losing ear pieces. They're always convenient to locate. Best designed headphones I've ever had.
Reviewed on Argos.co.uk
Fantastic headphones!
Sep 7, 2018
These headphones are on a whole different level, the Bluetooth connection is the most stable that I've ever come across and connected without a hitch. They are very comfortable and stay in my ears throughout even the most vigerous of activities (I recently ran a obsticle course 5k with them in!) I would recommend these headphones in a second to anyone looking for a new pair with amazing sound quality!
Reviewed on Argos.co.uk
Lacks bass - seems to be headset not headphones
May 2, 2018
For the money they should be better for audiophiles, having said which the sound is incredibly faithful reproduction of the original just the lack of bodiful bass letting them down
Reviewed on Argos.co.uk
Good earphones
May 1, 2018
The sound for the earphones are really good especially for the price however I think that the cap for the charging port feels like it may lose its ability to clip together as easily
Reviewed on Argos.co.uk
Good Earbuds/Good Price Point
Apr 4, 2018
Being an audiophile, I think I expect a lot from a moderately priced audio product. But when it comes to Bluetooth & earbuds, I think we should all manage our expectations. I need to keep in mind it's an earbud with a small cone and it's being transmitted wirelessly. With that said, these are excellent earbuds with great sound and features. The loudness and sound quality is highly dependent the quality of source music. All recordings aren't mixed... Show More and mastered the same. Listen to Michael Jackson's Billie Jean and you'll see how good these sound. If you hear low volume, muddy playback, don't judge the buds. Blame the mixing & mastering engineers. Telephone calls are crisp on the inbound and people on the other end never complain of poor clarity. After all, Sennheiser better get microphone right since they are known for quality pro audio mics. The build quality is great and the buds fit comfortably in the ear for long periods without fatigue. At this price point, for The features and sound quality, one would be hard pressed to find better.Show Less
Reviewed on B&H Photo Video
User Friendly and value for money
Feb 13, 2018
Headset is user friendly,comfortable,quality is excellent. Bluetooth is very effective. I would recommend this product 100%.I love it and i wear it all the time. Battery is very good.
Reviewed on Argos.co.uk
Sounds great and comfy
Feb 12, 2018
Great headphones Bit different due to the style found them great. Come with alot of different sized earpieces which I found great as I have small ears. Blocks out most other noise, good and clear sound. Used travelling, walking and public transport, great as I didn't accidently pull them out at all from hanging wires. Found them good in the gym however the only time I felt they were slightly uncomfy was when running, they moved around a bit on ny kneck, but stayed in my ears with good sound.
Reviewed on Argos.co.uk
Great overall....not so much for Running
Feb 9, 2018
The feel and look of these headphones are superior, they feel premium quality and not flimsy in the slightest. Set up was really easy and the sound quality is the best I've heard. I used these for Running which wasn't ideal, the knocking on my collar bone wasn't as annoying as I thought it would be, but it would move and sit wonky which was irritating. When running I could hear it knocking on my collar bone. Around the house and watching the iPad, these are perfect.
Reviewed on Argos.co.uk
Good quality Bluetooth headphones
Feb 6, 2018
These headphones are easy to use and deliver impressive sound quality for the price. Personally I found the "in ear" headphones uncomfortable buy that is down to my preference. The build quality and design are good. Overall I would recommend.
Reviewed on Argos.co.uk
WOW - excellent sound
Feb 6, 2018
My first concern was the neck band but this was unfounded when 30mins later I found I was still wearing it not having used them for 20 of those minutes. I honestly don't have a bad thing to say - they pair easily, the controls are simple to use, the ear buds are comfy (and come in multiple sizes) and the sound quality is incredible. I have perfect hearing and I tested that with these little gems to as loud as I could go and experienced zero distortion. Wow
Reviewed on Argos.co.uk
Great sound, great idea.
Feb 5, 2018
Great sound is such an important quality when choosing the right headphones and the Sennheiser CX 7.00 In-Ear Bluetooth Headphones certainly deliver in that area. However, there are two main issues with the headphones, firstly the controls on the inside are situated in a place that requires you to remove the headphone in order to adequately see. Secondly, when using them for running, the main control bar does bounce on your collar bone. With this in mind I would still recommend!!
Reviewed on Argos.co.uk
comfortable, good for music
Feb 2, 2018
Tried these out for a few different things and although they seemed great with music I then tried them out for phone calls. I found that voices were a little distorted and quiet while on a phone call even when turning the volume up. Then I tried them out for gaming and found that these weren't too great for that either. Overall good for everyday music / short phone calls but not brilliant if you are looking for gaming or business phone calls.
Reviewed on Argos.co.uk
really great headphones
Jan 31, 2018
this was easy for me to set up and connect I don't usually use ear piece one but these felt comfortable in my ears and the sound was really good
Reviewed on Argos.co.uk