Skullcandy S6HCW-L003 Black SKDY Venue ANC BT Black 24HR Battery, Tile Enabled 878615092716_10/1/18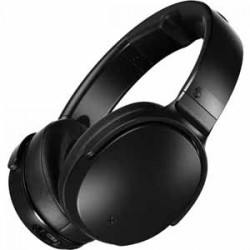 Good set of headphones without paying an arm
Dec 30, 2019
These headphones are great for noise cancelling and awesome sound quality. Hearing new layers to old favourite songs has been a real surprise Bonus points for keeping ears warm during winter
Reviewed on Argos.co.uk
Great fit
Nov 19, 2019
Great fit, not too heavy so clumpy, they fit really comfortable on your ears, great noise cancelling
Reviewed on Argos.co.uk
Ideal headphones
Sep 12, 2019
Bought for use at gym and running, comfort was main concern and these headphones cover whole of my ear and cushion sits comfortably against head. Sound quality is really good, not as loud as I thought they would be, not completely sound cancelling but for me that is not an issue. Comes with case and wires to use to charge and use as wired headphones. Happy with my purchase
Reviewed on Argos.co.uk
Aug 29, 2019
Love the new headphones I am 62 years old, and I love them so much for sound and comfort. I would recommend them to any one so easy to use.
Reviewed on Argos.co.uk
Excellent sound quality brilliant ANC and build
Jun 27, 2019
Brilliant all around,only issue is wearing them in wind as the mic picks the wind up quite strongly.brilliant sound quality and ANC though,really helps if youre suffering an anxiety attack.
Reviewed on Argos.co.uk
Poor
Jun 22, 2019
My Experience with these headphones was a dissapointment, After one day i returned them, Sound quality was ok, Untill i turned up the volume, Anything over 50% Volume, They was distorted and were vibrating to a unlistenable level, Maybe i was unlucky and got a faulty pair , But if not these were terrible.
Reviewed on Argos.co.uk
Great headphones
Jun 21, 2019
As a "budget" set of headphones they are really impressive for the price. You can spend loads on top of the range headphones but I suspect they not going to be that much better to justify the cost.
Reviewed on Argos.co.uk
You Have eye candy this is SKULL CANDY
Jun 20, 2019
I love them - They have great sound quality and look amazing. Only drawback is the microphone when paired with the iPhone - sometimes it is not as good as it should be but on the whole its a wonderful buy and excellent value.. Headband is comfy and the pads are perfect over the ears allowing for good noise reduction but not to the extent that they could be dangerous if they prevent you hearing a warning. Did I say the best - I love them
Reviewed on Argos.co.uk
Very comfortable and quality headphones
May 30, 2019
For the price you pay I think it is worth it. You get good bass , sound quality and very comfortable headphones. I wish it was a little bit louder but its is loud enough to satisfy you. I recommend you to buy these headphones because it's worth the price your paying.
Reviewed on Argos.co.uk
Good sound quality
May 9, 2019
Has good sound quality and design, nice amount of bass and the ANC works well for the price. However, could improve on build quality as creaks a bit when worn.
Reviewed on Argos.co.uk
Skull candy impress again
May 9, 2019
New to ANC technologies but these are amazing at blocking out the world around you. The ear muffs are comfortable and made out of really soft fine leather. The sound is impressive too. Really immersive. I've never warn headphones so much
Reviewed on Argos.co.uk
Love them!
May 2, 2019
I used to have the skull candy hesh 3, and decided to upgrade to these. The extra functions are well worth the higher price range! very comfortable, great sound, the noise cancelling works a treat and I love that they come with their own case. This is the cheapest price i could find brand new! would recommend
Reviewed on Argos.co.uk
Great sound quality
Apr 23, 2019
A quality product for the price, the build and sound quality are great, only been using them a week so far so good.
Reviewed on Argos.co.uk
They're OK-ish
Mar 31, 2019
They're perfect indoors sound-wise but useless outdoors if its windy as all you can hear is the wind (even with the active noise reduction on) as it gets into the ear pieces via the small vents and makes one heck of a racket!
Reviewed on Argos.co.uk
Great sound and Comfortable earphones
Mar 28, 2019
I had a pair of AKGs from Argos and although they were nice looking cans they let plenty of noise in and one of the earpieces fell off after 3 months. These venue cans are very comfortable, covering the whole ear. The sound is excellent and the noise cancelling feature works very well. These are far more adjustable for smaller heads, the AKGs just seemed to slip down a lot. These are a lot more expensive but if you can afford them then go for it.
Reviewed on Argos.co.uk
Headphones are very good and loud just what I want
Mar 18, 2019
Read up on the skullcandy headphones first was happy with reviews so bought must say I'm not disappointed really good charging and lasts ages comfortable too wear sound quality very good noise cancelling good as well so very pleased
Reviewed on Argos.co.uk
I did some research before buying..
Feb 28, 2019
These headphones are good, if like me, you want to hear your music crisp and clear. Cuts out all background noise. I highly recommend them.
Reviewed on Argos.co.uk
Gaming bfv headphones
Jan 14, 2019
Brilliant noise cancelling headphones I use for gaming to hear footsteps approaching from the exact direction the enemy is coming from. Really comfortable for long periods of gaming they don't pressure on the ears and make gaming more imersive and exciting. Music sounds crisp and clear. I highly recommend these headphones they come in a cool carry case with differing connection options. Much love.
Reviewed on Argos.co.uk
Fantastic product
Jan 10, 2019
I have been using these headphones for approximately 2 months. They are excellent and I have had no problems at all. Very easy to set up. Super easy for on the go and not having wires in the way. Very comfortable to wear and the sound is crystal clear. Highly recommended.
Reviewed on Argos.co.uk
Comfortable, great sound, easy charging, easy use.
Jan 2, 2019
Comfortable (unless you put them on the wrong way around!) great sound, easy to use without disturbing other people (then again I don't have them on at full blast!) charging is easy. What more do you want?
Reviewed on Argos.co.uk
Great sound quality, design and comfort
Jan 2, 2019
Bought as a Christmas present - good sound quality for a reasonable price, look good and comfy to wear
Reviewed on Argos.co.uk
These are amazing! They are comfy and work well!
Dec 28, 2018
These are comfy and work well the anc works as good as you would expect for the price. The one downside is that I find they can be a little bit of a pain to turn off. But other than that they're great !
Reviewed on Argos.co.uk
Dec 27, 2018
Everything is ok. The microphone is a bit too quiet and the other person sometimes does not hear clearly.
Reviewed on Argos.co.uk
Skullcandy bluetooth Wireless Headphones
Dec 26, 2018
Fantastic sound quality good fit and very clever sound cancelling good battery life and nice fast charging Can be used with lead if you don't have bluetooth also comes with nice storage case.
Reviewed on Argos.co.uk