Logitech MK850 Performance Wireless Keyboard and Mouse Combo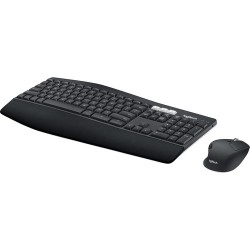 Nice keyboard & mouse for the
May 13, 2019
Would prefer a larger mouse and more solid keyboard but, for the money, this is a nice deal.
Reviewed on B&H Photo Video
Works Great!
Apr 14, 2019
I wanted a Bluetooth keyboard to connect to my laptop and found this package. I loved the idea that it could be paired with up to 3 devices. I tried to connect a desktop using a cheap Trendnet Bluetooth adapter but couldnt get it to work, so I used the supplied Unifying Receiver. It works great. I may add a third device just for fun. You do have to switch both the keyboard and mouse, but I find it pretty easy and have had no problems so far. Im very happy with this purchase!
Reviewed on B&H Photo Video
Excellent!
Mar 2, 2019
I bought it because i wanted a keyboard and mouse where i can connect to the computer without use any usb drive, and with their bluetooth capabilities this is possible.
Reviewed on B&H Photo Video
Good connectivity for multiple systems
Jan 24, 2019
Connected right away with dongle. Installed Logitech Options and used that to help connect second system with a second dongle. Both working well with a simple key switch.
Reviewed on B&H Photo Video
Love it
May 23, 2018
This keyboard and mouse are very easy to use. After the MAC keyboard and mouse this is a dream to use.
Reviewed on B&H Photo Video