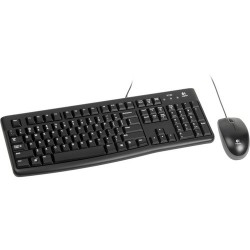 No More Wireless Headaches
Jun 10, 2015
I got this wired keyboard/mouse combo for my 87 year old mother. She is in assisted living and was having difficulty maintaining and using her wireless keyboard and mouse. This is an extremely well priced solution to the difficulties she has been experiencing and is now back using her computer on a regular basis. As a location audio recording sound man, I appreciate all the benefits that wireless technology provides for everyone. But in the end t... Show Morehere are two axioms that still ring true: 1) A wireless product is a really, really expensive cord that doesn't work all that well, and 2) keep it simple stupid. The only reason I gave it 4 stars is there's room for improvement in the build quality, but at $$for the combo--keyboard and mouse-- it's really hard to complain about something that works so well.Show Less
Reviewed on B&H Photo Video
Inexpensive, but solid
May 2, 2018
Logitech makes fairly good input devices, and this model is no exception. Mouse is comfortable (not too small - like some other brands) Keyboard is pretty solid and key feel is OK. If I had to split hairs, I'd say that the cords could be a bit longer, and the letters on the (common) keys will rub off after extended use (typically years), based upon my experience with this model.
Reviewed on B&H Photo Video
Good keyboard and mouse
Nov 8, 2013
I have bought several sets of this keyboard and mouse and I have not been disappointed. You can't go wrong with Logitech. Easy installation and a great price. Full size keys on the keyboard and the mouse fits the hand well. I do wish there was a little more feedback when clicking the mouse but other than that, no complaints.
Reviewed on B&H Photo Video
Nice stuff for the price
Jun 11, 2017
I was worried this was going to be flimsy and cheap for the price. But Logitech has delivered a great value. I like the feel of the keyboard in my hands, and the optical mouse seems to be great too. Very steady for my photo editing. Good old school mechanical keyboard!
Reviewed on B&H Photo Video
Could not be happier!
Feb 10, 2014
This is a great product at a great price. I am typing on it now. The action on the keys is very nice. The mouse is very nice as well. Very well built. It is also quieter than my other keyboard. I think it will last a long time.
Reviewed on B&H Photo Video
Basic
Apr 7, 2019
This keyboard mouse combo is a no frills, basic package. Its exactly what youd expect. The USB cable is just long enough on each piece to reach under the desk, and the keyboard has the little feet to prop it up at an angle.
Reviewed on B&H Photo Video
Higher Quality than most entry level keyboards.
Nov 10, 2015
Long cords, excellent finish quality from a top brand. if you are buying entry level keyboards & mice some companies feel extremly cheap and cords are short, this combo servs it's purpose for office environment.
Reviewed on B&H Photo Video
Just what I was looking for
Mar 27, 2016
The keyboard it's simple and it feels smooth when pressing keys, really flat straight forward, no special keys added The mouse it's fine just a regular mouse nothing special, I like it.
Reviewed on B&H Photo Video