Logitech M535 Bluetooth Mouse (Black)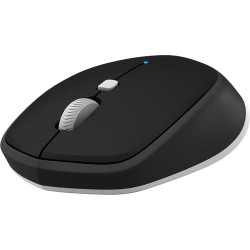 Works Great With 2018 Mac Mini!
Dec 4, 2018
I purchased this mouse to use with my 2018 Mac Mini. I had a Logitech M525 that worked great with my old iMac but didnt work well with the Mini. Most of the time the curser would freeze while I was still moving the mouse. It was especially difficult to select text to copy and paste which I do a lot. The receiver was only around 2 feet away from the mouse. This time I decided to go with a Bluetooth mouse instead of one with a receiver. I am not di... Show Moresappointed! It works exactly the way it should, very smooth with no curser freezes. Plus, I was able to free up a USB 3.0 port. I am happy with my purchase!Show Less
Reviewed on B&H Photo Video
Great compact mouse
Apr 2, 2019
Great compact responsive mouse with good range and many features including tilting wheel for back and forward. A little small for me for daily use, I have large hands, but perfect for travel and or in camera bag if caring a tablet or laptop. Just what I was looking for.
Reviewed on B&H Photo Video
Wonderful product
Feb 21, 2019
Amazing mouse. It connects quickly to my MBPro. Sensitive and precise. So long (about 1 week) it works seemless! Price is also unbeatable! Very happy with it!
Reviewed on B&H Photo Video
Starts to work immediately!
Jul 12, 2018
Starts to work immediately and no interruptions or hangs during operation. I have had about 5 Bluetooth mouse before. It is the best!
Reviewed on B&H Photo Video
Another great Logitech product
Sep 19, 2019
Im using for intricate photo editing. Very accurate and impressive little mouse. Easy Bluetooth connection. Great for travel as well.
Reviewed on B&H Photo Video
best bluetooth mouse iv owned
Dec 23, 2019
easy setup took around 1 minute very responsive , it is on the small size but is great for travel
Reviewed on B&H Photo Video