Logitech K270 Wireless USB Keyboard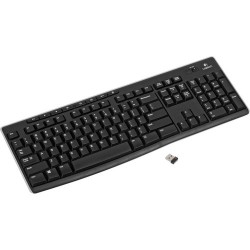 It's good
Sep 5, 2019
Inexpensive and basic and that's what I needed. It has a few times timed-out, like it lost the connection or dropped only after aout 10 minutes of not using it, but pulling the adapter out and back in seems to do the trick. Not an issue for me though. Happy with this :)
Reviewed on B&H Photo Video
Gets the job done!
Aug 21, 2011
Thin, light and responsive! This 'no frills' keyboard actually has some neat features, with very useful shortcut keys. The unifying usb receiver is low profile and synced to my logitech mouse, previously purchased. Works well!
Reviewed on B&H Photo Video
works great with WD live Tv
Mar 14, 2012
in use with WD live tv streaming video player, makes searching for titles quicker than using the remote and text selection on screen that is part of WD TV live
Reviewed on B&H Photo Video
Perfect for a PC Hooked to a Television
Aug 15, 2011
I use this wireless keyboard with the PC attached to my television. It spans the 20 feet to the unit without problem.
Reviewed on B&H Photo Video
Nice Keyboard
Mar 29, 2012
Great keyboard. I really like the shortcut keys along the top. No num-lock light, but that's not usually a problem.
Reviewed on B&H Photo Video