Logitech H150 Stereo PC Headset - Black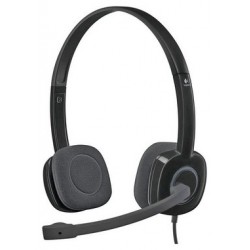 I could not talk to other people online
Apr 4, 2019
I bought this headset to talk to people online and study a foreign language but the other people could not hear me and it did not recognise my voice when I had to do speaking and pronunciation exercises. It also made a nasty and uncomfortable noise when a new sound started. I returned it as I could not find any good quality headset. I had bought a Logitech Headset in another country but gave it away thinking that I could find the same or one of similar quality from Argos but it was the worst.
Reviewed on Argos.co.uk
Headset just what I needed
Feb 2, 2020
As a homeworker I speak with colleagues on skype all the time and have regular conference calls of around and hour. The 'over ear' headsets become uncomfortable after a short time, but these are nice and light. The sound quality is very good even for my 'less than perfect hearing'. The mic pickup also seems to be very good quality as I know that some of the conferences are held in larger rooms with 15+ people around a table and I have never had any issues being heard. I would recommend these.
Reviewed on Argos.co.uk
Wanting in some aspects..
May 9, 2017
The headset sound output quality is only slightly below experience/expectation. The quality in sound input from the microphone is very frustrating, as it seems only to pick up minimal sound input from me, regardless of position of the mic itself or settings for the microphone. (No microphone boost in settings.) I would only recommend this microphone if you are in dire need. If your main purpose for purchasing this microphone is for dictation, be prepared for a load of frustration.
Reviewed on Argos.co.uk
work very well
Jun 3, 2019
Quite nice design. Nice enough to wear and hold. From what I can deduce, extraneous/background noise rejection is very good. I've not had anyone say they couldn't hear me clearly but, if I put them on the table and talk, they can't hear my conversation with someone else. The only thing I found a little disappointing was that the sound quality is a little anaemic. I mean not very bassy. Fine for voice; maybe better, but I notice it when starting calls.
Reviewed on Argos.co.uk
Logitech H150 Stereo PC Headset - Black
Oct 2, 2019
Bought for my HP desktop PC for calls /dictation. I was disappointed as my desktop has 2 separate jacks - one for audio-out and one for audio-in! A splitter costs around £5. The packaging didn't have any information making this important point clear. . I was able to test the sound as well as the microphone albeit separately and both were great so I have decided to buy the splitter. They also sat comfortably on your head and over your ears.
Reviewed on Argos.co.uk
Does the job
Feb 14, 2017
These are comfortable to wear. Have a good sound quality. The mouth piece is on the left side and the speakers are labelled L and R if you want to use them for stereo sound. The mouth piece is ridged and curved and feels like it might not be able to pick up your voice clearly but it worked just fine for me. It has a single 3.5mm jack chrome coated. It features a volume control which I found a bit fiddly so I just set it to the mid point.
Reviewed on Argos.co.uk
Logitech H150 Review
Sep 14, 2016
This headset is wonderful the sound is crisp allowing me to hear all my games and friends and the mic quality according to my friends is also very good the mic can move depending on if you want it to the left or right of your face and the headphones move to fit your ears so comfortability is maximised the only problem I had with this is my laptop required me to buy an audio spliter in order to use the mic as its only got one jack.
Reviewed on Argos.co.uk
just not the same as before
Jul 20, 2017
Had the predecessor to this and managed to accidentally break it. As a direct replacement, I thought this was the same model as last year but it isn't! The other one came complete with the audio/mic splitter (single jack input, green/pink, audio/mic out). This doesn't, so unless you have a single jack input then you will only get mic or audio but not both. Not sure if it's Logitech or Argos saving a couple of quid .....
Reviewed on Argos.co.uk
Good cheap headset
Jan 18, 2017
Lightweight to wear and not as head squashing as my other pair that are more expensive. Microphone could be a bit more flexible but adequate for my use whilst talking most of the day on them. Mic does pick up my dogs snoring so need to get mufflers for them now. As mentioned cheap but good. Don't forget these are standard mini headphone jack and not USB ones.
Reviewed on Argos.co.uk
Lightweight and reasonably comfy, passable sound
Apr 24, 2018
Bought for online PC gaming as it's one of the remaing headsets that has a split mic + headphone twin jack pair (WARNING: new version has a combined single jack!). Headphones audio quality is OK, mic audio quality is a little tinny - but can easily be balanced out using PC side input software graphic equalizer. Reasonable value for money.
Reviewed on Argos.co.uk
I'm sure it works fine with the right connector
Apr 19, 2019
More emphasis needs to be made to indicate that you will probably need a Y connector to go with it when using on a PC. I ended up talking through the microphone and listening to the caller through my speakers as I needed an additonal connector to use the headphones and microphone together. Apart from that for the money it was fine.
Reviewed on Argos.co.uk
Does what it says
Dec 30, 2019
These are good earphones, they are good for Skype calls. I had a little crackling when I was talking but that may of been the connection not the headset. They were comfortable but I think they maybe uncomfortable if you had to where them for a long time. They were perfect for what I needed them for and good for the price.
Reviewed on Argos.co.uk
Their good but...
Jun 19, 2018
Their good but my last pair only lasted just over a year. They do have a two year warranty but sadly I lost the receipt. Hopefully this pair will last at least two years + They are good though, clear sound. Very good for Skype calls. Just the cable split near the jack now only working in One ear on my first pair ...
Reviewed on Argos.co.uk
Excellent headset
Dec 30, 2017
I have had to buy a Skype headset for my workplace, and this is an excellent one. Does the job perfectly, can't ask for more at this price. Also, acts as a pretty decent headset for listening to music. top product, ho hesitation to recommend to anyone who needs a decent headset cum microphone for chatting and listening.
Reviewed on Argos.co.uk
the headphone's have good sound quality
Nov 23, 2019
Having first read reviews from Tech web sites and Argos, it was easy to select, buy and collect these Logitech headphones. As I had decided to learn a foreign language using skype, headphones were essential. These are just the job, indeed brilliant..not too sure though about my speed of learning!
Reviewed on Argos.co.uk
My headset works great and was a reasonable price
Oct 9, 2019
I purchased this headset to use for accessing virtual classrooms whilst studying an online degree. It works easily and has good sound which is perfect for what I need. The adjustable headband means it fits all shapes and sizes. An excellent purchase which I am very happy with and would recommend.
Reviewed on Argos.co.uk
Great and easy-to-use headset
Feb 28, 2018
This is a great and user-friendly headset. Good value and plugs and plays with no problem. A word of warning: I foolishly didn't check my computer and then realised I'd need a splitter to use this headset properly. But this is not a fault with the headset - just my foolishness!
Reviewed on Argos.co.uk
Headset great for Skype
May 8, 2017
Fine headset - "does exactly what it says on the tin". One thing to be wary of - if your device is expecting two plugs, as mine does, you will also need a "Y Splitter 2 Jack Male to 1 Female Headphone Mic Audio Adapter Cable" costing a couple of pounds at most.
Reviewed on Argos.co.uk
Good product
Oct 17, 2019
Works really well. Audio is crisp and clear and so is the microphone. One of the cheapest headsets I managed to find, but does exactly what it is supposed to. That being said, the mute mic switch does not work, but that is the only issue I have found
Reviewed on Argos.co.uk
Good for the price but..
Jul 25, 2018
The quality of the sound is great and the build is strong considering the materials but the microphone stick is a bit short. It could have benefitted from a longer mic stick so it would hang in front of your mouth. Good for the price, though.
Reviewed on Argos.co.uk
Good value headset
Feb 19, 2020
I needed a headset in a hurry. Ordered this one online at 7:30 am, picked it up when my local store opened at 9 am and it was set up and ready to use for a conference call minutes later. Light and comfortable, clear sound, good price. Thank you!
Reviewed on Argos.co.uk
Not compatible with PC
Sep 6, 2016
Although it says it is compatible with PC on the box, it is not. Needed to buy another (expensive) lead to plug it in, sound quality leaves a lot to be desired and microphone picks up a lot of background noise. Very comfortable to wear, though.
Reviewed on Argos.co.uk
Good overall quality
Oct 30, 2019
Logitech equipment is always reliable, good quality, sturdy and give value for money. These headphones do the job and are a reasonable price. Glad that Argos sell a varied range of Logitech equipment like keyboards etc too. Recommended.
Reviewed on Argos.co.uk
Watch out for the plug!
Jun 6, 2019
If your PC needs separate microphone-in and audio-out port connections (ie two 3.5 Plugs) then this is not the Head set for you. It only has the one 3.5 plug. I had to take it back and change it for a USB connecting model of Head set
Reviewed on Argos.co.uk