Logitech Extreme 3D Pro Joystick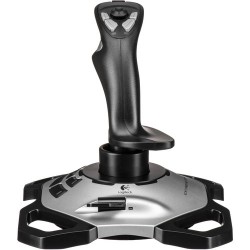 high quality
May 12, 2019
Highly Recommend this phone and Company keep up the good work will order more items, from this Company
Reviewed on B&H Photo Video
perfect for flight simulator
Apr 10, 2019
received product with no problems in perfect condition. Works great with flight simulator programs on my PC. highly recommend if you need a joy stick.
Reviewed on B&H Photo Video
Great Budget Priced Flightstick
Feb 5, 2019
I purchased the 3D Pro for LockOn Modern Air Combat and DCS World and it worked great right the box. Military aircraft have a lot of functions and the programmable buttons were easily key binded to their particular assignments. The stick is sensitive and accurate and the twist handle replaces the rudder operations. Great.
Reviewed on B&H Photo Video
A really good joystick at a great price.
Jun 5, 2014
I purchased this joystick as a replacement for another of the same type, which I've been using for about the past ten years. (The twist handle function wore out after much use.) The great thing about these is that they require no additional software to use. Just plug it in and all the functions work, without any problems, using Windows XP Pro. At this point, I wouldn't purchase anything else.
Reviewed on B&H Photo Video
this one is great
Mar 22, 2014
I bought this one to replace one that I worn out I love to use this playing Terra Battle For The Outlands
Reviewed on B&H Photo Video
Excellent value
Feb 6, 2014
I'm using this for Microsoft Flight Simulator and it's a pretty good substitute for full-on yoke and rudder pedals. Worked perfectly right out of the box.
Reviewed on B&H Photo Video
works well
Jan 28, 2014
I use the 3D Pro for my Silent Wings soaring simulator on my Mac. It works very well, right out of the box! My only wishes are that it was a little more compact, with a smaller footprint, that it was simpler (less buttons) and that the grip was less form fitting. Using this joystick for soaring, I will never use the additional buttons or trigger. Also, I'd prefer a less 'fitted' grip (more like a sailplane stick). All in all, this is a very good product for the $!
Reviewed on B&H Photo Video
Only the best from B and h, of course
Jan 7, 2014
After much research we found that this was the best rated joystick in our price range. B&H has always carried the best stuff so that clinched it. So far so good for the flight simulator. Perfect! Turns out it can map to other games and programs providing endless possibilities. The best joystick I have ever used in my 46 years.
Reviewed on B&H Photo Video
Alot of Bang for the Buck
Jul 9, 2012
I use this product for War Gaming's game called War of Warplanes, and also for Mech Warrior Online, what i love about this joystick is unlike others that you need to put a CD rom in to calabrate it, this one you dont, You plug it in and go, Its stiff as can be and great all around. Things i dont like about it, Wish it had a few more buttons thats it.
Reviewed on B&H Photo Video
A Good Economical Joystick
Jun 27, 2012
I needed a new stick for playing Aces High. This seemed to have all the necessities at a very affordable price so I ordered one. I've used it a bit over a week now and am pretty happy with it. Having twelve buttons is great as my last stick- costing even more- only had six. Set up was as easy as plugging it into a usb port, then calibrating it for Windows and my game. That's it. I was ready to play. The only thing left to do was to figure how to ... Show Moreassign the 12 buttons- 6 on the stick and 6 on the base. I'm still working on getting that just right. I didn't skip a beat once I got a few basic buttons assigned and am playing as I always did. The main downside I have with the stick is an ergonomic flaw. the stick leans forward quite a bit in its normal position. This requires you to tilt your hand and wrist forward just for basic handling. Not the most comfortable and since my hand and wrist are already tilted forward, it takes an effort to fully push the stick all the way forward- depressing a gun down low, for instance, takes a slight effort to do. Still, a minor problem although I don't know I'll ever get completely used to it. Another concern, is how much abuse the stick will handle. The trigger seems like it may not take a lot of use. Same with the throttle. Not looking real heavy duty, they may be the first thing to break or stop working. The rest of the stick seems pretty rugged. But that's for future worries. As for now, they all work fine and I'll certainly buy another one from my experience so far.Show Less
Reviewed on B&H Photo Video
I bought this 4 years ago
Mar 22, 2012
Still going strong in Battlefield 3 - This is the best joystick on the market hands down. I was browsing BH for nice accessories and saw this. I had to stop and write a review, it's that good. Grip feels great, fingers never get numb, so many buttons and all the software bugs have been worked out. You simply can not beat the deal for this price. This is conjecture but this joystick is probably why there aren't many other comparable options out there, Logitech did too well with this one and I'm sure even they are regretting it, because why would you upgrade? You can't improve perfection.
Reviewed on B&H Photo Video
Good joystick
Dec 9, 2011
After my son discovered X-plane, using the keyboard was very unpractical. So we decided to buy a joystick. After researching the possibilities (it has to be Mac compatible) and prices we decided to go for this one. It needs no driver for the Mac, plug and play USB. Handling is great, it's easy to assign specific tasks to the various buttons on the stick. My son (9 years) is very enthusiastic about this piece of hardware.
Reviewed on B&H Photo Video
Good Replacement
Nov 26, 2011
I bought this joystick to replace my ailing Saitek and I am completely satisfied. It's a no brainer to set up and works great with flight simulator.
Reviewed on B&H Photo Video
Well designed gear
Nov 15, 2011
Logitech's design for the joystick is excellent. Also the software that comes with it is very good. I am using it with MS flight simulator and the software immediately found the program and I was ready to go. The instructions get you going with ease right out of the box .
Reviewed on B&H Photo Video
It is a JOY of a Stick
Mar 14, 2011
I am an old timer using my computer for games. My new dog eat my old Joystick so I needed a new one. This unit has proven to be a great addtion to my computer gaming. All the axis work great unlike my old unit. I should thank my dog this unit is much better then my last unit.
Reviewed on B&H Photo Video
Great feel and response
Dec 19, 2010
This joystick is fantastic for the Mac. It as a great weight and solid feel. The play of the stick is great - very specific and responsive. It installed instantly and I was playing as soon as X-Plane booted up!
Reviewed on B&H Photo Video