Logitech 981-000721 eSports Pro PC Gaming Headset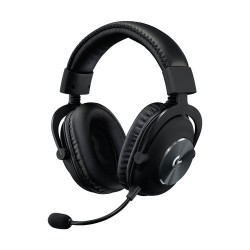 One of the best on market for 2019.
Nov 1, 2019
Sound is incredible! Espacially 7.1 system! I can hear everything in FPS games! It is legal cheats. Need time to feel comfortable when it is on your head but light weight. Simple to use - a lot of sound pre-sets in Logitech app. Just plug in your usb hole and your are ready. Very good desine and high quality wire. Thank you argos for good price.
Reviewed on Argos.co.uk
Worth it!
Feb 28, 2019
Amazing quality of sound. Really comfortable and covers the whole ear. It is so comfy that I really don't feel them after 4-5 hours of use. Amazing buy and will recommend if you do not want to over spend and search for good quality.
Reviewed on Argos.co.uk
Headset is fantastic for gaming experience
Oct 24, 2018
This headset is a fantastic accessory for any gamer. I sometimes play the ps4 in my downtime with games ranging from Fifa to FPS. The headset is a perfect asset for either, the sound comes straight through the headset rather than the TV so you aren't missing anything out or causing others distractions. The adjustable volume scroll is a neat asset and makes for easy reach. The attachable microphone makes gaming much more realistic as you can remove if your game does not require this piece.
Reviewed on Argos.co.uk
Gamers Delight
Oct 22, 2018
The headphone Looks good and expensive, effective noise cancelling . The speakers are excellent, base sound crisp and clear no interference. The cushion is quite comfortable. It feels natural . Microphone is convenient.clear. It picks up quite easily. The cord is long but tangle free. The use of this headphone is very competitive in my household. Overall it's the prefect gaming headphone.
Reviewed on Argos.co.uk
Great sound and look great
Oct 19, 2018
Got these for my son and I must say I'm extremely pleased. Packaging is smart looking and contents don't disappoint. Headset has a sleek look and feel to it good quality materials used. Sound is far superior to previous sets I have had albeit them being a cheaper so that would be expected. Great crisp sound and good for not only gaming but listening to music too. The speaker mic easily disconnects to be used as just headphones, connection cord is really good quality so shouldn't fray or snap.
Reviewed on Argos.co.uk
Great Gaming headset with amazing sound quality
Oct 18, 2018
Great design, very comfortable and soft ear pads, well designed and built. You can wear them for hours and will not get irritated. When it comes to sound quality it is really impressing with great bass. You feel like you are in the centre of the game and if you want to listen to the music only you won't be disappointed! I must say when comparing with other gaming headsets I have had these are the best so far. I will definitely recommend them to anyone who spends long hours playing!
Reviewed on Argos.co.uk
Great sound and easy to use
Oct 15, 2018
The Logitech Pro headset is a no-frills headset focused on sound quality and long wear comfort. Suitable for PC or console gaming, the headset provides excellent sound quality with minimal distortion, even during heavy action. My son and partner both trialed this on the x box one and they said it was a great addition. Tried it myself & it definitely adds to the sound quality. I would recommend it for a gamer or someone wanting to get a better sound experience.
Reviewed on Argos.co.uk
ideal gaming headset
Oct 15, 2018
sound quality is excellent, for music and gaming, the sound effects where clear and really helped on certain games, they where a little big for my head, but that was not a big issue. i would highly reccommend this headset.
Reviewed on Argos.co.uk
Fantastic gaming experience
Oct 8, 2018
This headset is by far the best which I have ever used (and I've had a lot). The noise projection is second to none. It takes little imagination to get right into the game, outside nose is non existent. The build quality is strong without being heavy and a very comfortable fit. Highly recommend for all real gamers.
Reviewed on Argos.co.uk
Amazing gaming gear
Oct 7, 2018
This Logitech headset may look on the large side but wow! They are lightweight and comfortable to wear. The sound quality is excellent. They are easy to set up and use. Worth the money for a great gaming experience. I am impressed and would recommend!
Reviewed on Argos.co.uk
WOW SUPERB SOUND AND QUALITY
Oct 7, 2018
This headset is superb quality. Feels and sounds great.gives you the feel of the game when in play. Very sturdy and feel luxurious. Expandable head slide to fit all head sizes. Feel very comfortable on. Sound is fantastic very bassy.used it on my ps4 console but can be used on a pc and xbox.also plugged into my phone and sound is great too. Very nicely packaged too would make a great gift. When speaking thru the mic all is gud other players heard me loud and clear.my number 1 headset now!
Reviewed on Argos.co.uk
A must have for the serious gamer
Oct 5, 2018
This headset is by far the best I've used by far The Base in this gives every explosion that extra BOOM and stereo in this let's you hear close up sounds loud and further away sounds as though they are really far away all in all this headset would enhance anyone's gaming experience. And the extra ear cushions that come with it are a nice touch too.
Reviewed on Argos.co.uk