Turtle Beach Recon 50 Nintendo Switch, Xbox, PS4, PC Headset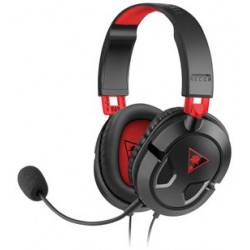 About as you'd expect at this price.
Nov 8, 2018
Bought two pairs for my children to use on their PC's as they are cheap enough and about the right size for them. Maybe too small for an adult. They do the job well enough, mic picks them up fine and the sound is about as good as you'd expect from headsets in this price range. These are tempory until we buy them some wireless ones. Kids like to fidget and play with the wires, meaning they break them for fun. The wires on these are thin and flimsy, so I'm hoping they hold on until Christmas.
Reviewed on Argos.co.uk
Recommended - Decent headset for a good price
Oct 8, 2018
The headset is comfortable but if using for long periods of time (a hour or several) it can eventually start being uncomfortable. But the overall quality is great for the price I paid, I'm quite happy with the purchase. The sound quality is really good especially for games involving stealth or a footstep or two, like rainbow six siege you can hear everything very well. Though the wires can be annoying sometimes it's like that with every wired device so I highly recommend buying this headset.
Reviewed on Argos.co.uk
These do not work well with X box one s
Oct 21, 2019
I bought a pair of these and tried to use them on X box one s and the sound kept cutting out so I bought another pair, having lost the receipt, but the same problem occured with the new set. I have two X boxes and three controllers and the problem persisted. I contacted X box customer support and they told me since they had done an update that only official headsets would work. I since bought official headset and no issues. I since gave the first set to my friend and he has the same problem.
Reviewed on Argos.co.uk
Great headset. 100+ rating
Oct 10, 2018
So it all started a few months ago, it was a hot summers day and there I was playing computers games like the geek I am. I was playing with my friends and talking over the standard laptop speakers. We were doing well until the builders outside got loud. I feel this had a negative impact on our performance as a team. Unfortunately we tanked about 100+ rating. As you can imagine moral was low.... I bought this headset. Now they love me again. (we regained our rating and are best mates!)
Reviewed on Argos.co.uk
Are there 6 speakers in there?
Mar 1, 2019
Unlike this previous set, USB, these had dedicated speaker and microphone connectors. Each one has to be inserted separately to give time for your PC to install the driver and to set it up for you. Once both connectors had been set up and the headset tested the sound quality was more than acceptable and you could here all 6 speakers being tested in its pseudo 5.1 Surround Sound reproduction in my head. As a gaming headset these should serve me and my son for years to come.
Reviewed on Argos.co.uk
Great colour and great for my son
Feb 23, 2019
My son has hearing problems and these have been a god send! They are comfy and fit over his ears and hearing aids, they aren't too heavy or tight and he loves the colours also as although he has an xbox it's great theae are no longer console locked by colour! Would definitely recommend them as I have also used these while playing online! The sound quality is good and the detachable microphone means you don't have that swinging I'd your playing alone!
Reviewed on Argos.co.uk
Poor quality product
Dec 30, 2019
This is my 9 year old sons 4th pair of turtle beach headphones for his xbox. They're great when they work, but within days the mic stops working, occasionally this can be rectified by unplugging and replugging both the headphones to the controller and mic to the headphones. This always goes wrong and it feels like money wasted...I would suggest looking for a different brand, I'm not going to waste anymore money with turtle beach
Reviewed on Argos.co.uk
Highly recommend
Apr 24, 2019
I was abit sceptical when purchasing these as we had already tried 2 other brands that said they worked with the Nintendo switch but so glad I purchased these as these are perfect for my son to connect to his switch with great sound and the Mic works great for him to communicate with his friends. The only bug bear I have is that my son keeps taking the foam off the Mic when sat fiddling but other than that I would highly reccomend.
Reviewed on Argos.co.uk
Sounds Good
Sep 20, 2018
Bought a different set of headphones for my son which he told me to return asap and get these ones instead as this headset he has had before and lasted longer than the other ones. It has great comfort especially if they are to be worn for a while with a slicker cool look. It has great Crispier and clear surround sounds and is easy with the mouth piece to adjust however you like it to be. A must for Gamers on a budget ;-)
Reviewed on Argos.co.uk
First one was faulty but no problems changing it
Sep 4, 2018
Son was over the moon with these headphones. He said they were very comfortable and the sound quality was amazing. The first pair developed a fault with the mic (he had to wiggle the mic to get it to work) so we took them back and got a replacement as son loved them. So far so good. If they go wrong again we will go for a refund but son is currently very happy with them
Reviewed on Argos.co.uk
They preform as good as they look
Oct 9, 2019
A definitive choice if tour going for a nice headset with great sound quality they fit perfectly around your ears and when you put all audio through them, you literally hear everything, even things in the distance you can almost tell the direction and proximity to you, and you can move the mic in any direction and still be heard. Great first or general headset.
Reviewed on Argos.co.uk
Great sounding for the price
Oct 24, 2018
There are obviously better headsets on the market but at this price I can't complain! The mic does buzz if the controller is plugged in, but if I unplug the controller and plug it back in it usually makes it bareable. The mic quality is great and the headset is comfortable for long gaming sessions. Overall there's not much better at this price!
Reviewed on Argos.co.uk
Great sound. Great Quaity!
Nov 7, 2018
I got this item for my birthday and i just wanna say it is pretty good for the price! The price may be a bit steep but the quality and comfort are with it. The bass is great and makes a great purchase for anyone who values sound on their game! i would reccomend this to anyone who fancies a new headset and is looking for one worth the moeny :)
Reviewed on Argos.co.uk
Does what it is supposed to...
Jan 11, 2019
A good piece of kit. Simply plugged into PS4 controller and sound was good. Sounds, music and the like from the game are very loud - clear - but loud, so advise turning these down in the Options and using the volume control on the headphones to find the right level. Kids are now jealous as my headphones are better than theirs...
Reviewed on Argos.co.uk
Headphones give Clear speech and volume.
Sep 3, 2018
Headphones are comfortable and durable. Voice clarity is clear and you can hear all you need to, this avoiding distracting everyone around you. Only concern is sometimes people cannot hear me when I've connected correctly and kept Unmuted. - will keep my eye on it to see if I need a replacement as only had them 3 weeks.
Reviewed on Argos.co.uk
Buy these to improve your KDR on Apex
Mar 29, 2019
These are great, I bought them the day after trying out my housemate's pair. The sound quality is good for a headset in the price range, but the main reason to get them is because you can get directional sound so you hear where footsteps are coming from to give you an edge. gg no re anyone who comes up against me now
Reviewed on Argos.co.uk
Good quality, but very short lead
Feb 14, 2019
It's a shame because everything else is great quality, but the cable needs to be longer - I know there's an abundance of wireless headsets available these days, but I still expect the wired option you should be able to sit more than a meter from the tv (considering this is a gaming headset, not primarily for music)
Reviewed on Argos.co.uk
Great starter headphones
Jan 3, 2019
These are fab brought for my 9 year old son. He can now play games with his friends and talk to them. I didn't want to pay for a live account and feel his too young to be on the internet with possible strangers, these connect via Bluetooth and only his friends can join him if he accepts them. Recommend!!
Reviewed on Argos.co.uk
Very good
Jan 6, 2019
I bought these for my 12 year old son for his xbox one, I was tired of paying for expensive headsets for him as he somehow manages to keep breaking them so I thought I'd give these a go and he's very happy with them there "sick" apparently, he said they are very easy to connect and the sound is good.
Reviewed on Argos.co.uk
Great for gaming
Jan 24, 2019
Good for xbox and wire is of great quality so it hopefully will not break also the sound is great for the price. Note: it is worth getting the product protection as i have had headsets in the past that have broken to the wire failing so it is a good way to have some peace of mind about this headset
Reviewed on Argos.co.uk
My boys love this!
Feb 8, 2019
My boys really wanted to be able to chat to their friends when playing on their Nintendo switch. I found these in Argos and when I showed them they were over the moon! I'm guessing they work fine as I've had no complaints. Great colour as Gender neutral and they look really expensive. 10/10
Reviewed on Argos.co.uk
The headset does exactly what I paid for
Feb 25, 2019
I'd bought this headset as a gift for my friend to help us stay better connected. It's the same as my own headset, so I know it's very reliable and quite long lasting. All in all, it's a good product that I would recommend to anybody that needs a set themselves; especially for the asking price.
Reviewed on Argos.co.uk
Good but Faulty
Dec 28, 2018
Great price and good headset but this is the 2nd faulty one of these I've had now! Lots of crackling and breaking up of the sound, I I'd o e of these from another store a while back and it was great and only deteriorated after around 3 years of use. but the last 2 from Argos ha e been awful!
Reviewed on Argos.co.uk
Jan 7, 2019
My daughter loves them & the colour the only thing is that when they are plugged into a wired controller they are not very good as u can not hear out of them but when they are plugged into original Xbox battery powered controller you can hear through them & friends can hear you aswell
Reviewed on Argos.co.uk