Logitech H150 Stereo PC Headset - Blue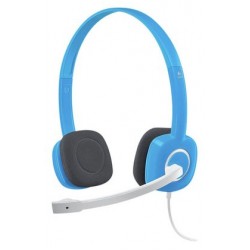 Didn't know what to expect.
Jan 22, 2015
These were bought for my son to record his voice whilst recording Xbox 360 gameplay. The headset is plugged into the laptop that records this. The headset is not a USB connected one as stated. There are two jacks- one for the microphone and one for the headset speakers. No issues so far and we have had them around 4 weeks and they haven' been destroyed by a 7 and 9 year old fighting over them, so they are quite durable. There is an in-line controller for volume and turning the mic off.
Reviewed on Argos.co.uk
Fantastic
Oct 17, 2017
I did my research and was undecided between some expensive posh headsets and these. For the price, I decided to give these a try and WOW! They are fantastic value for money. The only gripe I have is that my family say that it looks like I have kids headphones on. Really dont care what they look like.....they perform great!
Reviewed on Argos.co.uk
Good value for money headset
Jul 10, 2018
Bought this for my 7 year old son to use with his Nintendo switch. He's very happy with it and it's small enough for a child's head with adjustment to suit an adult. PLEASE note the headset comes with a dual 3.5mm Jack plug, which I didn't pick up from the product details. Easily solved though with a adapter for 2 quid.
Reviewed on Argos.co.uk
Advertised as USB, but box states they are analog.
Nov 21, 2014
The item description said they are USB but when I collected them in store the box said it was an analog connection. I did not open this to check them as I did not know if it would effect getting a refund, the cashier was unwilling to open them either so I got a refund. They could be USB but mislabled on the box.
Reviewed on Argos.co.uk
Absolutely atrocious
Oct 17, 2017
Absolutely ridiculous, picked it up in store from the desription stating a USB connection. Get it home when I need to use it and it only has analogue. Disgusted by the incorrect description as my brand new laptop obviously does not have analogue input as it is outdated.
Reviewed on Argos.co.uk
poor sound quality
Aug 7, 2014
I actually returned this headset for a full refund after finding it very bad value, sound quality muffled. No quibbles about refund, bought a more expensive pair which doesnt have the sponge covers over the holes in the earphones. Not reccomended at all. :-(
Reviewed on Argos.co.uk
Not a USB Headset
Feb 19, 2016
I bought this headset because I needed a headset plus microphone with a USB jack for an online course I was taking, and Argos advertised this headset as having a USB output, but it doesn't, so I couldn't use it. I returned it shortly.
Reviewed on Argos.co.uk
Extremely Clear!
Jan 15, 2014
These are well worth getting, as they are extremely clear-sounding, light & comfortable! They work well with my laptop, after it's built-in microphone packed-up. Just plug them in & off you go, as there's no discs to install!
Reviewed on Argos.co.uk
Great headset crystal clear sound
Mar 13, 2014
Was a bit dubious about buying this but can honestly say they are great and well worth the money. Crystal clear sound and the mic pick up great I used these for learning Spanish with Rosetta Stone.
Reviewed on Argos.co.uk
Better than expected
Oct 17, 2017
To be honest, for the price, I didn't expect great sound quality. I am happy to say they are much better than expected. I use these for online gaming and the sound quality is great.
Reviewed on Argos.co.uk
Look good but had to return
Jan 2, 2015
Headset looks great nice design good colour - a bit different. Had to return before trying as when I reserved online it said they were with USB connection which is incorrect!
Reviewed on Argos.co.uk
functions well
May 9, 2018
so great bit of kit but would have been brilliant if it had adaptersupplied to make it a one pin for when u r are on phone or just listening to music etc
Reviewed on Argos.co.uk
Love them
Dec 26, 2018
Bought these to replace my old ones.. and loved them.. if you are looking for a lightweight , comfy set of headphones you cant go wrong with these :))
Reviewed on Argos.co.uk
Poor
Aug 23, 2014
The microphone picks up barely any sound and is way too short however that said they're great for the price if you don't require the mic as much
Reviewed on Argos.co.uk
It's OK
Jul 3, 2014
It works well , the microphone is clear but you need to remember there is a volume control to turn up for the headphones ! I am satisfied .
Reviewed on Argos.co.uk
Jan 8, 2019
I was replacing like for like, so I knew what to expect from this headset. Comfortable when wearing and do the job they were bought for.
Reviewed on Argos.co.uk
my earphones are excellent for my son
Aug 19, 2016
Bought these earphones for my son so he could talk on Skype with his older brother. Really pleased would recommend to friends.
Reviewed on Argos.co.uk
Logitech Headset
Mar 18, 2014
Excellent value for money. They are a good weight good clarity on the phones and the speech is clear through the microphone.
Reviewed on Argos.co.uk
Great product
Oct 10, 2014
Bought this to attend online tutorials required for tidy with the Open University. Sound quality is great. Would recommend!
Reviewed on Argos.co.uk
I can hear clearly now
Jun 15, 2016
These headphones are brilliant. Great sound quality, love the design. Haven't used the microphone yet Love the colour too.
Reviewed on Argos.co.uk
Fits my grandsons head to a T..
Jun 26, 2018
Good looking item, which is what my grandsonwanted. The review was written, at his dictation, give or take a word or two!!
Reviewed on Argos.co.uk
not USB like it says!
Oct 17, 2017
Took these back for refund as they were wrongly advertised. They are not USB connection like it states in description.
Reviewed on Argos.co.uk
Absolutely great. Especially for the price. Comfy!
Dec 1, 2019
The sound is fine and they are suprisingly comfortable. I was more than happy especially at the price I paid for them
Reviewed on Argos.co.uk
Jan 1, 2015
Bought for son for PC gaming, sound is very good, but mic is screetchy,so he's been told by on line gaming pals.
Reviewed on Argos.co.uk