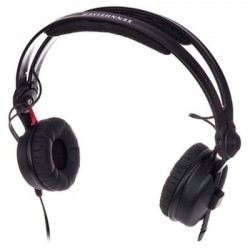 Really Nice Deal
May 28, 2019
Those classic HD-25 speaks for itself. Very confortable and nice sounding wear. It?s a weapon of choice in almost every field recording situation. It only miss the coiled cable, but guess it?s provide by the plus version. Fast shipping and solid response from Thomann guys. Thanks a lot
Reviewed on ThomannMusic.com
Great phones
Apr 1, 2019
I really like them. They sit well, don't hurt and cancel out outside noise well enough. They also go quite loud, definitely enough for my home setup!
Reviewed on ThomannMusic.com
Feb 1, 2019
Nice sound, good isolation . good choise for all rounder. Sound is perfect. I m just a little disappointed because i got model made in romania . I expected made in ireland :D
Reviewed on ThomannMusic.com
Simple, Comfortable and Good Audio Quality
Jan 21, 2019
I use them for studio and for parties. In love with the fact that the headphones are very light and comfortable. Can wear them for a very long time. Audio quality is very good, insulation might be better. Very nice that you can replace every part of them in case something breaks.
Reviewed on ThomannMusic.com
Nice All-Rounder Headphones
Dec 19, 2018
I use the HD-25 for electronic music production and DJ'ing. For these purposes, I can say it is a fantastic choice. Pros: Lows are deep and tight. Extension is good but not perfect. Mids are okay and highs are present. Overall a nice and balanced sound. Cons: I think trebles are just a bit forward. Sometimes it can be fatiguing. Also I can say these headphones are not quite comfortable. In long sessions you may want to remove it and let your ears rest. I can recommend these for DJ'ing and studio purposes. These headphones are a very good all-rounder.
Reviewed on ThomannMusic.com
A standard for Field Recording
Dec 17, 2018
Great headphones with great sound. Find them very useful for field/location recording because of their lightness & small ear pads. the split headband is good for a more secure fit. Rarely need to move the swivel earned, but also great as an option. Not designed for external noise insulation. I would suggest getting the Coiled Cable option, as i find the straight cable gets caught when in the field..
Reviewed on ThomannMusic.com
Great quality, lightweight headphones
Dec 4, 2018
Excellent sound quality, lightweight and great build quality. Great for travelling and for DJing and for use in the studio. Only small con if I had to give one is that they are a little too tight for me personally, and after extensive use give me ear pain. Overall great headphones, worth every penny.
Reviewed on ThomannMusic.com
Great headphones
Nov 18, 2018
great headphone for DJing, bit too loud for casual listening.. But the reason i bought these were for DJing. I have them a couple of months now and i think my mixing improved since i own these. Thanks THomann for the fast shipping and the good service!!
Reviewed on ThomannMusic.com
Great for tracking
Nov 5, 2018
These headphones keep all the noise out and all the sound in, perfect for recording. They do boost the low and high end though, not sure they would be good for mixing. good quality stuff. though the cable tends to kink up a lot.
Reviewed on ThomannMusic.com
Really good value monitoring headphones
Aug 14, 2018
I use them with my electronic instruments, particularly the Moog Subsequent 37, it lets me fully appreciate the rich sounds of this instrument. Good things: They have great sound quality for the price. They are sturdier than they look. They are quite light. The adjustable headband is also handy as it offers extra support. Bad things: They are quite tight and the ear cups are a bit small so they do get soar after a few hours. They are very good headphones for their price.
Reviewed on ThomannMusic.com
Good for monitoring and field recording
May 3, 2018
These headphones are doing a decent job for the price and they deliver good sound quality. I highly recommend them for field recording due to an efficient background noise attenuation, trustable freq response and the possibility of swinging one year off with ease.
Reviewed on ThomannMusic.com
The industry standard for a reason
Apr 27, 2018
This is a great set of headphones. What threw me off at first was that the plastic construction looked a little flimsy. After some use I can however confirm that this one will last me a long time, and it sounds great, too! Very detailed and precise, ideal for monitoring applications.
Reviewed on ThomannMusic.com
The best out there
Jan 13, 2018
For my needs these are the best dj headphones on the market. They have stood up to daily abuse for years and are still on top shape, sound/build quality is excellent. I would recommend to get this version and not the coiled, but each to their own needs. For me the coil wire is bulky and annoying. The noise cancellation for daily use is terrific - along with the comfort in your ears. (I wear these for 6+hr almost every day)
Reviewed on ThomannMusic.com
Jan 4, 2018
Noise-cancelling is excellent!! Sound is clear and balanced Extremely comfortable! Great build quality, Highly recommend
Reviewed on ThomannMusic.com
Does it's job amazingly but build feels cheap
Dec 23, 2017
As far as the sound goes I can't complain, it's been a pleasure relistening to my playlist with these. But it's poorly finished for it's price. Plastic and cheap foam.
Reviewed on ThomannMusic.com
The legend - top quality
Nov 14, 2017
I've bought these headphones for producing music. They are amazing, especially for the dynamics of the sound which is superbe. It's a must have for any music lovers !
Reviewed on ThomannMusic.com
Oct 3, 2017
These headphones are excellent for people who need something that is very reliable sound-wise. Excellent sound, with a durable and very efficient gear. Very easy to substitute any part, if needed. However, the only thing it's not so great is comfort. After a short while, your ear (the outer part) may start getting sore. To try to change this, I bought the velour ear pads, which helped a lot, expanding the time I can use them, but it didn't fix... Show More the problem. All this said, as a drummer who records quite often, I fully recommend these headphones. They are one of the best sounding, all purpose headphones in the market.Show Less
Reviewed on ThomannMusic.com
Amazing quality and durability
Apr 25, 2017
These headphones are clear and accurate, and withstand the daily usage of audio professionals. Recommended highly.
Reviewed on ThomannMusic.com
Best DJ headphones
Apr 12, 2017
Bought new ones for home. Have other pair in working order that been in use over 10 years of club work.
Reviewed on ThomannMusic.com
Essential tool for serious DJs
Jan 12, 2017
I didn't doubt that I was going to be satisfied by these headphones. 90% of the DJs I see use them consistently in super loud environments, under not very friendly conditions. This is thanks to their build quality and very good sound isolation. The sound is to the point. Punchy and clear bass, even more clear high's, and sweet mid's. In general, the sound is flat, giving music the way the artist produced it to be. Volume is very loud (I use ... Show Moreit with my MacBook and cannot bring it higher than 70% without becoming deaf after a while). The only downside I found is that even though they block outer sounds to your ear, they do not block the other way around, meaning that people around me are able to hear my music even at medium levels. This is bad for office or study use, but this is not their main target anyway, so not a major issue. All in all, a great and essential tool for DJs and studio workers, that will last for life!Show Less
Reviewed on ThomannMusic.com
very nice headphones
Dec 15, 2016
good build good sound confort is good i like them very much for live mixing, its a good pick if you are a church sound tech
Reviewed on ThomannMusic.com
Solid
Oct 18, 2016
Build is a bit cheap but the sound is excellent, extremely comfy, lock around your ears properly. Also nicely flat earphones, no real noticeable boosts, which make them good for djing and producing. overall a very good set of headphones, especially for the reasonable price.
Reviewed on ThomannMusic.com
Recommended
Oct 2, 2016
Great headphones for mixing, it is comfortable for long sessions. The sound is clear and there is a little noise. Would recommend
Reviewed on ThomannMusic.com
Simply the best
Aug 20, 2016
As a pro sound engineer, I never understood why you would spend 500 for the Beats,.... So this is my choice. Perfectly closed to play drums e.g. btw, and hold on your head no matter what,... Super comfy, and the sound is spot on. For the price, what else?? Even for 500, what else?
Reviewed on ThomannMusic.com