iFi AUDIO Nano iDSD Black Label Portable USB DAC and Headphone Amplifier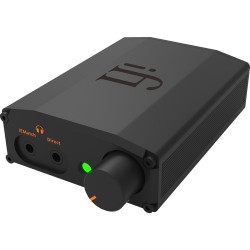 Clean, clear and powerful
Apr 8, 2018
iFi Nano is more powerful than it's appearance. It can even drive demanding headphones such as the470 Ohm Audio Technica ATH R70x. The sound is clean and clear with low listener fatigue. Bass is tight and strong without overpowering more subtle musical elements. The battery is excellent.
Reviewed on B&H Photo Video
Great sounding and powerful DAC
Mar 27, 2019
This DAC is totally in accordance with expectances, with really good accuracy and clarity to quality headphones. Highly recommended for those interested in improving the output from their laptop.
Reviewed on B&H Photo Video
ifi Audio Nano black label dac
May 14, 2019
I think I will really enjoy it, once I have time to play with it. It is exactly what I wanted and expected.
Reviewed on B&H Photo Video