iFi AUDIO Micro IDSD Black Label - Portable DAC/Headphone Amp for High-Resolution Audio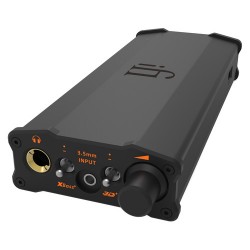 Exceptionally versatile Headphone Amp with Real low gain
Feb 8, 2019
I have a few full sized Headphone Amps that honestly dont work as well with overly efficient (not necessarily for portable use) Headphones. (& it has a real 6.3mm headphone jack). I wont even get into how competitive the DAC section is with a 4X the price High End DAC that I use. Im still working out some of bugs of its use with JRMC 25, but those bugs seem to be on JRMCs side of things !
Reviewed on B&H Photo Video
4 stars
Dec 19, 2018
Clean,powerful,open sound. 3 choice of digital filters. DSD or PCM. 3 choice of level sensitivities. Pre-amplifier or direct output. Spidf input and RCA output. 3D and Xbass. Battery or usb powered. Lightwieght for mobility. Sturdy metal durable casting.
Reviewed on B&H Photo Video
Highly recommended
Mar 4, 2017
Coupled with a Sennheiser HD 650 headphone, the amplifier is powerful, the sound excellent and the IFI handy since working on battery. When listening to classical works, I heard some notes for the first time ...
Reviewed on B&H Photo Video
Great sound
Dec 18, 2019
This is an excellent DAC, well built. Great sound. However some of the switches can be switched easily even though you did not intend to.
Reviewed on B&H Photo Video
God DAC/ Sound Card for CLEAN POWER
Oct 15, 2019
Only Chord Mojo beats it but only on non DSD material. Any reason why this thing doesnt go on deal anymore?
Reviewed on B&H Photo Video