Grace Design m900 Compact, Portable Headphone Amp, DAC, and Preamp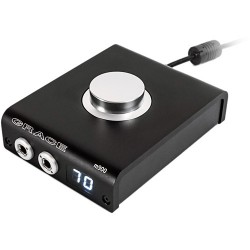 Grace Design perfection.
Dec 19, 2019
The first thing you should note about this product is WHO makes it! Grace Design of Lyon, Colorado. For 20+ years these people have been making absolutely fantastic audio electronics, almost entirely professional gear for recording studios and top flight broadcasters. It is super clean and works off USB-2, etc. They include in the box an AC power device, but I find this device drives professional headphones (Sennheisers, for example) entirely adequately. No hum, no hiss. Just clean sound.
Reviewed on B&H Photo Video