FiiO X3 Mark III Digital Audio Player with Bluetooth 4.1 (Black)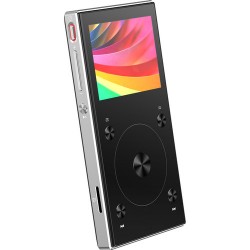 FiiO X3 With Bluetooth
Sep 25, 2019
Very good product good value for quality in audio the Bluetooth signal very good. The playlist creation is slightly different should have been a one touch type.
Reviewed on B&H Photo Video
Great sound, great value
Apr 17, 2019
I bought this because I needed a Dap with Bluetooth capability. I like the ease of set up, the included extras (screen protector and two different protective cases), the sound from the Wolfson dac chips and the ease of micro SD card change and use. The only reason I didnt give it five stars is because the case feels just on the wrong side of cheap and the screen could be just a little bit bigger. The sound is great and the unit is very easy to use. I think its a great value and the price is great too.
Reviewed on B&H Photo Video
Fiio X3 Mark III as an alternative to iPod
Aug 29, 2018
I had an old iPod, which could not hold battery power any longer. Apple discontinue the support of this model, so the only way to listen to it was through the docking station. I purchased Fiio X3 Mark III as a replacement and am very happy with it. I was able to transfer all my music to a Windows like folders by simply drug-and-drop, customize the names, etc. There is a setting that allows to play through all the folders, and also a setting ... Show Morethat makes the unit start from the point it was turned off. Works for me. There are multiple option to organize your content, but you can get around just with using foldersShow Less
Reviewed on B&H Photo Video
Good could be better
Aug 15, 2018
I needed a portable music player with the ability to store more memory than my iPhone. It does that. The battery seems to be as advertised. The only thing I don't like about this is that the usability is, for me, totally unintuitive. I'm used to a single button that takes me home. The menu is also hard for me to get used to. And the wheel that turns is not really accurate in its sensitivity. You could be pushing it forward or backwards and it takes a while to react. Might return this and just get a 128 GB Apple iPod. Overall good machine I just can't get used to it.
Reviewed on B&H Photo Video
Good MP3 player
Jun 19, 2018
I decided to try this fiio x3 after reading and viewing good and bad reviews I have to say I don't regret it, sounds really good, I set it up with equalizer off and gain on high, the bass is good not to much, I have listen diferente genres from classical to salsa and is really good, I paired it with my car and had no issues, would recommend .
Reviewed on B&H Photo Video
Fiio X3 Mark III
Jun 2, 2018
I have used this product for close to a year now as a replacement for the classic iPod which was finally sunsetting. Since I use Macs, one must drag music into the files as this is a Android-based device. I appreciate the options the X3 Mark III offer in terms of music spacing, amongst other options. The Blue tooth is the latest generation which helps for those using blue-tooth speakers. Fits easily enough into ones' pocket and not bulky. I would recommend this as a replacement to your sunsetting iPod. Regards.
Reviewed on B&H Photo Video