ESI Dr. DAC nano - USB Digital to Analog Converter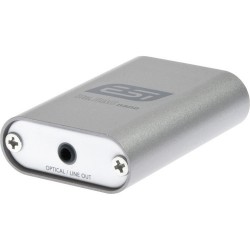 Great item - clear, no interference!
Jan 15, 2012
Small, clear sound. No interference. Best computer setup I've found. Other USB DACs (24/96) don't allow for volume control from computer. No problems here. Toslink digital output (mini) but not needed. Could not find speakers to match though I have found a few. Not as high quality as Focal CMS however. 2012 CES products are mimicking this item with USB sticks. Same concept. Highly recommended. South Korean manufacturer, sold in Germany.
Reviewed on B&H Photo Video