COWON Plenue D High-Resolution Audio Player (32GB, Gold/Black)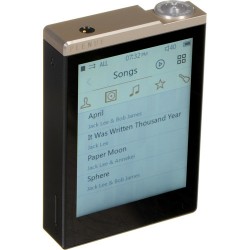 Great sound, amazing battery life.
May 20, 2019
Ive used this for 5 months now but just recently came back from a week long trip in the outback. Despite hours of use the battery still shows a full charge. Sound is amazing and it is so simple to use. A simple one cable connection to the AUX input in the stereos in my RV and Jeep and its good to go. Only caveats...I am old, clumsy and half blind. This thing is so tiny I have trouble seeing the screen display (artist/title) and manipulating the buttons. But thats on me, not the music player.
Reviewed on B&H Photo Video
Sounds good but not worth it
Jan 19, 2019
The pros off the bat: 1. Sounds great 2. Looks good 3. Long battery 4. Cheap compared to other music players The cons: 1. The UI is laggy. Not a lot and it can be overlooked but it may annoy people 2. Updating your files through the PC makes this thing auto power off which is annoying 3. Playlist support is awful. You cannot create a playlist from the player. Just add songs (individually, not in bulk) to favorites, which you cant manually sort.... Show More If you use a PC you need to find a way to sync your playlists to this thing and its way too much of a chore and unreliable. Ive tried everything and it doesnt work. So if you value having music organize this thing is just awful at it.Show Less
Reviewed on B&H Photo Video
Excellent Quality at a great price
Dec 30, 2018
My wife was looking for an audiophile quality player, but did not want to break the bank. After months of research, we decided on this model, because we thought that it was the best for the money. I bought it for her as a Christmas gift, and it devoured in spades. The quality of the sound was incredible, especially with audiophile quality FLAC files. It was easy to use and setup and to get the files onto the player. We are a Mac household and ha... Show Mored no problems getting our files onto the player, it has an easy folder structure that makes sense. The artwork was also displayed. Pink Floyd the Wall album, sounded amazing, even with mediocre headphones. Ordering from B&H was very easy, and it was delivered very quickly and made it for Christmas. Because we live in Canada, I really liked the option of them taking care of the taxes, so I did not have to pay the taxes once it got to Canada and then go pick up the package. Overall a great experience.Show Less
Reviewed on B&H Photo Video
Sound is great, hardware is lousy!
Sep 30, 2018
Bought the first one week ago. Smart enough I checked it out being still in the shop. Turned out the SD card slot was defect (player couldn't read any SD card at all). Changed it for another one. Now, after one week, it seems the micro USB slot is already damaged (firmware is up to date, tried several computers - with windows 7 and 10 and several USB cables - nothing!!). Two out of two is how many percent.....? B&H shouldn't ruin it's reputation with such flimsy merchandise!
Reviewed on B&H Photo Video
So far so good
Aug 22, 2018
I have only had this for two weeks. It is working great. 32GB is a lot of music. I use it everyday for about 2 hours and have not had to recharge it yet. The touch screen works good. You can set it to turn off or on the touch screen and side buttons while you are listening with the touch of just one button. That way if you bump it nothing happens. The sound is very good. You have to use the cable that came with the Plenue or your computer will no... Show Moret see the unit. Once your are connected it works like any other drive. Just add the files you want and you are on your way. It has a lot of features that take a little playing with to figure out. Moving from screen to screen and can be frustrating until you learn you way around. I have mine set to play all my music in random order. I turn on the music push the top button to lock the screen and side buttons (see set up) put it in my pocket and I am good for hours.Show Less
Reviewed on B&H Photo Video
Great audio quality but inferior user interaction experience
May 22, 2018
I bought it for its sound quality and user control over the sound settings and effects. In that regard, I was not disappointed. The audio quality is excellent. I play it mainly in-house connected to my Sony speakers via A Sony STR-DN1080 AVR. Using volume settings of about 75% on both the Plenue D and the AVR, the speakers are loud enough for a large room. The battery is outstanding. The charge lasts tens of hours depending on the volume and soun... Show Mored effects settings. The UI is somewhat inferior to other players in the price range. The volume and play controls on the side are touchy and inconvenient. I bought from Walmart a holster to store, carry, and protect the player. (Rugged Case Durable Pouch Cover Holster Metal Clip with Belt Loop for Samsung Rugby 2 / 3 / 4 / Convoy 4 / Kyocera Cadence / DuraXV / DuraXA / Pantech Breeze 4 / LG Cosmos 2 / 3 / Casio GzOne Ravine 2)Show Less
Reviewed on B&H Photo Video
Good sound, pretty cute
Dec 27, 2017
this fits in your hand and is much smaller than it looks in pictures. You may have problem preparing the SD card, I was using 32GB but only able to use it after following specific formatting steps. (windows format did not work). Look up the google. Other than that I'm happy with it. Oh, yeah no bluetooth options either.
Reviewed on B&H Photo Video
COWON Plenue D is great
Dec 13, 2017
I have owned other cowon products before and I bought this one for my wife, I have to say the sound is really nice, the battery has a very long life , the gui is good enough for a small device and able to use 128 sd card. For such a small device it is a beast with a large about of filters to get just the right sound. Solid built and it doesn't hurt the wallet.
Reviewed on B&H Photo Video
Incredible sound. EQ Recipe included. Can't go wrong.
Nov 7, 2017
Recommendation: Plenue D with Sennheiser HD650's and FiiO A5 amplifier. I've had my Plenue D for a few months now. Love it with the Edifier H180's. Eventually got an appetite for Sennheiser HD650's and learned that I truly needed an amp. Got the FiiO A5. Great choice. The quandry.. while to my taste, without any amp, my favorite sound EQ preset on the Plenue D, was Headphone.. WITH an amp and better headphones, the Preset EQ's needed mods. So.. I... Show More spent hours on exploring the custom EQ settings, on the Plenue D, and arrived at the following, below. Again this is ONLY for HD650 cans, and the FiiO A5 as the amp. I've programmed these settings into USER 1 on the Plenue D, and run it with the volume set to 65. I can't imagine you not being happy with these settings. Try listening to the Natalie Cole, Take a Look album, and you'll understand what this setup is capable of, without all the hours I spent to discover the proper EQ. Also, I highly recommend, that you convert your CD's to FLAC files, and you'll have all the fidelity of your CD's on your Plenue D, at approximately 1/6th of the file size, with the fidelity far greater than Mp3's. Mp3's only hold approx. 15% of the information of your original CD's. Don't bother with them. Convert CD's to FLAC files, with the above setup, and you'll be amazed what comes out of such a small package. It's incredible. Enjoy. You can set the EQ settings below, to User 1 on the Plenue D, and copy them as desired, to User 2, 3, 4, and just adjust to your tastes. This way you can easily do A to B testing. But I think you'll find the my recommendation below solid, without all the work. Add spices to taste & Enjoy! Also, B&H has got the best price on the Sennheiser 650D's. You can't go wrong. USER 1: 80 wide 8 220 wide 4 1.1 wide 7 2.4 wide 5 11.7 wide 9 BBE 8 M3Bass 3 3D sur 3 MP on Reverb offShow Less
Reviewed on B&H Photo Video
Little player that can deliver a big system's audio quality.
Oct 29, 2017
I bought this audio player based on my positive experience with a Cowon A3 media player that has been working really well for many years. The A3 can play many audio and video file types. However, it's a few generations old in terms of audio fidelity so I decided to get a new player for my frequent long flights where I use a noise canceling headphone to turn the exterior world off. The Plenue D maintains Cowon's tradition to deliver high quality p... Show Moreroducts full of features. I just came back from a business trip for what I loaded the Plenue D with several FLAC, WMA and high-quality MP3 files. It played all flawlessly and I could discern many instruments and audio subtleties that only high-end music players can deliver. It's size allows for easily placing it in my shirt's pocket along with my mobile phone and I use my Bose Quiet Comfort to enjoy the music. It has a 32Gb embedded memory but also hold a Micro SD card, where I stored my music files. There's a trick about the exterior card. It must be formatted using FAT32 system, which can be easily achieved using a small app for Windows called Guiformat. The menus are very Spartan but intuitive and easy to navigate. Musics are easily loaded by connecting the device to my PC using a USB cable that also recharges it. It can also be recharged using a portable USB battery bank. Cowon estimates around 100 hours charge duration and it's probably right since I used it for near 20 hours and the battery meter barely moved. The music reproduction settings are very flexible and allow for many preset types (Rock, Jazz, Classic, Vocal, Pop, etc) as well as custom ones that can be stored.Show Less
Reviewed on B&H Photo Video
Nifty little machine!!!
Sep 7, 2017
I wanted something that would handle Hi Res formats at a reasonable price and this one fits the bill. Transferring files is a breeze but navigation is a bit vague and the manual not at all helpful. I still haven't worked out how to disable the manual controls. Sound is very nice and overall I'm pleased with the purchase.
Reviewed on B&H Photo Video
Third Cowon Player--Still The Best Sounding Players!
Jul 11, 2017
While I still have two other Cowon players (D2 and S9) and have been very pleased with both, I decided to purchase the Plenue D as it can play all types of Hi-Res audio files. What is unique about the Plenue D is that it does just one thing and does it exceptionally well...play music with outstanding sound. There is not a picture viewer or video player included....it is strictly a very high quality portable music player. Just like my other Cowon ... Show Moreplayers, the sound quality is very warm and clean. Unlike other brands which over emphasize bass, the mids are very well represented. This is very appealing to fans of classical and jazz music. With the Cowon Jet Effect settings, you can easily customize the EQ to your preference, in addition to choosing from a myriad of presets. The build quality is excellent and feels good to hold. Transferring files to the device is very easy. The one negative aspect is the user interface is a bit quirky and non-intuitive (as I have experienced with my other Cowon players as well). The price is very reasonable as you would expect such a high quality player to be more expensive. I highly recommend the Cowon Plenue D!Show Less
Reviewed on B&H Photo Video