AudioQuest DragonFly Black - USB DAC + Preamp + Headphone Amp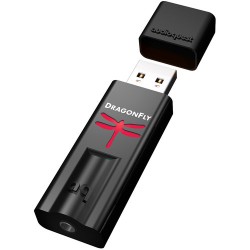 Very affordable audiophile entry - Great sound!
Jan 30, 2017
This DAC is really excellent, especially for the price! I find it to be clear, precise, and transparent. Unlike more expensive portable DACs like the Chord Mojo, which produces it's own sound, this DAC lets you hear the music with minimized alteration. The sound stage isn't huge, but it is very decent. If you want to enter the audiophile ranks at a very low price, this is the way to do it. If you are an audiophile, and want a very good portable l... Show Moreistening experience, this is the way to go. Here's how I use mine: iMac with headphones: Songs imported via iTunes as Apple lossless Audirvana player - (FLAC) DragonFly Red Bose QC35 headphones - noise cancelling for a very noisy environment iPhone High bitrate songs downloaded to iPhone as 192K AAC ( will be down sampled to 96K ) Normal bitrate songs downloaded to iPhone at 44.1K AAC ( will be up sampled to 88.2K ) Onkyo HF player (Great app. Be sure to use the equalizer to adjust the sound to your headphones, and turn up sampling on. Up sampling never seems to hurt, sometimes improves the sound). DragonFly Red (plug and play is great!) Apple lightning adapter (the more expensive one, with the extra female plug. This configuration uses a good deal of power.). Additional lightning to USB cord - for power when available. Bose QC35 headphones - again, my very noisy environment. Better quality headphones can be had for the same price or less if you don't need noise cancelling Pros: Great sound at a very affordable price. Portability. Cons: Occasionally sensitive to static electricity discharge, which will stop the music player. My portable configuration draws a lot of power, although I attribute more of the consumption to the Onkyo application than to the Dragonfly DAC. You can't answer your iPhone without unplugging from the DAC (music will stop). Once you've attached the lighting adapter, DragonFly, and headphones to your phone, it's an awkward mess, but still technically portable.Show Less
Reviewed on B&H Photo Video
Excellent Sound, Works From a Phone
Mar 14, 2017
I previously owned the original DragonFly (v1.2). That was a great little device for my laptop, significantly enhancing the sound quality and very easy to use. The new DragonFly Red is just as simple to use and offers appreciably better sound quality and higher output levels, with the added bonus that it can now function as a DAC and Amp from a cellphone. I've been using it with my aging LG G3 - with an OTG (On The Go) USB mini male to USB A fema... Show Morele cable and the Onkyo audio app to get music out of the USB port - and it sounds fantastic. The only drawback to this setup is, unlike using the built-in 3.5mm jack, I can't charge the phone while listening to music. But the sheer quality and musicality of the output really makes up for this, in my mind. The little Red also continues to do a great job with my laptop for games, music and videos. The output is light years ahead of the terrible onboard sound from my laptop's motherboard. Your mileage may vary of course - your laptop or desktop could have a better built in DAC/amp. But if you aren't happy with your current sound, this well built little device will probably help. Recommended.Show Less
Reviewed on B&H Photo Video
This thing rocks!!
Nov 28, 2016
I was skeptical about such a small device at such a low price point in the high end audio market but there were so many positive reviews for it I took a chance on it. It was a great decision. I listen to it with Shure 535 IEMs (headphones) at work and I am simply blown away. It will push the dynamics of the music with no trouble. The first time I listened to it I didn't pay much attention to the volume setting on the computer. I turned it up a fe... Show Morew times to get it at a comfortable listening volume, then I noticed I was set at 16%, talk about headroom. I cranked it up once just to see how it would perform... I got a headache before I noticed any deviation in performance or sound quality. The sound quality is exceptional but it is critical of the music, if there are any flaws with the recording or mixing they will shine through. I have also connected this to the home stereo with great results. It was great being able to have my full music library available to play for all to hear. Again the sound quality was exceptional, better than my CD player. If you are on the fence like I was, just buy it already, you won't be sorry!Show Less
Reviewed on B&H Photo Video
Best little portable dac on the market and preamp
Mar 10, 2017
Let me say that I am still Stunned with all the things I can do with this little dac preamp/amp. I work in a setting where sound is very important and I've used it to drive all My best headphones like audio quest Nighthawk (liquid wood) , my Audeze LCD2 , Seinheiser Momentums and even my hungry hungry 300 ohm Seinheiser HD600 and this lil guy changes the sound dynamics and keeps it crisp and doesn't add anything unnecessary . I even used it on a ... Show More1960 heath kit amp to drive my iPhone as a preamp and dac !!! The sound even on something as old as a tube amp . I can't believe how much I use this thing . I definitely will say it has changed my hifi life because when I set it up with my Mac Pro and forget my more robust semi portable Hafler 15 amp , the Audioquest Dragon Fly Red makes me miss the Hafler less then I thought . Keep making great product Aidioqiest and Bhphotovideo ships blazing fast and incredible customer service .Show Less
Reviewed on B&H Photo Video
Disappointing
Oct 27, 2016
White this version of the DAC can theoretically be used on iPhone (1.2 and 1.0 didn't work due to power requirements), in practice you can't do it. It is loud, extremely loud when used with any mid to good quality headphones or in-ear monitors. With a mid range headphones and volume at half, the sound is already close to 100db, and with in-ear monitors, the sound at just 4th iPhone position is close to 100db if not over. Compared with the previou... Show Mores edition of the DAC on the same computer, this produces the same level of sound at about 20% volume, that the older ones produced at 80%. I have good working sensitive ears that aren't full of gunk ear wax and I buy high quality headphones. This DAC unfortunately is a no starter with them.Show Less
Reviewed on B&H Photo Video
Pocket Size BIG SOUND!
Jun 2, 2016
If you are looking more power, and drive harder headphones like Sennheiser HD 600 (300 Ohms) or T1 (600 Ohms) this for you. I bough both, the Dragonfly 1.2 and this one and the Dragonfly 1.2 wasn't to drive my Sennheiser HD 600 At all, wasn't enough volume for mixing or editing audio. It has better audio quality, lower power consumption and its totally compatible with y with Android and iOs without any trick needed like the Dragonfly 1.2. Also yo... Show Moreu will be able to download to check updates for you new Dragonfly which is a great thing! This feature isn't still avaible, but will be. Check this info and compare between all models. http://www.audioquest.com/wp-content/uploads/2016/04/dragonfly-spec-sheet-darktheme.pdfShow Less
Reviewed on B&H Photo Video
You've not heard audio properly, until now.
Mar 16, 2018
It's not just a volume booster. It completely changes how you hear music. I could best describe the experience as this is how music is meant to be delivered. The more present elements feel closer to you. Your background elements such as reverbs, room mics, etc, sound not just distant, but realistic. You can have the best headphones in the world, but they won't sound their best until you haver a proper DAC. This unlocks their true potential. This reveals audio in a way you've not heard before. Absolute transparency; presenting your audio the way it was meant to be heard.
Reviewed on B&H Photo Video
Fantastic audio upgrade for my laptop and phone
Jun 4, 2017
I'm very happy with my purchase of this little DAC! The difference in audio quality from my Dell Inspiron laptop is really amazing, especially when I plug in my Shure SE215s. Now I use it all the time when listening to music at work. I don't use it as often with my Moto G5 phone, but when I do (with a USB OTG cable) I can hear a noticeable different in quality. The color-changing dragonfly logo looks cool too, and I suppose it's a handy reference for anyone obsessing about source sample rates. All in all, a very nice little gadget and a recommended upgrade!
Reviewed on B&H Photo Video
An audio gem for sure
Feb 10, 2020
I have owned the Audioquest Black, Red and now Cobalt. The Cobalt has the best sound by far, but of course it is also the most expensive. It makes HD music sound awesome. But is also give great sound to CD quality music as well. When I travel on airplanes, I use this with Bose noise-cancelling in-ear headphones. What a pleasurable way to fly. Also, with my MacBook Pro, the music is really beautiful. An external DAC like the Audioquest Cobalt is the most important item to improve your music quality.
Reviewed on B&H Photo Video
Headphones sound better now
Jul 4, 2016
Items affecting the sound of your devices are always subjective unless you have sophisticated testing equipment but after installing this on my Mac Mini my headphones (Vmoda XS) do seem to have a cleaner sound. It also made things much louder. I assume that's the added power of the device and it's nice to have the volume turned down so it doesn't seem like things are straining. I am very happy with the device although it does take one of my four USB sockets so I'm thinking of a USB hub now.
Reviewed on B&H Photo Video
Fantastic Portable DAC
May 15, 2016
I used to use V1.0 on my iPhone, not anymore, the new Black version I got from B&H is phenomenal! Very happy with the sonic quality and the dynamics that it adds to my music. The size and shape was already perfect to begin with, and it has solid build quality. Audioquest knows their stuff! Would even invest in the new Red version if I had better headphones! For the best value, function, and portability the Black version is ideal for me.
Reviewed on B&H Photo Video
Effective and fun
May 24, 2016
I use the DAC with an iPad Pro and it significantly improves the detail and dynamic range of musical recordings. Good recordings come to life however poor recording reveal their flaws. Sometimes the treble sounds somewhat brittle and bright but high quality recordings are balanced and spacious. It drives my headphones (24-Ohms to 150-Ohms) as loud as I want. I use the Apple USB Camera Cable to connect to the lightning port on the iPad.
Reviewed on B&H Photo Video
Great Sound without a Sound Card
May 16, 2016
I ran an AudioQuest sound card for years then updated to an iMac from a G5 Mac tower & lost that loving sound. I've used a Dragon Fly v1.2 for over a year & enjoyed it. Now I've upgraded to the DF Red & it powers my Grado Labs SR225e headphones very nicely. Excellent sound from my six year old iMac. I've moved the v1.2 to work & operate ancient powered speakers with it to my listening pleasure. Well worth it!!
Reviewed on B&H Photo Video
Get this now don't hesitate!
Jul 7, 2019
For $99 you get great balanced, crispy, crystal clear audio! All you need is a good source, or good files, good 16-100 ohm headphones. Also you can use it with tidal, qobuz. Even if, your using YouTube music is definitely and improvement. You don't have to spend $300 in a portable dac amp combo anymore. I'll upgrade to the red. (You can also use it with an external amp or preamp) how amazing is that?
Reviewed on B&H Photo Video
Only one issue
Aug 24, 2018
This is a wonderful DAC. As a headphone amp it is overpowered for all of my headphones. It works fine from my MacPro. But from my iPad Pro and iPhone the volume is too difficult to adjust. If there was a high / low gain switch based on headphone sensitivity it would rate 5 stars. I spend all of my time from 0-2 on iDevices. I use the slider to be 0.5-2 but it is very fiddly.
Reviewed on B&H Photo Video
Tiny but Powerful
Sep 22, 2019
Fantastic little DAC. I love using my Dragonfly wherever I go. The best DAC is the one you have with you. All other DACs Ive tried to use that were compact just dont fit the bill and I usually stop taking it with me. Now I can take my DAC with me wherever I go and am able to use my Tidal subscription to its fullest! My trucks sound system loves the Dragonfly too.
Reviewed on B&H Photo Video
Amazing little DAC
Dec 25, 2019
This makes music sound so much better when plugged into my Mac or iPhone or iPad with any headphone or ear buds. it is really amazing that so much can be packed into such a small device. It is pricy but worth it if you want the best sound possible from your mobile devices. I only wish it worked wirelessly too, maybe that is asking too much.
Reviewed on B&H Photo Video
It does what it says it does
Sep 23, 2019
I was skeptical about the sound quality of the DragonFly Red that I wanted to improve the MP3 recordings that I have. I am very pleased. Not only is sound improved on my cell phone and ear buds, but I have also routed the content through my home sound system and the MP3 recordings sound as good as any CD--maybe even better.
Reviewed on B&H Photo Video
Sound is great
Jan 10, 2020
I have tested this for a couple of weeks now and it is great. Its probably not the best usb DAC on the market but it is worthy. I use this on my 2018 iPad Pro with no problems. I wish I could hear the difference between the red and blue models but this one will do. I recommend this for easy portability and good sound.
Reviewed on B&H Photo Video
Fantastic Product
Sep 15, 2016
I wanted a DAC device so I could listen to high quality music files from my computer through my 2 channel stereo and the Dragonfly Red did the trick. It was extremely easy to setup and my audio sounds amazing. Plus, when I take trips I can use this with my headphones on the plane. Great Product!
Reviewed on B&H Photo Video
Immediate increase in great sound!
Jul 31, 2018
Used in my office/computer system. The Dragonfly Black is a great value for the performance provided; compared with my old USB DAC, it not only sounds considerably better with Apple Lossless, it decodes Tidal natively and brings that within shouting distance Apple Lossless. Highly recommended.
Reviewed on B&H Photo Video
Fantastic
Jan 24, 2017
I decided my Sennheiser Momentum 2.0 wireless needed to be fully taken advantage. The Dragonfly Red does push my Sennheiser's to their fullest. If you've spent the money for a great pair of headphones, do yourself a favor and purchase this so your headphones reach their fullest potential.
Reviewed on B&H Photo Video
Audio game changer
Feb 5, 2020
Game changer! I work with audiophile grade equipment and the Dragonfly can easily compete with some of the really expensive DAC's on the market. With the right media software, a person can build a respectable system at a reasonable price. Excellent product; believe the hype!
Reviewed on B&H Photo Video
I would highly recommend this product.
Dec 8, 2016
The DragonFly RED does what it says and then some.... I am using it to play professional soundtracks. I hooked it up between my Dell Laptop and the mixer of a professional sound system. The sound is crystal clear and the volume level is perfect. You will NOT be disappointed !
Reviewed on B&H Photo Video