Astell&Kern SP1000 A&ultima Series High-End Music Player (Black)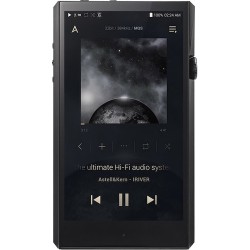 U GET WHAT U PAY FOR COMPARISON
Jun 2, 2019
I own the fiio5, fiio3 and the SP1000 all from B&H. I record vinyl through the KORG which is a japanese high end recorder that allows hifi purests to record analogue quality recordings into digital files which maintain the analogue sound. i record 5.6Mhz 32bit - large files with almost all the detail retained from the analogue medium. the fiio 5 & 3 calm to be able to play these files and they do, poorly. this is due to the fact that fiio have... Show More pushed the coax&line out into one socket?!? thus mixing the digital out and analogue out into one socket. they then force you to use the 3 ribbed 3.5mm jack to allow you to use this socket. Three ribbed jacks are used to take phone calls and other signals as such which is only needed in phones such as in call centres or older iPhone models. But this is a DAP! You cannot make or receive calls using a dap. so why use this silly method? The reason is the fiio down samples the 32bit lovely files into an inferior 24bit digital file before it is sent out through the rubbish cable they supply which i found on ebay for 36c free shipping. so all the work in recording analogue is a pure waste of time if you fiio products... You will be better off listening to you cds in your car (i use my daps in my car mostly). astel&kern separate the analogue out sockets, and the digital out sockets - you now have to option of listening to pure analogue file recordings, or your digitally enhanced files. A&K DO NOT downsample 32 bit files, instead maintain it and send it out as 32bit to your device!! I purchased custom made handcrafted analysis plus apex cables to use with my fido's (high end cables made in the USA BY HAND). they did not work on the fiio - several hifi specialised I spoke to showed were shocked that this was the case. They even didn't believe me and had to see for themselves!! Fiio's shortfall not the cable's... this is because the cable has the 2 ribbed analogue 3.5mm jack which 99.9999999999% of all companies in the history of audio tech hi and low use (00.000000001% being fiio the exception). now - comparing the daps (images provided) SP1000: - dual day highest quality - BETTER THAN CHORD MOJO & HUGO - 8 CORE CPU - no down sampling - no digital interference with you analogue recordings - handcrafted (NOT in china) from a solid block of metal of your choice - touch screen very responsive and intuitive - works with any cable you want hi or low - build quality same as my zeiss outs 28mm lens (ie best possible) - leather cover made from the finest leather in the world - USB-C cable they give you is very high quality - USB-C socket is the charger AND the digital out reader!! FIIO (all models): - dual dap average quality - 2 core (fiio3) 4 core (fiio5) CPU - interpolates digital files to add the missing info usually found in mp3s - claims they read analogue large files (which is does), but downsamples to cd quality regardless of the device your using. - MADE IN CHINA in factory with cheaper materials. - best chinese dap you will find with aluminium chassis and 7/10 touchscreen response (fiio3 has no touchscreen) - biggest down fall is their coax/line out socket being slapped together to create a dap that is only good to upsample mp3 and similar poor quality files (not the other way). - more affordable conclusion: if you didn't understand anything i said; buy the fiio, the cheapest model will do. if you appreciate what i'm saying, then consider the sp1000 YOU WILL NOT REGRET! PS. the reviewer who complained about not being able to adjust the eq should have purchased to fiio. all high end hifi equipment WILL NOT let you down grade their music quality by letting you suff around with digital effects such as eq manipulation as they want to preserve their company's reputation! ie: they already have the setting on exactly how the musicians recording their music in the music studio! We don't paint over masterpiece art works because we would just ruin it no matter how good we think we are!!!Show Less
Reviewed on B&H Photo Video
What a sound!
Jan 22, 2019
Ive had my SP1000 now for about 3 weeks and I cant put it down. Paired with a good headphone or IEM the stage sound is amazing. I can hear every nuance in the music. I can go back and forth between Heavy Metal, Jazz, Classical, Blues, R&B, Prog, Instrumentals, from Mile Daviss trumpet to Testaments thunder to Mario Biondis deep voice to Jaco Pistoriuss unique base playing all the detail is present.
Reviewed on B&H Photo Video
Liked it in the beginning but not too much..
Feb 10, 2018
Sounds mighty good if the source files are perfectly encoded but then which player isn't. The major flaw with this product is that it doesn't have way to control the sonic characteristics of songs. It is well known that the EQ in this thing doesn't work at all. Not responsive at all - between (+/- 1). AK should just remove it, why you deceive the consumers with the non-functional dummy EQ. This player doesn't even have simple bass/treble contro... Show Morel either. I ended up EQ'ng 1000s of flac files because this players doesn't give an option to adjust the bass. I wish I could return this if I could. :(Show Less
Reviewed on B&H Photo Video