Astell&Kern KANN Portable High Definition Sound System (Astro Silver)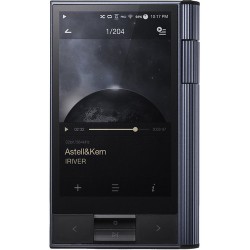 A&K Kann - Great music player, had Windows 10 issue
Dec 29, 2019
The Kann works and sounds great. I'm using Sennheiser HD 660S headphones and the Kann can easily drive them. The only issue I had, which I initially thought was caused by the Kann, was a problem with the Media Transfer Protocol (MTP) setup on Windows 10. MTP is the mechanism that allows the transfer of media files (music, etc...) to and from devices. The symptom (that I had) is a failure to copy the music file using drag-and-drop. The file woul... Show Mored not show up in the folder on the Kann. The Kann would see the file, but would not play it. It appeared to be corrupted. If you have this problem or something similar, do the following: - Make sure the Kann is disconnected from your computer - Go to the folder C:\Windows\INF - Find the file: wpdmtp.inf - Right-click the file and select Install - Connect your Kann and try to transfer a music file Since I performed the above procedure, the Kann has worked flawlessly.Show Less
Reviewed on B&H Photo Video
Excellent digital audio player - Android device
Mar 8, 2018
A superb digital audio player with an amazing performance level. Balanced and unbalanced outputs. Note that this is an Android device, not very friendly to iTunes and iOS users besides copying files (albums) to the internal storage (64 GB) or one of the two external SD cards (up to 512 GB). Highly recommended for its superb sound quality and large storage capacity.
Reviewed on B&H Photo Video
Kann is King
May 18, 2018
The first one had a bad button after only a week. B&H is fantastic and replaced it quickly. New one is fantastic. Sound is awesome. Even works in my car via usb which my samsung phone will not do. Doesn't connect bluetooth but does at home with bluetooth speakers. Ultimate is with new sure buds. Wow.
Reviewed on B&H Photo Video