Bose QuietComfort QC35 II Over-Ear Wireless Headphones Black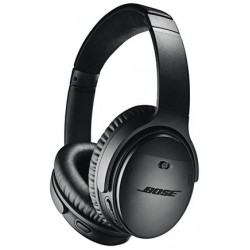 Meh, not so impressed so far
Oct 3, 2018
So I received these from BH Photo and followed all of the instructions to download the App to get started. The Headphones were not able to upload the firmware and kept dropping offline. Had to go to a local Bose store who directed me to call Bose directly. I had to reship them back to Bose and finally received a pair that worked. For the amount of money spent on these I expected better performance.
Reviewed on B&H Photo Video
Good quality headset
Feb 19, 2018
I use it mostly for airplane travels. It's a very good quality headset for cancelling low frequency airplane engine noise. Audio quality is nothing short of Bose high fidelity standard. The headset is comfortable to wear, but my ears do get a little warm/hot after wearing it for hours. Every now and then, I have to remove it to let my ears cool down a bit. Overall, I am very happy with the product.
Reviewed on B&H Photo Video
Jan 17, 2019
really light and comfy. the noise canceling is great can drown out a lot of noise including computer fans . Bluetooth didn't work on my tv, to much lag between voice and picture, works great though on pc with a Usb Bluetooth dongle no lag at all. buttons are great and easy to reach the customizable google assistant button is good i have mine so i can change the noise cancelling intensity.
Reviewed on Argos.co.uk
These Bose headphones are really fantastic
Feb 19, 2020
I purchased these headphones as an 'early' birthday present, and was really impressed with the sound quality, and comfortability. After almost an hour of listening, you couldn't tell that you had got them on your head, they are that comfortable, as well as having a nice rich sound. Another top class quality product that I was glad to have purchased. An excellent and friendly service as always
Reviewed on Argos.co.uk
Bose is always reliable
Jun 7, 2019
I own many Bose products and they all still work perfectly. I have a pair of Noise Cancelling headphones which I bought on a flight about 5-7 years ago - still function perfectly. Decided I wanted to get in on the wireless version and it is everything I wanted it to be. So nice to be able to walk around without a wire. Great for working out too, I do make sure I wipe it after. They are great.
Reviewed on Argos.co.uk
Perfect choice of headphones
May 23, 2018
Very comfortable and great looking headphones that offer a fantastic listening experience. The noise cancellation is 8/10, very impressive. I run with them on and they are still very comfortable, although my ears started to sweat a lot after a short while. The battery life is very good with a relatively short charging time and they are easily stored in the small case. All in all a great buy!
Reviewed on Argos.co.uk
Most comfortable earphones I have ever had
Dec 28, 2018
I have needed new earphones for nearly a year but always found them uncomfortable. Then someone suggested over the ear ones. I thought they would be heavy and uncomfortable but these are light with super soft leather around my ears. They cut out background noise when listening to my music and a big plus is my husband and I use them if one of us wants to watch tv and the other is reading.
Reviewed on Argos.co.uk
Very comfortable, battery charge is good.
Jan 2, 2019
Great to use as a passenger in the car. Cuts out the road noise. The charge is longterm and the phones tell you what percentage charge there is once when on. So you are easily notified when to re-charge. Really comfortable and the blue tooth feature is mainly why I bought them. Great on dog walks and enjoy hoovering the carpets if wearing these. Minimises the noise of the hoover.
Reviewed on Argos.co.uk
Convenient, with accurate sound that's easy on the ears
Mar 5, 2020
I have a pair of Bose's wired headphones, and the sound quality of the 35s is roughly equivalent (but see the next sentence). I think noise cancellation may be a bit better, a good thing because it allows me to limit volume load on my damaged hearing. And, of course, not having to worry about getting entangled in a wire while exercising is great. Highly recommended, but nb the caveat.
Reviewed on B&H Photo Video
Nikki
Dec 26, 2017
I've been a Bose loyal fan for along time. These things are amazing. The only issue I have is because the over the ear, I tend to get a little warm, but I've never owned over the ear before so that's my issue I'm sure I'll get use to it. They sound Amazing, they filter out all of the background noise as described, and I'm just in LOVE for real!! Great job Bose. Keep up the good work!
Reviewed on B&H Photo Video
Bose Silver Quite Comfort 35 Ii
Aug 6, 2018
Seen the the reviews for this headphone and decided to buy them mainly for traveling. They have great noise cancelling and the build quality is really nice, a good looking headphone too. They are so comfortable covering my my entire ears and the sound quality is crisp with no outside noise pollution. So far I'm very happy with these headphones with nothing negative to report.
Reviewed on Argos.co.uk
I am very happy with the headphones
Feb 6, 2020
Since I lost my old Bose headphones I urgently needed a new pair. I looked for a pair that had noise cancelling (this one has it) and was also stylish (I didn't want black headphones). The noise cancelling is great! I'm in the tube (London) a lot and can listen to my music without hearing outside noises. I like the sound too, but I'm not an expert when it comes to this.
Reviewed on Argos.co.uk
They live up to their name
Jan 10, 2020
Very comfortable and easy to set up. Didn't expect them to take incoming phone calls. Pauses the music and has a built in mic~ neat. Sound quality not as good as the latest Sony's but the headphones are more comfortable in my view. Noise cancelling very effective on a recent plane trip. Midnight blue very smart looking and a bit more interesting than the usual black ones.
Reviewed on Argos.co.uk
Noise cancellation not great
Mar 23, 2019
I'am afraid the pricing and the quality you get our of those is not great. The main selling point is the Noise cancellation, and I don't think Bose got it right for 2 reasons: 1. Even with noice cancellation on, sounds still come through even at the loudest setting 2. At the loudest setting, sound leaks from the headphones which can be heard from people around you.
Reviewed on Argos.co.uk
Perfect for airplane travel
Jun 6, 2018
Bought one for my dad since he flies a few times a year and usually 10+ hours, and he absolutely loved it! Noise cancelling worked really well, sound quality is clean/clear, and the pads don't make you sweat. I have a Sony MDRXB950BT, and it sounds great for me, but noise cancelling and I can only wear it for like 4 hours before it gets too sweaty/itchy for my ears.
Reviewed on B&H Photo Video
Excellent
Feb 17, 2018
Expensive, but noise cancelling is astounding. Phones are comfortable. Sound quality is good... listening carefully, you can hear the noise canceling interacting with upper music registers. The result is a very slight smearing of high hat harmonics after the initial strike, but you will never hear that sitting on a plane. These are exceptional travel headphones!!
Reviewed on B&H Photo Video
Expensive but comfortable
Jan 18, 2019
Fro me personally I find many headsets start to feel uncomfortable after 30 minutes or so. These are super comfortable and the quality is amazing. Nice case too. Connecting to iPhone/Mac was easy however I did have to update wireless bluetooth drivers on Windows which took a bit of searching to resolve as the Bose support desk was very slow to respond. Love them.
Reviewed on Argos.co.uk
Phones are good-Directions poor
Sep 14, 2018
I love the headphones and the quality, BUT... There are no directions with the product and it's necessary to connect to a smart phone and a computer to get everything started (at least the best I can tell). Even then the instructions are not nearly as clear as I would like; I'm a computer tech so it shouldn't be rocket science but it sure seems like it. Too bad.
Reviewed on B&H Photo Video
Very Nice Headphones!
Nov 13, 2018
These are excellent at noise cancelling and have great sound. The app is excellent for connecting the device. When the headphones are turned on they automatically connect with previously connected devices, making it unnecessary to do it manually. The four rating is due to comfort, but Im not comfortable with any headphones so this may not be an issue for most.
Reviewed on B&H Photo Video
Great Headphone but?
Mar 18, 2020
Really good headphones sound fantastic, and they are very comfortable, they connect to my iphone and firestick perfectly, but!! if you are wanting to connect to a pc running windows 7 by bluetooth,you could be in for some problems, i have finally got mine to work after hours of trying, i am upgrading to windows 10 shortly i hope that improves the connectivity
Reviewed on Argos.co.uk
Simply, epic!
Jul 3, 2018
Was hesitant to buy headphones at this price level but honestly, they sound amazing. Awesome quality on a flight, removing 99% engine noise. Great for online conference calls too, even in a busy office. Sound quality far above normal headphones. Expensive but worth it. Work great with iPhone and Apple Watch. Easy to connect and alternate between iOS devices!
Reviewed on Argos.co.uk
Great sound and comfort
Mar 29, 2019
These Bose head phones are fantastic. The sound is really good as is the comfort is great I could wear them all day. Battery life seems good a single charge has lasted me for a weeks use and still says it's 70% charged. It comes in a nice case with a charge lead and aux cable to hard wire the head phones to your device if Bluetooth isn't available.
Reviewed on Argos.co.uk
Best £300+ I spent
May 20, 2019
I use these when I m at work in a busy canteen noise cancellation was a must . After reading loads reviews I went with the Bose as the ear cup foes over the ear and sits on the side of your head wear as most the other ones are on top of the ear .. bass is good sound is awesome .best £300+ I spent I.ve never spent that much on headphones glad I did
Reviewed on Argos.co.uk
Jun 7, 2018
noise cancelling feature on these headphones is very good, blocks out an incredible amount of background noise and as always with bose products the sound quality is amazing as is the build quality, They're also very comfortable to wear for long periods of time only slight niggle is they don't seem to last the advertised 20 hours between charges.
Reviewed on Argos.co.uk