Bose SoundSport Free Wireless Headphones - Bright Orange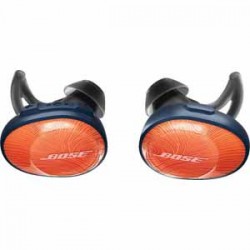 Good quality sound.
Mar 12, 2020
I'm happy with these. However, the left ear drops out when I am in Liverpool Street Train Station but they're fine everywhere else so far. Because the sound is beamed from the right east to the right ear I believe other bluetooth devices can affect that transmission. Sound quality is excellent though. For phone calls only the right ear works so that's another niggle.
Reviewed on Argos.co.uk
Bose
Mar 12, 2020
These Bose air phones are absolutely amazing!! Used to own apple AirPods before these and Bose definitely live up to their name. These air phones put apple too shame and also the sound quality is insane from the loudness to the bass these headphones are definitely worth the price highly recommend these to anyone looking to get new airphones
Reviewed on Argos.co.uk
Great sound and comfortable
Mar 4, 2020
All round very good however not recommended while sunbathing in hot climes as they silmply fall out of ears
Reviewed on Argos.co.uk
Is it worth it???
Mar 3, 2020
I was on the fence about the Bose Soundsport and after having them for a few weeks, here is my honest review. The Good: I can appreciate the battery life, the and the sound quality, They definitely stay in your ear and I have yet to shake them off. The Bad: The fitment has been a little less than uncomfortable, I have tried all three size inserts and none of them feel more comfortable than the others. The headphones also cut out per... Show Moreiodically and have a hard time reconnecting and that gets annoying, especially when I'm full tonedeffing and nailing it so hard on the high notes!!!! Overall I would give them a solid 3 stars because they are decent and I can appreciate the value of the bose quality.Show Less
Reviewed on B&H Photo Video
Bose quality
Feb 26, 2020
Sound quality you would expect from Bose, quick and easy to connect and use. I find I prefer the passive noise cancelling effect of the ear plug over the active noise cancelling quiet comfort headphones I used to use. No pressure or discomfort, but uninterrupted sound quality in the train. More comfortable than I expected from some reviews. I've had no need to remove or adjust during long journeys. 2 extra full charges out of the storage case is helpful for a 2 day trip without cables.
Reviewed on Argos.co.uk
Love the sound quality
Jan 28, 2020
I'm a bit biased when it comes to Bose products. It's one of my favourite brands. Having said that Bose pulse headphones are the worst company has produced. These ones on the other hand are brilliant. The sound quality is superb, the bass quality is awesome. Perfect headphones for gym, running and outdoor activities. They grip perfectly.
Reviewed on Argos.co.uk
Great sound
Jan 28, 2020
Debated for a while to buy these. After reading a load of reviews I took the plunged and I'm so glad I haven't looked back! Came with good charge just out of the box, so I was able to test them out straight away! The sound quality is amazing! And you can even increase the volume on the buds more than your phone to get even louder! I wanted earphones for the gym and running, and was so surprised I've only had to lift my hand to pause or play. They fit snugly and don't fall out!
Reviewed on Argos.co.uk
Get them!
Jan 23, 2020
Amazing wireless headphones. Fit well in ear if you slot them in as per instructions. Sounds is incredible. Full charge take about 45 mins and then lasts for well over 6hrs. Best headphones ive ever had, and theres been a few. I thought bests were good but these are something else 10/10 Get em!
Reviewed on Argos.co.uk
Bose Wireless Ear Pods
Jan 22, 2020
Read many reviews of these and many other wireless ear buds trying to pick the rights ones. All I can say is the sound quality is exceptional, they fit perfectly without knowing they're in (and 'in ear' headphones never fit me!) and I've been in the gym a few times now wearing these and out running and they don't move at all. Perfect in every way …. save your time reading reviews on others and simply buy these with confidence. Enjoy.
Reviewed on Argos.co.uk
My husband loves his gift
Jan 21, 2020
Brilliant sound quality,modern style and design,worth it's money.Yes,I do recomend this product.
Reviewed on Argos.co.uk
Amazing sound quality and comfort
Jan 17, 2020
This product is fantastic. The stay-hear tips are super comfortable, connecting is easy and charging them couldn't be simpler. Highly recommended
Reviewed on Argos.co.uk
Great product look great sound great
Jan 17, 2020
Superb product. If you want wireless headphones, these are brilliant, so versatile, mobile, compact, easy to set up and start using, and most of all comfortable.
Reviewed on Argos.co.uk
Bluetooth connection is frequently dropped
Jan 5, 2020
The sound is good. The problem that I find is that music does not play well. It is not continuous and occasionally it appears as if the source is defective because it is stop-and-go sound. When I switch to the other earphones and listen to the same song it is played correctly.
Reviewed on B&H Photo Video
BOSE EXCELLENT
Dec 31, 2019
Got several bose products never let you down sound is second to none fits comfortably in hear also operat through bose app
Reviewed on Argos.co.uk
Great sound
Dec 21, 2019
The sound is terrific. Easy to pair. Great charging case. Voice prompts are helpful. Buttons work ok. Only criticism is they tend to fall, slip out on occasion.
Reviewed on B&H Photo Video
Nice product
Dec 10, 2019
Like most Bose products, its over priced but the sound quality is good and the charge seems to last really long. They really do make you look like Frankenstein when theyre in your ears but at least you wont look like an Apple zombie! ;-)
Reviewed on B&H Photo Video
Good quality as always from Bose
Nov 15, 2019
I think these are fantastic quality and well worth the cash paid for them! Sound is immaculate! No sound distortion when listening to something with a lot of bass!, they have the perfect amount of vocal and instrumental! As to other earphones where the sound might overpower vocals vice versa. The only gripe I'd have with these is that to turn them off you have to put them back in the case but on the flip side of it I think they want you to do that so you don't lose them!.
Reviewed on Argos.co.uk
Pros and Cons
Nov 11, 2019
The good points of these headphones are REALLY good, and the bad points are pretty darn bad. First the good: I love the sound quality. I'm not an audio expert, but to me it sounds rich, velvety, warm, and 'full,' with great bass. Another strong point is the feeling of the headphones in your ears - you just pop them in, and they fit quite snugly. I go jogging with these quite often, and they rarely get loose. Now, on to the negatives... I've gone ... Show Morethrough two pairs of these (got the first pair replaced by Bose; I should also mention that I didn't buy either pair at B&H, since I live in Japan and there's a shipping restriction), and both have the same problem: they lose their connection with my iPhone quite frequently. This is especially problematic when I'm in a busy downtown area, especially at an intersection. The connection will get cut, then resume, then cut out again, and so on. It's very frustrating! Another, less serious problem is the charging method that Bose uses. You have to charge the case, which charges the earphones, and if you neglect to charge either, the battery gets depleted quickly. I think Bose expects you to constantly charge your charger/headphones, much as you'd constantly charge an electric toothbrush. If I was in the market for new headphones at this point in time, I'd likely go for the AirPods Pro, which seem better designed than the Bose, probably more reliable, and have comparable sound (I tried the AirPods Pro out in the store, and they didn't sound quite as good as the Bose, but were close, and definitely a big improvement from the original AirPods).Show Less
Reviewed on B&H Photo Video
I was really surprised to the sound, superb
Nov 6, 2019
Absolutely fab, the quality of sound is outstanding, really no regrates, worth what I brought
Reviewed on Argos.co.uk
Excellent product
Oct 23, 2019
Bought these a couple of weeks ago and the sound quality is amazing. Crystal clear at low volume and also when played loud. I wear them out walking in the gym and sat around and the fit is very good. Only negative I would have are I'm told by Ally in the office they make me look like Shrek. Ally is slightly bonkers so don't let that put you off
Reviewed on Argos.co.uk
The best bluetooth earphones so far!
Oct 21, 2019
Ideal for travelling and even when just at home when you need a super bass earphones to brighten up your day with good music!
Reviewed on Argos.co.uk
Not up to the mark
Oct 5, 2019
I thought the battery life will be atleast 5 hour but 3 and half hour at best and really not comfortable.
Reviewed on Argos.co.uk
I didn't know. But they are fabulous.
Sep 26, 2019
The sound is incredibile. And most importantly, my hands are free when I make and drink my coffee.
Reviewed on Argos.co.uk
Looks good, not flexible in device connection
Sep 17, 2019
These are a nice looking piece of kit, but they are most uncooperative when connecting to different devices. They do not work at all properly with windows devices, they are 3 seconds behind video footage. They are ok with apple products but if you have them linked to more than one device they will never connect to the one you require
Reviewed on Argos.co.uk