Marshall Monitor Bluetooth Black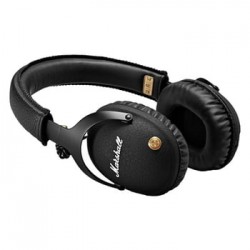 Studio audio feel
Dec 17, 2019
Honestly, these are the best overeat headphones I have owned. A few things I personally want to highlight. I wear glasses and it doesnt bother me, as far as the pressure. The sound quality is a crisp, full studio/monitor feel, which I love.
Reviewed on B&H Photo Video
I'd buy again.
Jun 11, 2019
The Marshall's are great headphones, the only negative I found was they have substantial clamping force and can be a bit uncomfortable after an hour of wear time. They take some time to break in or you can manually maneuver the head band looser. I own the open back opens as well and they have the same amount of force.
Reviewed on B&H Photo Video
Awesome!!
May 29, 2019
Awesome headphones, the battery is perfect, I recharge it only 1 time at he month, some times 2, but I use it only 3~4 hour/day. The volume is really loud, for the ones who seek this, and the quality of the sound justify the price, my friends and I agree that is best than many others famous headphones brands, like boose and beats. Never will buy other brand. If you have head little bit bigger than the average person, it may squeeze your head a little bit at the beginning.
Reviewed on B&H Photo Video
Amazing Heardphones
Apr 15, 2019
Good quality materials look very durable and safe. The sound quality is awesome and batteries last forever. Be aware of fake ones in other sites. B&Hs are the real deal
Reviewed on B&H Photo Video
Beware the video latency on your mobile device
Apr 6, 2019
The look and the audio quality is alright, not top notch. However, theres a severe video latency when I tried to watch videos on my ipad and my android phone as well. I then returned this headphone less than a day.
Reviewed on B&H Photo Video
Great headphones
Jan 24, 2019
I didnt like them at first and though I would return them, but Im glad I didnt because now I love them. They are super durable, clearly made to the ruggedized standard of Marshall, even the cables are durable. Sound is excellent, and they are low profile and dont make me look like princess Leia hanging out with Jaba the Hut. I tried many different brands before I settled on Marshall and they all were flimsy compared to these, and they cost much more. Great buy, worth the money.
Reviewed on B&H Photo Video
Worth the money and high quality sound!
Dec 4, 2018
Great investment in my travel enjoyment and lawnmower needs. The purchase was to help cancel out other noises and to enjoy music without all the wires. Only complaint is that I purchased without trying on and i have larger ears than most and so there is a little discomfort when worn for extended amounts of time. Like more than 3 hours. Over all very satisfied and found them to be the quality they were reported to be by Consumer Reports! Worth the investment.
Reviewed on B&H Photo Video
Just amazing!
Nov 8, 2018
The Marshall products are amazing. The sound quality of this headphones is great. Battery life is incredible and the design pretty cool!
Reviewed on B&H Photo Video
Very Good Headphones!
Oct 21, 2018
I've owned a pair of Marshall Monitor headphones for about 6 months. I Haven't been disappointed at all. The battery life on these guys is amazing. I have gone over two weeks of daily 2-3 hours of use without recharging them. Excellent range, 20+ feet away separated by wall and still able to get reception. Very comfortable to wear. You can run, jump and they don't fall off. Sync to my iPhone immediately after turning them on every single time.
Reviewed on B&H Photo Video
My Headphones looks great and sounds sharp
Aug 10, 2018
I am very pleased with my Marshall Headphones. It is comfortable and looks very good. It has a good sound quality and the battery also lasts long with the Bluetooth connection.
Reviewed on Argos.co.uk
Sounds AMAZINGG
May 2, 2018
These are so good. Im all about bass and these really sound amazing. A definite purchase.
Reviewed on Argos.co.uk
Tremendous sound quality
Dec 29, 2017
Light weight, very handy headphones. Perfect for travelling and getting lost in the music instead of background noises. 10/10 would recommend
Reviewed on Argos.co.uk
Marshall's master all occasions.
Oct 8, 2017
Purchased after researching & trying many cheaper & much more expensive options. These Marshall's appear well made. Some reviews suggested that comfort was an issue. I have not found this problem, quite the opposite in fact. If it helps you, I wear a medium (57-58cm) Arai motorcycle helmet. The replaceable ear pads are magnetically held in place. Bluetooth connects without problem. My music has been reproduced with excellent clarity from deep stable bass through to crisp not harsh trebles.
Reviewed on Argos.co.uk
Not nearly as good as their non-wireless counterpart
Aug 16, 2017
I own both these and the original wired Monitor headphones from a couple of years ago. For me, the latter are a very solid pair of headphones. The bass is powerful but not overwhelming (unless you want it to be, in which case the cans deliver beautifully), the mid range clear for all music genres, and the treble accurate. These cans are a completely different story. The bass a lot weaker, the mid-range poorly separated, and the treble overwhelmin... Show Moreg. And that is regardless of whether I use them wired or wireless, bluetooth compression is not to blame here. The pair I originally purchased was so disappointing that I contacted Marshall's customer service. According to them, the pair I had was probably defective as the sound quality when wired was supposed to be virtually identical to that of the original, non-Bluetooth, Monitor. B&H swiftly replaced the pair (kudos to them!) but, while it actually appears that the replacement cans do a slightly better job at separating the mids, the sound is still vastly inferior to that or my older Monitor Headphones... They also do almost systematically require several attempts to connect to the sources I use (MacBook Pro, Windows 10 desktop, and iPhone 7). Once connected, the freedom provided by the absence of a cable is very sweet indeed... At the price of sound quality and a very hefty price tag.Show Less
Reviewed on B&H Photo Video
The Best headphones
Aug 10, 2017
Amazing sound and amazing build quality by far the best headphones I've ever owned and I've owned a lot
Reviewed on Argos.co.uk