JBL TUNE 600BTNC Wireless On-Ear Headphones with Active Noise Cancellation (Black)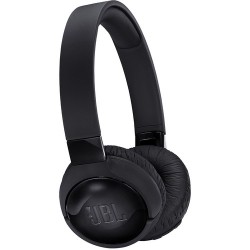 Excellent value for money
Aug 1, 2019
Perfect gift for my 9 year old son. We were looking for noise-cancelling (esp. for flights), headphones without breaking the bank and these are perfect. Not sure what purists seek for sound quality but I found them really good. My son also finds them very comfortable (they're "on-ear" as over-ear are too large for a kid). Very easy to find and link via the bluetooth on his phone too. There's even a wire in case of linking to non-bluetooth gadgets!
Reviewed on Argos.co.uk
Comfortable and good value for money
Jan 15, 2020
After watching some review videos online I bought the T600 with some hesitation. After had some listening sessions with them, I got used the sound and the extra bass that comes with the noise cancellation, which I recommend to be always on. I use them all day in the office and during commuting. No problems so far and the connectivity it's fast and easy with my Huawei P20 Pro. They look and feel very well build and durable
Reviewed on Argos.co.uk
I just love it!!
Apr 5, 2019
That sound - THAT BASS!! I have bought them for my gym, from that moment on I can't imagine to have something different. I ususlly used air pods, but there were too silent. I am really impressed with that sound quality, feels like being at concert somewhere. The tiny downside is that they could be just a little bit bigger to be more comfortable.
Reviewed on Argos.co.uk
Good Headphones
Jan 17, 2020
Purchased these headphones for my 8 year old and they fit perfectly. Good.sound and the ANC works quite well also. Bluetooth easy to pair and they last along time before recharging. If you are looking for a not so expensive pair with a good quality purchase these.
Reviewed on Argos.co.uk
Really good headphones. Great sound for price
Jan 22, 2020
Really good sound quality for a lot cheaper than bigger known brands. Smaller fit which I prefer as found other ones too loose and didn't feel secure but I have a small head so may not suit everyone. Really easy set up and battery life is really long too.
Reviewed on Argos.co.uk
Greta price
Jul 1, 2019
These are great for the price. Noice cancelling works well on the bus and tube which is what I wanted them for. Can get a bit uncomfortable if wearing for a long period of time but from my experience all over ear headphones do so not much of an issue!
Reviewed on Argos.co.uk
Really nice headphones
Jan 18, 2019
At the price, I doubt if you'd be able to get better headphones. The sounds is accurate and the bass is nice and tight. The noise cancelling is good although not perfect. I think a bag should beat included to protect them, but a small quibble really
Reviewed on Argos.co.uk
Christmas present.
Dec 26, 2018
I bought this for my daughter and she really likes the headphones. They can be used both wirelessly and wired. It's a shame that I missed out on getting the free speaker. She says they are comfortable and block out the sound well.
Reviewed on Argos.co.uk
Noise cancelling dream
Jan 15, 2020
Ticked all the boxes for my wireless headphone requirements. - Comfy - Well made - Value for money - Amazing sound quality Only one small negative is that the micro usb charging cable is extremely short.
Reviewed on Argos.co.uk
Great battery and sound
Jan 31, 2019
Bought them for Active noise control (ANC). Certainly helps on a busy train. Sound quality is good. Battery lasts for many commutes. I can see the battery level on my phone, though can't tell from the device.
Reviewed on Argos.co.uk
Amazing for the price
Jan 23, 2020
Great for the gym! I couldn't reccomend these headphones enough. They really are great quality! The noise control button works so well. They're easy to set up and use.
Reviewed on Argos.co.uk
Great value for money
Dec 30, 2019
Really comfy and compact headphones with a NC system. Not as good as Bose headphones in the NC area but Bose are 4 times the price of these so great value for.money.
Reviewed on Argos.co.uk
Great Headphones
Aug 17, 2018
I am really enjoying these headphones. The sound quality is awesome and the noise canceling feature is great. A very good product at a very reasonable price.
Reviewed on B&H Photo Video
A gift for my mother-in-law and she loves them.
Jun 12, 2019
Got these as a present for my mother-in-law and she absolutely loves them. They are far better than my own and I might now go back and get myself a pair
Reviewed on Argos.co.uk
Jbl top marks headphone
Jan 16, 2019
Excellent headphones would recommend these comfortable if you have glasses buy these very comfortable.oh cracking sound 5 stars
Reviewed on Argos.co.uk
Great Headphones
Jan 15, 2020
Great head phones for on ear types. Look good. Base is good, noise cancelling good for on ear. Happy with purchase.
Reviewed on Argos.co.uk
Headphones work perfectly
Jan 4, 2020
Headphones work perfectly, the lifespan of the battery is long and they are very quick to charge. Great purchase.
Reviewed on Argos.co.uk
Headphones are fire
Jun 5, 2019
Headphones are amazing, booking process swift and easy. Couldn't be happier. Comfort level 100.
Reviewed on Argos.co.uk
Excellent
Jan 16, 2019
Top choice for the price range. Excellent for the gym and travelling. Battery life very long too.
Reviewed on Argos.co.uk
Jan 6, 2020
Did not like the comfort of these headphones, felt too tight on head. Sound quality is good.
Reviewed on Argos.co.uk
Fab product, easy service
Jan 16, 2020
reserved in store, popped in, paid, collected Really easy Great product, great value
Reviewed on Argos.co.uk