Jabra Elite 85H Over-Ear Wireless Headphones - Gold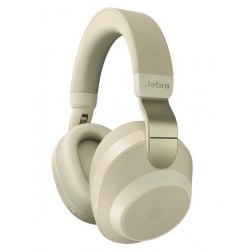 Went in dubious came out amazed
Jun 5, 2019
Read other reviews of poor sound quality before receiving it, so I went in with a negative mind. That was the case initially but few hours later sound quality was astounding which proves they need to bed in. Clarity even on high volume, change settings via an app, add or remove noise cancellation a super feature, interface not fiddly, turning inward or outward to switch on and off is very slick, battery life and recharge excellent, pairing instant and connectivity never drops. Nothing to improve
Reviewed on Argos.co.uk
Best ever Headphones
Jun 3, 2019
Comfort for me has always been an issue but these are so comfortable and I've used them for 3 to 5 hours every day and they are a perfect fit for me. All the controls you need whilst they are on are easy to feel and use. The battery is great. Pairing the headphones to my phone was easy and within the App you will find further tweaks and adjustments to the best possible sound available for your tastes. I've not found anything bad with these headphones, it's all great and I'm very happy.
Reviewed on Argos.co.uk
Jabra Elite 85H Wireless Headphones are Awesome
Jun 3, 2019
These are very well made good quality, look great and so comfy you forget your wearing them. very easy to set up with the app and can be used with all of your devices via bluetooth, phone, gaming etc.They have multiple features like hear through, block out, surround sound and moor, they automatically turn off to save battery when removed. sound quality is very good, the hidden buttons are a great feature keeping the streamlined look. I love them, have recommended them to friends and family
Reviewed on Argos.co.uk
Fantastic headphones with great extra features
Jun 5, 2019
Not only do these headphones sound great, they are packed with extra features. The sound quality easily rivals those of Bose and other top name brands, but these also come with extra features such automatically stopping your music if you take the headphones off your ears and restarting them when you put them back on. The noise cancellation is excellent. My partner tried them in the noisy factory he works in and says they cut out all the surrounding ambient factory machinery sounds.
Reviewed on Argos.co.uk
Superior Over The Ear Headphones
May 29, 2019
Pros: Great sound,rich bass.Excellent battery life (used for 5 hrs and still had 100% battery).The smart audio function works flawlessly, it really does adapt to your enviroment and your personal settings via the Jabra sound app. The Anti Noise Cancelling (ANC) paired with the hear through function,is a feature many people have not experienced and will be pleasantly surprised by it. The 8 microphone call tech is another great feature and the sound recieved by the caller is clear.
Reviewed on Argos.co.uk
Impressive
Jun 3, 2019
Lots of features packed into a great product which comes in a compact zipper case. Accessories include headset, adaptor, charging cable and short cable for corded listening. The headphones arrived fully charged so all you do is unfold to turn them on as there is no on/off button. Download the jabra sound+ app and i paired this to my smartphone, then customise or personalise the sound to suit you. Active noise cancellation and hear through technology are brilliant. Amazing technology
Reviewed on Argos.co.uk
Best pair of headphone I have experienced
Jun 7, 2019
These headphones are top spec. They have got everything right.. Perfect, crisp sound. Excellent comfort when wearing. They fit extremely well and have perfect grip. They cancel out sound very well. The app you download allows you to adjust the equalizer and has everything on it that you could possibly need. There is so much smart tech built into these and it's all very easy to get to grips with. I couldn't be more impressed. Highly recommended. Superior to other high priced brands.
Reviewed on Argos.co.uk
Stiff Competition
Jun 3, 2019
On first opening the box on these Jabra Elite 85 H's you can immediately see the effort Jabra have set out to try and get a share of the top end noise cancelling headphone market even down to the quality of the packaging and the box. If you weren't brand aware you would assume these were one of the more known top end brands such is the look and feel Once on they feel really comfortable with good high end acoustics and some seriously deep bass.Battery life is excellent too.
Reviewed on Argos.co.uk
Amazing wireless headphones!
Jun 18, 2019
These are really simple to connect via bluetooth on both my phone and TV, the sound quality is impeccable and the feature which allows them to adapt based on your noise level is fantastic and perfect for commuting. The charge lasts hours and I'll be taking them with me next time I fly long haul. Only downside is they automatically stop playing once you take them off, a couple of times I went to adjust them and it turned them off. Not a massive problem but something to note.
Reviewed on Argos.co.uk
Amazing headphones
Jun 3, 2019
The headphones come packed in a hard case. The headphones are light and foldable Pros. sound quality was very good comfortable on your ears. Changing the settings in different environments is useful and easy to use. The companion app is useful . Noise cancelling feature was amazing Cons : When using the headphones with a headphone jack the headphones battery is being used unnecessarily which is good when i desire better sound quality.the charging cable was very short.
Reviewed on Argos.co.uk
My Jabra Elite 85H
Jun 2, 2019
What can I say about the Jabra Elite 85H Over - Ear Wireless Headphones? I Love just about everything about them the sound quality is perfect the functions are great they look good and feel good they are light and comfortable to wear. Very easy to set up no degree in computers needed. If I have a niggle it would be the length of the charger cable is a little short but other then that I can see nothing wrong with these wonderful Headphones, I would recommend to buy.
Reviewed on Argos.co.uk
Jabra Elite 85H Headphones
Jun 13, 2019
For someone who is not technically minded these headphones are so easy to set up. Once you switch them on they run through how to proceed with the set up. Downloading the app is so simple and it is easy to set up your account. The sound is so clear and a good base. The over ear feature really does block out surrounding noise. The only downside I find with the headphones are they are a little on the heavy side and I feel they are too heavy for me to use in the gym.
Reviewed on Argos.co.uk
Great wireless headphones
Jun 19, 2019
These headphones come very neatly packaged with their own carry case which they fit into a great ease. At first you are asked to download app to improve your experience but to honest it not need as all can be done with a simple push of button on headphones. My favourite function is the ability to swap from noise cancelling to their hearthough technology. Which is great if someone suddenly starts chatting to you.
Reviewed on Argos.co.uk
Amazing headphones with great features
Jun 3, 2019
I am in love with these headphones. They are so soft and comfortable to wear, I sometimes forget I've got them on. The sound quality is amazing and they are so easy to use. It was very simple to connect to my phone bluetooth. The features are great such as being able to turn them on and off simply by turning the earpieces. The battery life is also fantastic. I would highly recommend them.
Reviewed on Argos.co.uk
Comfortable to wear and great sound quality
Jun 13, 2019
These headphones come in very smart, good quality packaging. The travel pouch is a neat and handy addition. I thought they would be too big and bulky, but they are actually very comfortable to wear and the sound quality is amazing. The noise cancelling system works well if you are out and about, or on public transport etc and they are rain resistant too. Highly recommended.
Reviewed on Argos.co.uk
Excellent sound quality
Jun 5, 2019
Highly recommended. These ear phone are excellent. A comfortable wear and nice design. Turn them on by twisting the ear heads round from a folded position. Battery life is really good too. I've had these two weeks and haven't needed to charge them yet. Handy case for storage. Wouldn't recommend using them walking in the street as they really block out background noise well.
Reviewed on Argos.co.uk
Excellent paired with my iPhoneX
Jun 5, 2019
I have found these to be a great productivity tool. I work from home and these Javea elite headphones are great to listen to music whilst working, being able to cut out household background nose, take calls etc. by use of the personalisation settings. Only had them a couple of weeks - but battery life and recharge time performance seem great so far.
Reviewed on Argos.co.uk
Perfect headphones
Jun 3, 2019
Jabra elite h85 headphones looks is great, massive and comfortable. Have a Sound+ app with everything you need. Very easy to use. Bluetooth is perfect. Nice case for rest or travel. Long battery life 36 hours. Fantastic features: HearThrough, Active Noise Cancellation, One-Touch access, Smart Sound, rain resistant etc. Good choice for every day.
Reviewed on Argos.co.uk
Noise cancelling headphones
Jun 18, 2019
Earphones are very comfy and easy to use, the around the neck fitting isn't the best but whilst actually using them they are brill, my favourite feature is the outside noise blocking system so I'm completely focused on the music and nothing else, very ideal whilst training at the gym as they don't fall off easy.
Reviewed on Argos.co.uk