Sony WH-1000XM3 Wireless Noise-Canceling Over-Ear Headphones (Black)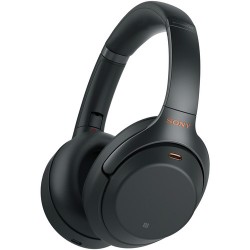 Great
Jan 16, 2019
This is the best headphones I have bought to date. Sound and features are great, Im still getting the feel of them. The equalizer provides the sound I enjoy, the music is about my enjoyment not whether the sound is flat, therefore it is better than Bose to me. The comfort is great.
Reviewed on B&H Photo Video
Nice Sound Quality but not as Comfortable to wear
Jan 16, 2019
Compared to the Bose, the sound quality is definitely better, the packaging design is compact. As for the comfort, the Boses latest model is still the best. This was heavier and fits tighter so much more compression of the head which makes it uncomfortable to wear for longer periods like a hour or more. The heavier weight is more noticeable when you turn or move your head around. For this price range, you expect to use it and wear it more often.
Reviewed on B&H Photo Video
Best wireless NC headphones!!
Jan 6, 2019
I tried the Bose QC-35 wireless headphones and they were very nice, but they could not stand up to the excellent noise cancelling ability of the Sonys! It will transform your traveling experience from noisy and stressful to quiet and blissful. These are expensive, but its because of the superior quality and technology in them. The touch controls work great, even though I have accidentally tapped them when taking off the headphones. The instant qu... Show Moreiet/ambient sound mode is extremely helpful. By just placing your hand over the ear of the headphone you can silence the music and it also amplified the ambient sound around you for easy conversation with those around you. The battery life is incredible and with just a few minutes of charge you can get 5-8 hours of playtime! The ear cups are very ergonomic and comfortable even for very long usage (4 hours). Great construction and fold up into a small case.Show Less
Reviewed on B&H Photo Video
The best at noise canceling
Jan 1, 2019
I have used the Bose over the head models and several in the ear models by various manufacturers. This 1000m3 is the best on my opinion. Audio is A , not A , however it sounds great. The Noise cancelling is the best I have seen. If you fly and you want great audio and the best noise control these are the go to phones.
Reviewed on B&H Photo Video
antecessor WH-1000XM2 has heavy load & poor noise cancelling
Dec 27, 2018
I bought Sony because of its touch features. Deceived by sellers at B&H, who indicated me this one. Regret a lot for that choice and couldnt return it because I live outside the US. Used to have a Bose thats smaller and much more efficient than this Sony, which noise cancelling is worse than the Bose earphone, for the same price.
Reviewed on B&H Photo Video
Surprisinglybad!
Dec 23, 2018
I was waiting for a while to move somewhere else from my Bose QC35 (which I loved) to something more up to date (USB-C, latest codecs support etc.). And finally, Ive decided to go with 1000XM3 since all the reviews idolized them. After a week of active use I, unfortunately, came up with the decision to returnthem back for the following reasons: 1) I faced with a widespread manufacturing defect that is in clicking and popping sound from the left ... Show Moreearcup that occurs on the move or if there is something that generates a vibration (walking, commuting on public transport or even head rotation). There are many forum threads indicate that the problem is presented massively and worldwide. 2) Terrible call quality. Sometimes people on the other end can barely hear meespecially if there is an extraneous noise around. 3) For those who got used to and loved the multiple connected devices function from QC35 - its just not here so every time you will have toconnect to another device make sure you manually disconnect from the previous one. Its almost 2019, cmon. PS. I never write bad reviews or return stuff back, thats literally the first time cuz that was really sudden to see such bad quality control for $350 product.Show Less
Reviewed on B&H Photo Video
worked for me when Bose would not
Dec 19, 2018
I just bought and returned the Bose QC35 II which had stuttering problems with my HP desktop gaming computer for some unknown reason. I then bought these Sony headphones and have had no issues at all. Whatever Sony does made the difference with my computer, and while I have tons of Bose speakers and wired headphones they dont seem to know how to do Bluetooth right, at least not in my case. I think the Bose are a nicer design, but that touch-pad right-ear thing on the Sonys is too cool. I still prefer the crisper Bose sound - too bad they didnt work for me like the Sony ones do.
Reviewed on B&H Photo Video
Good sound, but not as comfortable as bose qc 35 ii
Dec 12, 2018
I think in terms of comfort bose is best, i can wear bose for 8 hours when working and still feels great, it doesnt heat up easily, lighter than sony, and it doesnt fall off easily. in terms of sound Sony sounds little better than bose, but they are so similar. But the Sonys cushions seems to last longer, my previous bose qc25 head cushion lost its elastic after like 4 years of use. I think both sony and bose looks equality great. Even though the... Show More Sony wins a little on the sound quality, but i think the comfort should come first, i would say the bose is much better in terms of comfort if you want to wear the headphone for a long time, the only thing that I concerned was how long these headphone will last, but i think i would rather have bose for the better comfort than the sound quality. Pro: 1.Nice noise cancelling with very low pressure on the ear 2.The apps bass is great 3.the ear cushion and head cushion is very soft, feels softer than bose 4.the design looks great, and the material looks better than bose 5.nice battery life and charge really fast Con: 1.The Bluetooth with windows computer is unusable without metered connection, with the metered is still pretty bad signal, my bose headphones works perfectly fine. 2.the depth of the ear cups are way worst than bose, cannot wear this for a long period of time because the headphone is pressing against my ear too much, bose give a tons of space to the ear so it doesnt heat up or make my ear feels hurt after a long time of use, my ear is like pushing against the sponge on the drives, and it feel really bad. 3.the touch control for the volume is not that good to use. 4.the clap force is very little so its very easy to fall off.Show Less
Reviewed on B&H Photo Video
Excellent Noise Cancelling great sound.
Dec 4, 2018
Love the M3. Changed from my cable-QC15. Much better noise reduction. Far better sound and feature set. Setting up the Google assist was a bit bumpy, but not a reason for critique.
Reviewed on B&H Photo Video
Better than Bose QC 35s
Nov 20, 2018
We need2recognize these r a pair of ANC headphones&that is what Im rating,not high-def headset that uses data dense file.Dont know why1would purchase a hi-res player & headset.Cost a fortune&if u listen2ur music on the go, subway trains, street c horns, buses, wind etc r all going2be interfering c ur listening pleasure - thus ANC.If I want2really listen2music I sit down,relax&listen2my surround sound system at home, which is a heck of alot better... Show More than any hi-res headphone. Back2 MX3. ANC on MX3 blows away Bose QC 35, which I used4past 3 yrs until I broke them & Im glad I did. I used QC 35s everywhere. I can only comment on the street, supermarket, my kitchen c the cooktop exhaust hood going & NYC Q subway train. Intimately knowing how the QC35s performed in those settings I can tell u the MX3s seriously outperform. I find the XM3 more comfortable. 30 hrs of play time is very nice, & 5 min charge = 5hrs, will come in handy when I travel. Sound quality? Initially I found it pretty good, but was a little disappointed. Then I watched a you-tube video on how2tweak sound&woe, dramatic improvement2point of serious listening pleasure. The bad. I really dont like buttons, but more I use them better Im getting. If I take XM3 off & hang headset around my neck, buttons r accidently being hit by my chin turning music on, siri on etc. Price? Well wed all like2spend less,but theyre better than so called best ANC headset on market&the same price. u r getting what u paid for.Show Less
Reviewed on B&H Photo Video
Better than Bose
Nov 16, 2018
Better than than the Bose Quiet Comfort for noise cancelling. With 3 dogs and an early bird spouse, these have saved my sanity!
Reviewed on B&H Photo Video
Like a sound-proof room
Oct 24, 2018
I have owned the Bose for many years and have been happy with them. But these Sony's are on another level for sound isolation and quality audio. I can't think of anything that can be improved upon here. The downloadable app gives you lots of choices for different sound environments, such as Club, Arena, Outdoor Stage, etc. I find them useful for watching sports on TV or listening to live jazz recordings.
Reviewed on B&H Photo Video
Amazing headphones for music; horrific for phone calls.
Oct 22, 2018
Best headphones ever! But, no one, I mean no one can understand a word I say when I use them to answer the phone. Sad... But, I love them too much to return them; I will use them for flying (which I do a lot), but never ever for communication.
Reviewed on B&H Photo Video
The ones to beat
Oct 19, 2018
I had the Mk1 of these and was very happy with the performance. However, the headband plastic part snapped recently and I needed to buy a replacement. I went through online reviews and tested a whole bunch of the current crop in this same price category (Bose QC2, Sennheiser etc.). After reading the early reviews on this, and having not found any of the competitors to be better to my Mk1s, I pre-ordered these based on positive early reviews. To m... Show Moree, these are better than the Mk1s in every way, and also beat any of the competition that I tried. Comfortable, great sound, long battery life (~30 hrs), and excellent noise cancelling. I've used the companion app on iOS, but I didn't really find that it added much, but you don't really need it to use them anyway. The "personalized" noise cancelling setup from the app didn't really change much for me, at least. Overall super happy with these. Would buy again.Show Less
Reviewed on B&H Photo Video
Best WNC headphone!
Oct 19, 2018
I read a lot of reviews before purchasing Sony WH-1000XM3. I agree that it's the best WNC headset ever...
Reviewed on B&H Photo Video
Perfect non-professional stuff
Oct 11, 2018
I've tested both SONY XM3 and BOSE QC35 II and SONY is better than BOSE in my overall test. They have almost the same sound quality but the WH-1000X3 offers a much better noise canceling. BOSE still wins in the material finish and enables you to connect the earphone with 2 devices simultaneously while SONY still works with only one each time.
Reviewed on B&H Photo Video