Bose QuietComfort 35 II Bluetooth Headphones - Midnight Blue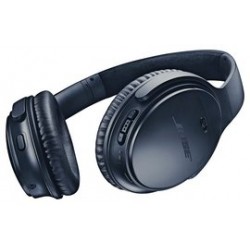 Works amazingly
Jan 6, 2020
Dont get it wet. Dont forget to charge it - that said, the battery life is amazing. Do enjoy using them. Do marvel at their sound canceling effect. Do look after them by using the provided box for storage.
Reviewed on Argos.co.uk
Comfortable, seems to reduce outside
Jan 5, 2020
seems a bit pricey for what it claims to do...but I'll find out how effective it is over the new few weeks...
Reviewed on B&H Photo Video
Think this is still the one to beat!
Jan 5, 2020
Hard to find anything wrong with this model. Don't really think you have to pay any more unless you have money to burn. Glad to see the price reduction too. B&H is the best, of course.
Reviewed on B&H Photo Video
Wonderful headphones
Jan 2, 2020
These headphones are outstanding. I am able to hear parts of music that were impossible before.
Reviewed on Argos.co.uk
Great sound and comfortable
Jan 2, 2020
Buying from bhphoto was smooth as silk. Arrived next day! Will definitely shop here again! Highly recommended.
Reviewed on B&H Photo Video
Great, but doesnt work in a concert!
Dec 30, 2019
This is a great product. Just don't expect the noise cancelling to work in high decibel areas!
Reviewed on Argos.co.uk
Best ever
Dec 30, 2019
These are the best headphones I've ever come across. So comfortable to use. Easy to par with your products. Fantastic value and great design.
Reviewed on Argos.co.uk
Great headphones
Dec 30, 2019
THE GOOD Sound quality is very good. The automated verbal instructions were annoying to me so switched her off in the app. Charges really quickly. The noise cancellation options are superb. The design is also very good. Flexible handling. Connects to my devices really quickly with minimal fuss. Can reach loud levels which is great. THE BAD Doesn't seem to be able to block out sound leak. If on a train journey- everyone on the carriage can hear exactly what you're listening to - clearly.
Reviewed on Argos.co.uk
Best Headphones under $350
Dec 29, 2019
The The Bose 700 were rated #1 noise cancelling headphones for 2019 by NYT Wirecutter but $400!!! The Quietcomfort 35 II are just as good, and for just about half the price. My advice is to get these and upgrade in two years if you want to. Else, for plane travel and for finding some quiet personal space, these headphones are a true luxury at a more reasonable sticker price. Bose is already flawless, save $200 and go for these.
Reviewed on B&H Photo Video
True Noise Cancellation
Dec 19, 2019
When you use the Bose headphones at the gym, you only hear whatever you are listening to. When you take them off, your ears get bombarded with all kinds of noise. In a way, you might want to leave them on all the time!
Reviewed on B&H Photo Video
Awesome product and delivery
Dec 14, 2019
The bose headset is a absolute value for money. Fells light on your head and you can where this for for long time period. Sound quality is awesome and with noise cancellation. I ordered the product with free shipping, B &H delivered within 2 days. A proper 5 star experience.
Reviewed on B&H Photo Video
These are best after comparing
Nov 25, 2019
I found these to be the best for sound quality, ease of use (the controls) and quality of build and comfort. Sony has more adjustments but unless you have to have them the clean sound and adjustments of the Bose are perfect. Concerning the build quality you see many more of the competitor headphones being sold is refurbished.
Reviewed on B&H Photo Video
Great headphones
Nov 20, 2019
Really comfortable on the ears, sound quality above anything else on the market in the same price range, would recommend anytime
Reviewed on Argos.co.uk
Best purchase ever
Nov 16, 2019
The sound is typically Bose, amazing. So comfortable that I wore them for over 8 hours without issue. Great battery life and connectivity. The noise cancelling is just epic. Drops all background noise with ease. Writing this review in an airport and I can't hear a thing besides the music. Love them.
Reviewed on Argos.co.uk
Terrible
Nov 13, 2019
Very poor quality, regret purchasing this product, I purchase this so I can use it with my Sony TV XBR65X900F theres a delay on the sounds, and always with dropping sounds, like cutting off, Terrible for Bose to make a bad Headphones, Sorry not happy at all
Reviewed on B&H Photo Video
Great for long flights
Nov 8, 2019
I take a cross country flight at least once a month and these things are comfortable and do an amazing job of canceling noise. I've probably slept with them on more than I've used them to actually listen to music. Worth the investment
Reviewed on B&H Photo Video
Comfortable and high quality
Nov 6, 2019
Amazing sound and bass when listening to tunes, crisp audio and your able to hear every beat and bass drop, the noise cancelling features works amazing for underground travel
Reviewed on Argos.co.uk
awesome wireless headphones
Oct 24, 2019
Very good sound quailty,really comfortable to wear for long periods.. Nife smart design. Noise cancelling is great,ideal for busy places like a coffe shop,where you want to listen only to your music. Really like how they fold neatly into its case. Battery life is very good,also. Well worth a purchase
Reviewed on Argos.co.uk
An amazing everyday experience
Oct 21, 2019
I was initially thinking of returning this headset as it felt very uncomfortable and caused headaches. But after about a couple of weeks I absolutely loved it. It takes a bit for the rather tight fit to get looser but once it does it provides incomparable sound proofing and comfort. I love it and wear it up to 8h a day now.
Reviewed on Argos.co.uk
Gorgeous sound, sleek design
Oct 21, 2019
I've always loved Bose products, and these headphones don't disappoint. Crisp, rich sound, comfortable feel and stunning design. They even come in a sturdy carry case so they can travel with you without getting damaged. Love them!
Reviewed on Argos.co.uk
The comfiest headphones
Oct 1, 2019
I chose Bose headphones as I had heard good things about them so I decided to take a chance and get these ones and I am very satisfied they are very comfortable the sound is exceptional especially for live music the Bluetooth connectivity could be better I would recommend these headphones
Reviewed on Argos.co.uk
HEADPHONE HEAVEN
Sep 26, 2019
I bought these for when I am on a plane, they cancel all the background noise out on the flight and a bonus is I don't get sore ears at take off and landing when I wear these headphones. Absolutely brilliant!!!
Reviewed on Argos.co.uk
Amazing headphones
Sep 26, 2019
These are amazing headphones super comfortable with amazing noise cancelling very noticeable when commuting on the tube or on an airplane. They cut out a huge amount of background noise. The sound quality is amazing, I've had plenty of headphones but decided I needed a decent pair since I use them daily these where worth the money. The only down side is the 3.5mm audio cable is a little on the shorter side which is a pain when using them on a plane.
Reviewed on Argos.co.uk
Amazing.
Sep 24, 2019
I bought these after reading many reviews, was slightly worried they wouldn't be worth the money but I was so wrong to have any doubts. They sound AMAZING - really crisp. They're also extremely comfortable, very stylish and they block out sound really well.
Reviewed on Argos.co.uk