Beats by Dr. Dre Powerbeats3 Wireless Earphones (Black)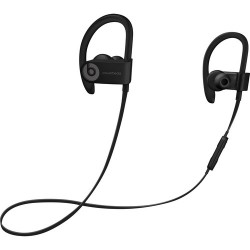 I just kept on runnin!
Feb 13, 2020
Tried a fair few Bluetooth wireless earbuds before but these are the best of the bunch imo! Fantastic sound quality even when out running in the cold and wind and feel very secure over the ears. Great product!
Reviewed on Argos.co.uk
Sound is fantastic & really enjoy using these
Feb 11, 2020
Fantastic sound from these wireless headphones & love using these while out runnning. would definitely recommend
Reviewed on Argos.co.uk
Great headphones
Feb 5, 2020
On the pricey side but I got them in the sale, worth every penny.. very good battery life, stay in my ears while I'm running at the gym etc, good sound quality.. 2nd pair I've bought as I lost the first ones
Reviewed on Argos.co.uk
Good for the gym. Not very loud.
Feb 4, 2020
These are a good style for the gym, running or any other exercise. However the only downfall with these headphones is that for the price, the sound quality and how loud they were, were very poor. I did expect more especially as they're Beats by Dre..so I was quite disappointed with this purchase.
Reviewed on Argos.co.uk
Does the job
Jan 30, 2020
I use them a lot in the gym. Charge is really fast, not the most comfortable but still works well. Bluetooth distance is great.
Reviewed on Argos.co.uk
Wireless headphones briliant
Jan 28, 2020
Bought them in black as we're nearly half price if white. Excellent sound great for running in
Reviewed on Argos.co.uk
Very, very good!
Jan 23, 2020
Having been through many £20 to £30 headphones, I can see why the extra money is well spent! Instant connection, long life with useful 5 minute charge for an hours listening, and they don't fall off - even flat out in treadmill at the gym! Recommended!
Reviewed on Argos.co.uk
Good headphones
Jan 22, 2020
Good sound at a good price the wire has a tend to stick to your neck which is a bit annoying but the sound quality makes up for it
Reviewed on Argos.co.uk
Great headphones which sound amazing
Jan 17, 2020
I purchased this product for fitness purposes only because I was getting annoyed with wires getting in the way when working out. My first impression of the sound quality was amazing and you would expect that from a Beats by Dre product. The comfort element took some time to get used to but after find the smaller ear bud attachments in the box I done a swap with the ear buds that came on the headphone and they now fit perfect. They also stay on during high intensity training.
Reviewed on Argos.co.uk
Fab sound quality
Jan 17, 2020
The beats headphones are stylish and secure safely onto the ear whilst exercising. Fab sound quality.
Reviewed on Argos.co.uk
Really good
Jan 17, 2020
Brought for my hubby who goes running etc. Working really well for him! Not irritating him or falling out! Good purchase and very reasonable for price
Reviewed on Argos.co.uk
Really pleased with purchase
Jan 17, 2020
Sound great Price great Easy to use Battery amazing Comfortable fit Nothing bad to say really!
Reviewed on Argos.co.uk
Very useful and high quality
Jan 17, 2020
The earphones are very high quality, very comfortable so that it barely feels as if you are wearing earphones, which is always useful. Most useful for activity, such as warmups before football, basketball game etc, or gym based activity such as treadmill. Whilst running they do not bounce so sound is not affected and they never fall out also. However are useful for everyday use outside of activity and have the quality to help with basic commutes.
Reviewed on Argos.co.uk
Perfect for working out and being on the move
Jan 17, 2020
Decent price for a pair of beats which are quite pricey to say the least. These earphones will stay on your ear if you're working out casually or doing high intensity training. They're fit for purpose and they do the job.
Reviewed on Argos.co.uk
Great Sound and Fit
Jan 17, 2020
Great for the gym/running. They fit comfortably and the sound is brilliant. The charge lasts really well also.
Reviewed on Argos.co.uk
Good quality headphones
Jan 15, 2020
Good quality headphones, as Beats always are, at a great sale price. I bought an additional hard case just to protect it. Happy so far.
Reviewed on Argos.co.uk
Decent set of earphones
Jan 13, 2020
Bought these to listen to music while I run. Sound quality is good. They are not eardrum exploding loud or noise cancelling but as a runner that suits me fine. They fit comfortably in my ears with no discomfort. Overall a good set of earphones, I picked them up in the sale for half price, I wouldn't say they are worth paying full price for.
Reviewed on Argos.co.uk
Earphones are great to use and very comfortable
Jan 12, 2020
The earphones are very comfortable and the sound quality is great . They aren't the loudest. They could be a little bit louder but they are definatley worth the price.
Reviewed on Argos.co.uk
Easy to use. Comfy
Jan 11, 2020
Ordering online was quick and easy. Picking up from my lo al store (even at Christmas) was swift and pleasant. And the beats themselves are brilliant. The quality in the sound is great; they were easy to link and I love using them. Perfect purchase.
Reviewed on Argos.co.uk
Not working after 2 weeks
Jan 8, 2020
Bought as an Xmas present and as if 6th Jan the earphones don't turn on despite being fully charged. Not sure of next step, hoping Genuis Bar at Apple can fix.
Reviewed on Argos.co.uk
They both look and sound the part
Jan 7, 2020
Bought as a xmas gift and they look andnsound really good quality. So much so that i might buy a pair for myself now.
Reviewed on Argos.co.uk
Look no further than these Earphones
Jan 7, 2020
Looked for months for the right wireless earphones but the decent ones were out of my price range. Argos made a considerable price drop on these Powerbeats3 recently so I snapped-up a pair. They are great. Nice deep sound, comfortable and very easy set-up for my iPhone. Thought the link wire would be uncomfortable but it's not - you don't even realise it's there. They are perfect for the gym and link up to my tv too. Ticked every box for my requirements.
Reviewed on Argos.co.uk
Loud and clear, stays in place when running
Jan 6, 2020
This is a great product, it was bought as a gift and my partner loves it!! Well worth it for the price too. Would buy this again.
Reviewed on Argos.co.uk
These earphones are just the ticket for my needs
Jan 4, 2020
Always wanted a nice pair of beats earphones and had a great deal from argos fantastic product
Reviewed on Argos.co.uk