Bose QuietComfort QC35 II Over-Ear Wireless Headphones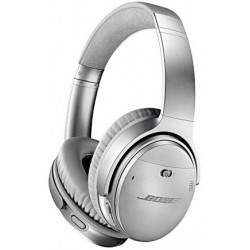 Great Comfort & Sound Quality With a Few Glaring Setbacks.
Nov 17, 2018
These are the very 1st pair of Bose headphones Ive ever owned. Ive been curious in buying a pair of Bose headphones given the companys stellar reputation for excellent sound quality with their products. Im no audiophile, but I do value headphones that support a variety of sounds other than bass-oriented products. I bought these when they were $300 and Ive owned them for a few months; despite offering excellent battery life, noise cancellation, co... Show Moremfort, and sound quality I still have rather mixed feelings regarding the QC 35 IIs due to some noticeable drawbacks. One of the first things Ive noticed with these headphones is just how light they are (8.3 ounces) yet durable. My initial impression upon removing them from the box was that they were felt cheaply manufactured and extremely fragile. However, the QC 35 IIs are very flexible and durable headphones that can withstand a surprisingly fair amount of bends and contortions. The QC 35 IIs feature standard volume and pause/play control buttons, but also has a built-in microphone and a helpful action button. You can use this button to toggle between noise cancellation levels or speak to Alexa, Siri, or Google Assistant. I seldom use it, but when I do I find it useful with keeping track of notifications and getting information through helpful voice commands. This feature helps differentiate the QC 35 IIs specs from other premium bluetooth headphones. Now in terms of comfort, these are the most comfortable headphones Ive ever owned. I own Sonys WH1000s and 2 different pairs of Audio-Technica headphones and the QuietComforts are by far my most comfortable headphones. Upon hours of use I never feel any discomfort over my ears or jawline in comparison to my rather uncomfortable WH1000s. I find it really difficult to using to my other bluetooth headphones because they cant match the comfort. The overall sound quality is great from my experience. I primarily listen to different forms of Electronic (Synthwave, Chillwave, Trip Hop), Chillhop, & Rock music and the QC 35 IIs offer exceptional dynamic ranges that allow me to hear the most nuanced sounds as well as solid bass levels. Additionally the QC 35 IIs offer 2 different levels of noise cancellation (High and Low) along with the option to turn the feature off as well.The overall sound quality is great, however I do feel that the sound quality and noise cancellation from my Sony WH1000s is comparable to the QC 35 IIs so its hard for me to view these as a clear winner in terms of sound quality and noise cancellation. Battery life is phenomenal with up to 20 hours of playback on a full charge and up to 40 hours via a wired connection. I often find myself using these for hours on end over the course of a couple of days with excellent remaining battery life. The QC 35 IIs also recharge very quickly as well, a quick 15 minute charge will last you longer than a charge from other premium headphones. Battery conservation is the least of my worries when using the QC 35 IIs and Im very impressed how Bose was able to develop such an efficient battery for a very lightweight pair of headphones. There are 2 main complaints I have regarding the QC 35 IIs: (1) Poor bluetooth connection quality, and (2) The lack of support for personal computers. What baffles me is how can headphones with a $350 MSRP struggle to keep a consistent bluetooth signal? This is my main biggest issue with these headphones. Whenever I move at least 15 feet away from my phone I experience significant signal interruptions disrupting my listening experience. Even simple decisions like leaving my phone momentarily either by closing a door or going moving to a different room will cause chopping and disruptions. Strangely enough this also occurs occasionally even when I have my phone in my pocket for no apparent reason. I dont have this problem with any other pair of bluetooth headphones except this one despite these being the most expensive headphones I own. Secondly, I find the lack of bluetooth pairing with my laptop very disappointing. In order to wirelessly connect the QC 35 II, you need to have the accompanied Bose Connect app which is only available via mobile device marketplaces. This is a basic feature available with numerous bluetooth headphones, but for some odd reason QC 35 II users cant wirelessly connect to computers because the lack of the Bose Connect app. Any user looking for bluetooth headphones while working from a computer will have to resort to using the included cable instead. Overall I do believe Boses QC 35 IIs offer great sound quality and comfort accompanied by some unique and helpful features. However, I cant recommend buying these headphones due to their weak bluetooth signal quality and the lack of bluetooth integration with nonmobile devices accompanied by its $350 MSRP. Ill continue using these periodically, but I plan on purchasing Sonys WH-1000XM3s in the near future to replace these.Show Less
Reviewed on B&H Photo Video
Pretty Satisfied with these headphones
Aug 5, 2019
Now that I have gone on several trips & airplane trips and use these now more than my Quiet Comfort 25s I can say I like these a lot. They are great for Bluetooth devices. I wish that there was a way to use Bluetooth but then have the option to turn on and off the noise canceling abilities so that if I need to hear my music but also what is going on in a room you could have that option especially with a Apple phone with no headphone jack. I do th... Show Moreink these are comfortable and gives me a lot of freedom without worrying about a wire holding me to be in a particular distance. I can walk away from my device and as long as there is no interference or stay in a particular distance of the device I can have my head phones on and the device in a different room while listening to a podcast or my music. Not a fan of the audio wire it comes with because it is so thin that it could easily be cut when caught in a door. Wish the charging wire for the headphones was just a little longer rather than short. Especially it the wall plug is so high and the charging wire is not even long enough to touch the floor. I think I prefer the case that comes with the QC25 vs the QC35. The QC 25 case is a better made case. In some ways I feel like I received more from the QC25 headphones than the QC35. The big differences is being able to charge the headphones vs batteries. You can control more with more buttons on the headphones vs the QC25 which had controls on the audio cable. I will say that I used these from Alaska to Florida & did not need to charge them during the trip. The batteries lasted me the entire trip both going there and back & that was true as well when I went on my recent trip driving to Washington DC & West Virginia From Florida and they lasted me the entire trip. I have also worn these to sleep to try and make it so I could sleep through noisy snoring people. Even though it may not have drowned them out completely it did reduce the sound significantly.Show Less
Reviewed on B&H Photo Video
Finally, I understand...
Sep 13, 2018
This is my third set of Noise Cancelling Headphones. My first was an entry-level set of Sony noise cancelling headphones which significantly improved my ability to enjoy music and movies during flight. I was awed by the Bose QuietComfort 35 predecessors, but could never really justify a $300 purchase. I limped along with the Sony for well over a decade, finally replacing them last year with a mid-price range over-the-ear product from Ow... Show Morelee. The Owlee purchase was an impulse buy on Amazon based upon a referral and an appealing price point. This was a huge step-up for me and worth every penny -- especially when one amortizes the cost over at least ten years of use. I've only used the Owlee on a dozen occasions, but I like 'em a lot. This year, I learned that a very modest startup investment I'd pretty much given-up on was being acquired. I purchased this set of Bose QuietComfort 35 Series II Wireless Noise Cancelling Headphones as a reward for my patience (waiting out both the investment and the desire to own a set of Bose noise-cancelling headphones). I've only used them twice so far. Once, at home when I opened the box and then on a long flight last week. I don't know why I waited so long, but I finally understand why my colleagues shelled-out three or four C-Notes for a set of headphones. Of course, now I'll never be able to go back, but QuietComfort 35 is incredibly comfortable, stores flat in a nice case (included) and provides the best quality sound I've ever had onboard an aircraft. Although the product is equipped with a high-quality microphone, I've only experimented with it for cell phone use once and can't tell you whether it is a reasonable way to answer the phone while listening to music at your desk, but I'll let you know when I'm back at my desk. In the meantime, I'm still wondering what took me so long to commit to this purchase, but I'm glad I finally got there.Show Less
Reviewed on B&H Photo Video
Quality Sound and Comfort
Apr 8, 2018
I purchased these headphones to get away from being tethered to my computer by the cord. I also have a corded version of the same headphone, in fact, this is my third set of Bose QuietComfort headphones. The sound and noise cancelling feature of Bose headphones is the best in my opinion. I was worried that the cordless version would sacrifice sound quality, but this is not the case. I haven't detected any difference. They are also very comfortabl... Show Moree. The battery lasts a long time, and each time you plug in you hear the battery status, and what devices are connected, through the headphones, nice! There are only a couple things I am concerned with. You must use the Bose Connect ap on a mobile device in order to connect. I've found that ap to be less than intuitive. Also, I've only been able to connect to two devices using the bluetooth. If I want a third device (ie Phone, Tablet, Desktop) I must disconnect one of the others. Fair warning! There might be a way and I just don't know how. If there is a way, it's not described or intuitive. Secondly, there is a small switch to turn the headphones on and off. I have found with my other Bose wired headsets that using this on / off switch too much will cause it to fail. That's happened to me twice. Each time Bose customer service has given me a reduced price on replacement headphones. If I remember correctly it was $100 plus my old headphones back to get a replacement. My Beats headphones never had this problem because you plug the cord in to turn them on. (The noise cancellation and sound was not as good with Beats though.)Show Less
Reviewed on B&H Photo Video
I should have bought some Bose QC headphones years ago!
Jan 9, 2019
My work productivity has definitely gone up from having these to block out noise, listen to music, and focus on my work. I used to mock people who spent $350 to cancel noise - well, Ive repented. Its worth every penny. Why did I get the QC 35 IIs instead of the SonyWH-1000XM3s? Im glad you asked! Both the Bose and Sonys have stellar sound and stellar noise canceling, yet the Sony edges out the Bose in both categories by a slight margin according... Show More to most peoples ears. Whichever headset I chose would be replacing my critical listening headphones and audiophile-DAC for daily listening while at work. This isnt just about audio quality though - its not less than that, but its certainly more than that. For me, I went with the Bose over the Sonys because of multi-pairing. Being able to connect to my phone and my computer at the same time is a huge bonus so I can seamlessly listen to both without a second thought. Likewise, the telephone call quality on the Bose headphones is absolutely excellent - I can take calls on them fearlessly without callers asking me what, what??? all the time. Sonys headphones? Yeah, not so much. Listen to some comparison samples of phone calls from the Sony headset versus the Bose headset on YouTube - the difference is enormous! Last of all, comfort. I wouldnt describe the Sony headphones as uncomfortable, but as someone who often has his headphones on for 7-10 hours a day, the Bose headphones are just amazingly comfy. No aches, pains, or tension. Its like wearing a fluffy pillow on your head.Show Less
Reviewed on B&H Photo Video
Best Bluetooth Headphones For The Money
Dec 26, 2017
These headphones are a must have for anyone trying to work, study, or relax in any noisy environment. I decided to test them out at a high school basketball game using just the noise cancelling feature. I was seated directly in front of a broken speaker that was emitting a very unpleasant noise. Upon putting on the headphones the noise was instantly muffled. I could still hear the broken speaker and some of the conversations around me but the sur... Show Morerounding volume was reduced to the point where I could easily focus enough to read a paper or book. When I began to play music through the headphones (full noise cancellation and about half sound level) I could not hear anything at all going on around me. The overall quality of the sound coming from the headphones was as good or better as other similarly priced headphones. They might be slightly base heavy but it was really hard to tell. Also the sound is fairly self contained meaning the people around you won't hear your music unless the volume is turned up to the maximum level. I would highly recommend these headphones to anyone looking to travel or study as they are very light, portable, and easy to wear. The headphones can operate off of an included cord but to unlock the full experience the user must connect to a smartphone or other similar device.Show Less
Reviewed on B&H Photo Video
Great Headphones so far
Dec 18, 2017
I have been using the Bose QuietComfort 35 for a few weeks and think I have put the product to the test. Product looks great and feels great on my head. The noise cancellation work remarkably well. I work in a laboratory with a lot of background noise. It cancels the low frequencies completely and reduces the high frequencies by more than 25%. I was able to connect to my Android phone using the 'Bose Connect' software. I was also able to connect ... Show Morewith my Win10 Lenovo Yoga II. The sound quality is amazing and the Blue tooth would switch from phone to computer on its own. I also tried to connect to an older Lenovo laptop and had some difficulty. I had to clear the Bluetooth pairing list to connect and then had to repeat to connect to the phone again. The headphones also come with a standard audio cable. I might as well through it away. The plug does not fit into the jack correctly and if I hold it in order to get sound on both sides, the sound is awful. Even with the problems with the wired audio, I would still recommend this product highly. I was able to perform a firmware update and am hoping that will fix the multiple connection problems as wellShow Less
Reviewed on B&H Photo Video
Best comfort for a long day.
Aug 23, 2018
I tried the Sony headphones that run about $350. After a full of wearing them at work, they sounded great, but the metal band that went over my head had too much pressure on my head and I left work with a headache. SO I tried the Bose QCII wireless headphones. They are awesome. I can take calls through my phone on them, The noise canceling is excellent. The sound quality is great. I liked them so much I got a second pair for my better half. ... Show MoreWe were on a pane this weekend and through the Bose app, paired both headphones to the iPad and watched the same rented movie together! That was an awesome feature! I was worried about the battery life, but I use it daily at work for 75% of my day and the battery lasts me all week. It charges off of the USB port in my computer in a very quick time. At first I thought that would be a hassle, nut plugging into an outlet, but the USB port does just fine. If I were to have any complaint, I would say the max volume is more of a 9 than a 10. BUT with the noise canceling I rarely think about the soft levels. While I'm at work, I never listen to the sound full blast anyway because I'm concentration on work.Show Less
Reviewed on B&H Photo Video
Expensive and lacking
Apr 19, 2018
Ordering and receiving the headsets was flawless. These are my third generation of Bose nose cancelling headsets, replacing a QC II for which I can no longer get replacement ear cups. The QC 35 comes in a nice carrying case, a bit smaller but thicker than previous version. Pairing the first time with my iPad (using the app) and my iPod (without the app) was easy. The reason for not giving the headset five stars is due to poor Bose customer sup... Show Moreport and compatibility. The QC 35 fails to pair with my Google Pixel 2 and apparently any Android device on the most current release. These are very expensive headsets where Bose has dedicated a button for Google Assist, one would think they are keeping current with Android releases. After spending hours and reading through many suggestions, I found a buried link where the problem was acknowledged with Google saying it would be corrected in a future release. Even if it is a Google problem, Bose should have been more upfront about the problem and the situation doesnt bode well for future support or compatibility problems.Show Less
Reviewed on B&H Photo Video
Best headphones I have ever tried
Dec 9, 2018
I hate over the head headphone, I prefer in ear styles just because of the sheer bulkiness of over the head styles. I got this for someone who is not in the country right now and asked me to test these headphones till we can meet. So I tried it on, these are THE BEST headphones I have ever tried. I do have the QC25 which I got for my dad some 4 years back, they still run like new (I had to change the ear pads once a couple of years back). But thi... Show Mores one - QC35 - is far better in terms of mobility. The bluetooth works at long ranges. The battery holds up for long. And yes, the noise cancelling feature - it blocks out everything! I didnt know there was so much of white noise at my work place till I tried these headphones. I just switch the noise cancelling on and work, it helps me concentrate better. These headphones would probably be even better if they came with a charging case like the soundsport feee :) Overall I love them.Show Less
Reviewed on B&H Photo Video
my honest review
Apr 30, 2018
Ok I bought these for doing Lawn Care. I have a Zero turn mower and it was to much noise for these headphones to handle. They start making static noise at the decibel level my big mower puts out. I've tried two pairs and they both did the same thing. They are fine with just a regular mower but they can't handle the big mower. I also have used these at the gym and they just don't fit the head snug enough to stay in place unless you are just standi... Show Moreng upright and never bending over or laying down. I will probably keep these for just walking or lounging around. I use the bose soundsports for the gym and also for mowing. For mowing I just put some cheap safety over the ear muffs to keep the noise out. The quietcomforts sound good and I like the battery life plus the google feature.Show Less
Reviewed on B&H Photo Video
Exactly As Advertised
Nov 18, 2018
Purchased the Bose QuietComfort 35 Series II mainly for plane traveling. I used them for the first time on a recent trip to London and they were fantastic. On the return flight, there was a crying baby in the row in front of me and another a row up and to the right. With the headphones on, I could only hear a faint, distant crying. When I plugged in some music, I could not hear so much as a whimper. The headphones also nullified the droning sound... Show More of the engines (I was in the back of the plane on both flights). I will never get on a plane again without these headphones. Highly recommended, especially if you fly often, and the limited triple midnight blue color scheme was an added bonus as they look sharp!Show Less
Reviewed on B&H Photo Video
Look No Further You Have Reached The Top!
Aug 28, 2019
The good news: The Bose QC 35 II are the best headphones money can buy. In terms of true high fidelity sound, superb noise canceling, wearing comfort, and build quality nothing comes even close. The bad news: These are apparently the last great headphones in production at Bose. That is why I bought them. The next generation Bose 700, like Star Trek The Next Generation are awful. In the next generation form factor Bose tries to please Beats fans ... Show Moreby pushing the bass, and please Sony fans by going full touchy-feely with no more buttons. I say get the last real Bose headphones made for Bose fans while you can. Once you reach the top, everything else is down there. Look no further...Show Less
Reviewed on B&H Photo Video
Poor quality overall
Dec 3, 2018
Sound great when they work. When connected via bluetooth has about a quarter to half a second sound delay. Makes watching youtube or playing games a terrible experience. The action button stopped working now. Bluetooth pairing doesnt always work, keep having to try multiple times. As a note my $25 chepo bluetooth headphones fo not experience any of the problems mentioned above. Tech support was less than helpful. They said they have not heard o... Show Moref the issues Im facing and I should return the headphones. However a quick google search shows others have similar issues... even on their own forums with moderators responding. RMA opened with B&H.Show Less
Reviewed on B&H Photo Video
Great but not perfect
Aug 30, 2018
Bought these headphones to avoid having to listen to the vacuous chatter and loud talkers that infest my morning commute on NJ Transit. Even though there is a dedicated quiet car on most trains there are still lowlifes that need to act like buffoons. It became a matter of mental health and sanity to block out these louts. They are expensive BUT they do the job in eliminating the noise and seamlessly connecting to my iPhone, providing me with... Show More peace and an ever increasing positive attitude to start my day. Easy to use, a breeze to set up and shipped overnight. Buy them and join the ranks of the civilized!Show Less
Reviewed on B&H Photo Video
Makes work & flying bearable
Oct 2, 2018
I lost my Series I in a cab, so I bought these Series II for my return flight home. I tried the Sony competition and it wasn't comfortable at all. The issue is that the Sony's didn't sit flush to my ears (e.g. pressure on top of my ears, and not enough pressure on the bottom of my ears). So I went with the BOSE QC's again. I use them when flying to protect my ears from hearing damage on long flights (noise level + duration = damage), as well... Show More as to get work done in the office when my colleagues are chatting. It subdues the ambience & conversations enough for them not to distract me from my paperwork.Show Less
Reviewed on B&H Photo Video
Only Headphones That Fit My Dumbo Ears
Sep 12, 2018
I have huge ears. These ears are like platforms, the kinds of runways that air craft fighter pilots would be jealous to land on. The Bose QC35 II's are the first over-ear headphones that have ever really fit me, and they sound good too. I comfortably wear them in my office pretty much all day now, and they also nicely prevent folks from running away screaming from seeing my freakishly large ears. I'm not sold on the Google Assistant / Amazon... Show More Alexa feature, but I do like the ability to pair to two devices at once. I have one set for my Android Phone and one set for my iPad when I'm watching a video.Show Less
Reviewed on B&H Photo Video
Bose is the top of this technology
Dec 12, 2018
I have edit suites that are my responsibility to maintain. The suites are far from being noise isolated. With air conditioner noise and Air handlers on the other side of the wall, mixing audio can become guesswork. This is the second pair of these I have purchased for our editors. The experience is surreal when they are turned on. It sucks all the noise of the room so that you are left with the audio in our sequences. A perfect way to isolate an ... Show Moreedit to make it precise. Helps maintain focus and doesnt squeeze your ears after prolonged use. A great investment for the happiness of our creative people.Show Less
Reviewed on B&H Photo Video
Are they really noise cancelling or is my pair defective?
Mar 26, 2019
As a Bose lover, I decided to order these and use them on a recent flight. During the flight I used the noise cancelling feature only (no music) on high and could still hear the small child in the row behind me humming for over 2 hours, babies crying and various other noises and announcements. I love that they are comfortable and when music is played it sounds awesome but if you think that these will block out all or most of the noise then you might want to look elsewhere. Bottom line; I would say outside noise is reduced and muffled but the noises I wanted to prevent hearing still prevailed.
Reviewed on B&H Photo Video
Only Headphones That Fit My Dumbo Ears
Sep 12, 2018
I have huge ears. These ears are like platforms, the kinds of runways that air craft fighter pilots would be jealous to land on. These are the first over-ear headphones that have ever really fit me, and they sound good too. I comfortably wear them in my office pretty much all day now, and they also nicely prevent folks from running away screaming from seeing my freakishly large ears. I'm not sold on the Google Assistant / Amazon Alexa feature, but I do like the ability to pair to two devices at once. I have one set for my Android Phone and one set for my iPad when I'm watching a video.
Reviewed on B&H Photo Video
5 stars with an app for mac
Apr 25, 2018
If they have an app like Bose Connect for mac, it'd be perfect. I use the headphones with an ipod, a macbook pro and an imac. The headphones can only connect to two of them at once but that's okay. The problem is when I'm using them with the macbook pro, they keep connecting to the imac all the time, even if the imac is in the sleep mode. I would need to disconnect on the imac manually, which is very annoying and sometimes they connect back to the imac in a second even if nothing is playing on the imac and I won't hear anything from the macbook pro.
Reviewed on B&H Photo Video
Amazing BOSE Quality
Sep 17, 2018
These BOSE silver headphones are a birthday gift for my wife. She bought me a pair in black last December and they are absolutely amazing. I use them when I'm exercising, just chilling and especially when I fly. Even over the wing, they drown out EVERY SOUND except the music. Since she keeps music on her I-phone as well, and has tried and loved mine, these will be a welcome birthday surprise for her as we are leaving on a trip soon after. I am very impressed with the B&H customer service and pricing and will definitely shop here again!
Reviewed on B&H Photo Video
first noise cancelling headphone purchase
Mar 21, 2018
This is the first time I've ever spent more than $30 on a pair of headphones. It was on these. The noise cancelling is pretty good, especially if you have music or audio playing. The best part is that these headphones are incredibly comfortable. You forget that you even have them on. I think there are 1 or 2 noise cancelling headphone models in existence that might have better sound than these, but I've heard they are impossible to keep over your ears for more than 2-3 hours at a time. So I went with these, and I've been very pleased!
Reviewed on B&H Photo Video
Love them
Oct 22, 2018
I bought these for my wife after buying the same brand (black) for myself. The main reason was to have noise cancelling phones for the long flights we planned during the summer. They are incredibly comfortable and pair easily with iPhone and iPad. I love not having attached wires. I continue to use mine to listen to music in the morning while my wife is sleeping. I agree with the many reviewers who favor the sound quality of the Sony headphones. But the comfort and noise cancelling of the Bose are excellent and I now use mine every day.
Reviewed on B&H Photo Video